Well, this certainly isn't the best-photographed Ducati Supermono I've come across: those pics look straight out of some grainy newsreel footage from the 1940's, but it's still beautiful, and this is one of those bikes we always have to post when they come along. Perhaps the very best of Terblanche's futuristic designs, it looks obviously part of the Ducati family, and at the same time, like nothing else.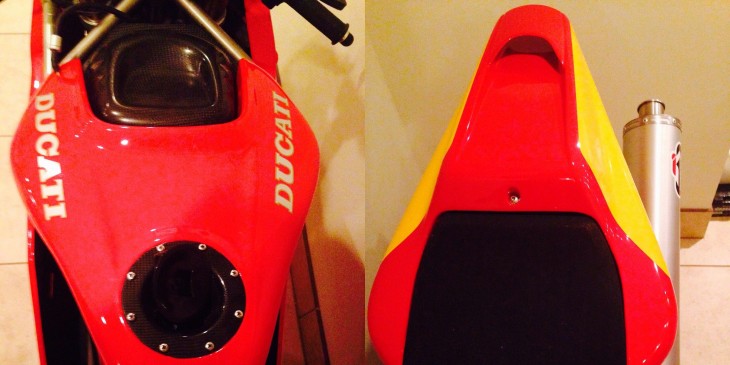 Designed to compete in the Sound of Singles series that supported World Superbike, the Supermono had, as you might expect, one cylinder. But while big singles produce whomping big spoonfuls of torque, they tend to be limited in terms of how high they can rev by the fact that they vibrate themselves to pieces. And even if the engines held together, the riders' bones would turn to dust and they wouldn't be able to see anything anyway.
But Ducati had a better idea. Basing their engine on their usual four-valve "L-twin," they simply blanked off the rear cylinder. Okay, simple enough so far. But then they fitted a dummy con-rod to help balance out vibration by simulating the forces generated by the missing vertical cylinder.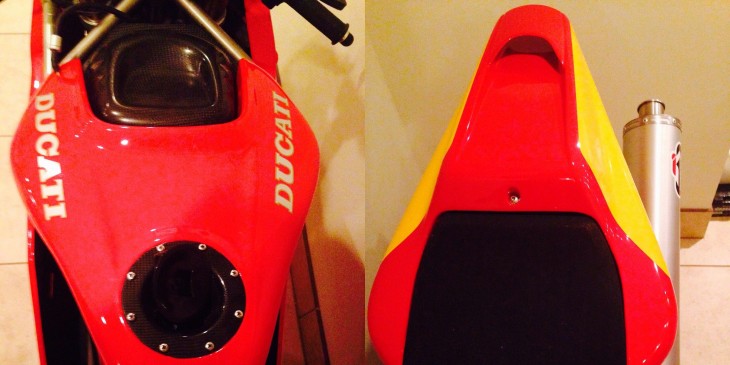 The result was a 549cc single that could wind around to 11,000rpm safely and produce 65hp while weighing in at under 300lbs dry. Fitted with brakes from the standard v-twin superbike, stopping power is never an issue, and the bike corners like a 250GP machine.
It's hard to see, but there are many bits like top triple clamp and engine cases that are suspiciously green. Why green? #becausemagnesium.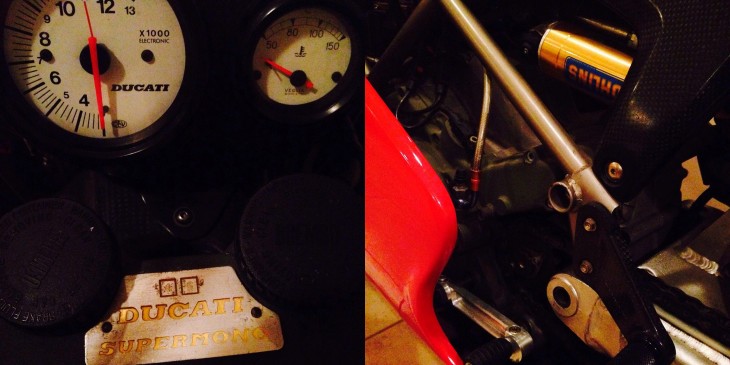 Also: I just love racing tachs like this. They're basically saying, "Look, this bike doesn't really even make any power there anyway, so what's the point of worrying about it? Let's just forget about those revs, okay?"
From the original eBay listing: 1993 Ducati Supermono for Sale
Up for auction is an extremely rare 1993 Ducati Supermono.
A must have for any Ducati collector.
#16 out of 67 worldwide
Barely used, looks brand new.
Runs beautifully! I have a video upon request.
Race bikes look so good because their form obviously follows function. They're beautiful like fighter jets are beautiful: there's sinister purpose in that shape, and that's the tragedy of any collectible race bike. They're obviously wasted, sitting in collections.
But just 65 Supermonos were produced between 1993 and 1995and they weren't cheap when new, so people tend to risk lesser machines for their racetrack outings. As the seller suggests, these are some of the most collectible modern Ducatis. it's a shame they never made a roadgoing version: you want a streetable Italian supersports single with racing credentials, you have to pick up a Bimota BB1...
-tad