Before you get too excited, this RGV250 is located in Japan, so if you want this one in your garage, you'll have to navigate the requirements for getting it shipped to and then registered wherever you live.
Unless you're in Japan…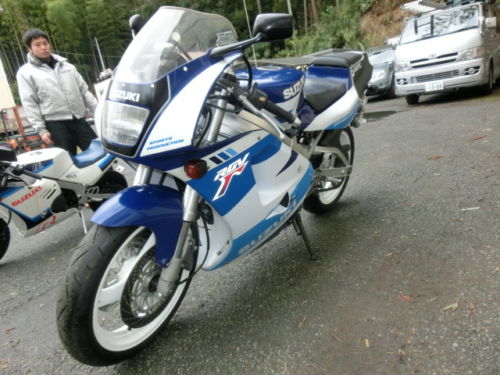 The RGV250 Γ "Gamma" was introduced in 1988 to replace the two-stroke parallel-twin RG250 and was built until 1998. The new machine shared its liquid-cooled, 90° v-twin with the Aprilia RS250 and, with about 60hp and a 300lb claimed dry-weight, the RGV was in the hunt with competing motorcycles from Kawasaki and Yamaha, although Aprilia made some modifications to improve performance, including reworked heads.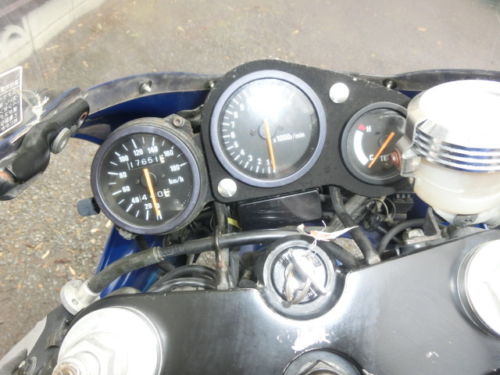 This second-generation "VJ22″ incorporated Suzuki's power-valve technology and featured upside-down forks, a 17" rear wheel that should make tire choice a bit easier, and a very cool "banana" swingarm that was designed to allow the paired exhausts to tuck in close for improved cornering clearance. The new swingarm increased weight slightly, but was very stiff and looked trick as hell. If you're looking at RGVs, this version is definitely more desirable than the earlier VJ21 model, but early VJ22s should have their power-valves checked to ensure they're functioning correctly: they can stick in the "low-rpm" position and limit top-end power.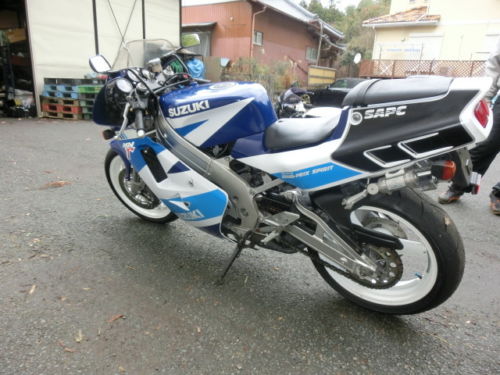 From the original eBay listing: 1991 Suzuki RGV250 for Sale
Very rare 2 stroke bike from Japan to you.
The shipping cost is including the price!!(From our place to your nearest port)
It has scratches at both side of lower cowling and silencers. And has a little cracks. Right rear seat cowling of mounting tab is broken.
It has No rust in the gas tank.
Front forks are full adjustable, it has No rust on the chrome and No oil leaks.
The main key cylinder, tank cap and seat lock can use 1 key. But the key is not original.
Front break disc of thickness 4.2 mm, Rear break disc of thickness 4.3 mm.
It can start by 1 kick!! And runs very well!!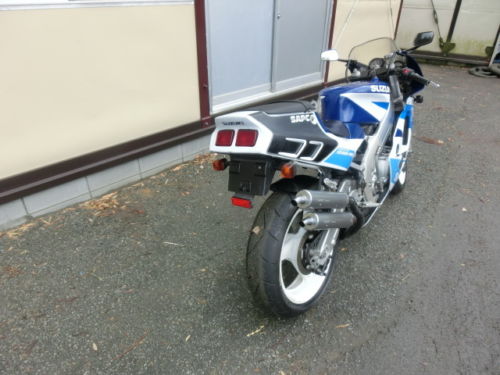 The RGV250 is extremely rare in North America, having never been officially imported. Although the $8,000 Buy It Now price seems a bit high, it supposedly does include shipping costs "to your nearest port," so that should count for something. To me though, an Aprilia RS250 looks better and are available for much less.
This one is obviously not some pristine collector, with some obvious scuffs and scrapes. Honestly, these make pretty lousy roadbikes for the most part, and while many people are happy to put up with narrow powerbands and uncomfortable riding positions in the name of style or because they live in Topanga Canyon, bikes like this are best on track.
So store away the original bodywork and lights or sell them on eBay, fit some lightweight plastics with fresh blue-and-white graphics, and turn this into a terrific trackbike!
-tad