Warning!
This post is in our archives. Links in this post have been updated to point to similar bikes available to bid on eBay.
Just so we're clear: this 1998 Yamaha TZ250 is not to be confused with the road-going but also very cool TZR250. The TZ250 was Yamaha's over-the-counter GP machine, a pure race bike. As such, "originality" is a relative thing, and these things have typically evolved over their racing careers with the goal of winning at any cost. This particular TZ250 has obviously been thoroughly developed, as it was the AMA 250 GP Championship winner in 1999…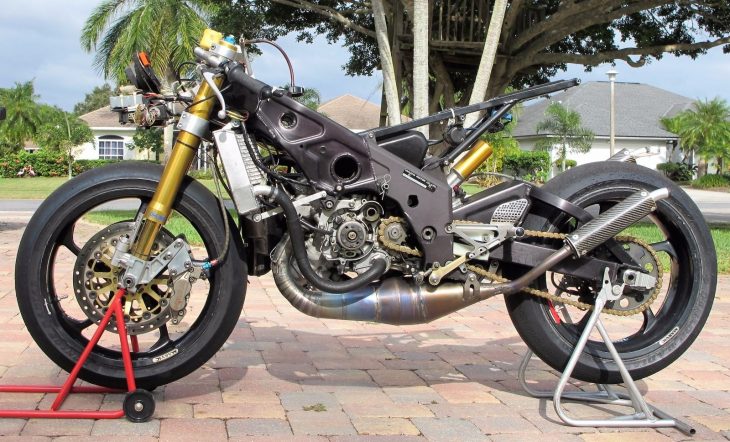 Like the later versions of the TZR250, the TZ250 was powered by a liquid-cooled two-stroke v-twin, backed by a six-speed gearbox, with a classic "banana" swingarm out back. The bike was designed to appeal to entry-level racers and is relatively reliable for a pure racing machine, but it will obviously need regular rebuilds and much more maintenance than a roadbike.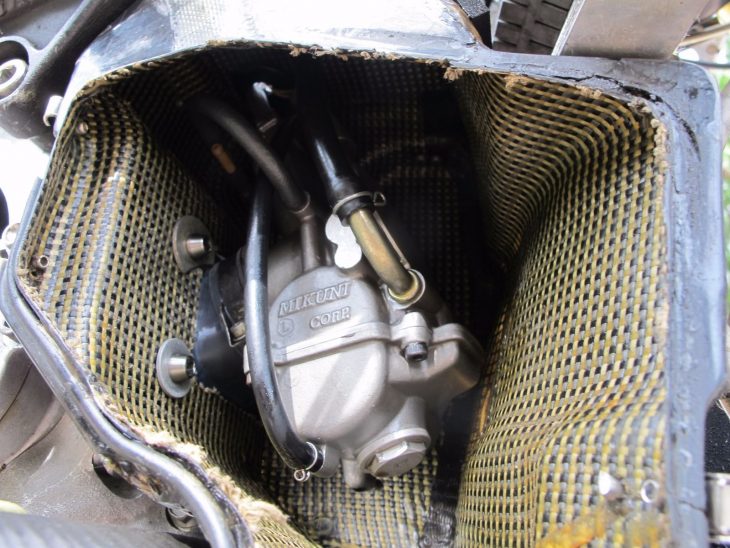 The 1998 TZ250 seen here featured revised plastics, including that tapered tail that looks a bit like the later Aprilia RS250. The new bodywork also featured a sealed airbox and a ram-air intake to feed the updated carburetors, along with a host of minor upgrades to the rest of the bike.
From the original eBay listing: AMA Championship-Winning 1998 Yamaha TZ250 for Sale
You've heard of Barn Finds… Time Capsules…  Museum Liquidations….   well today, have I got one for you! This is THE 1999 AMA 250 GP Championship winning machine as piloted by Chuck Sorensen.  Exactly as it ran, with factory spares to boot!  It was, and possibly is still today- one of the fastest 250s in the country.

I purchased this in early 2003, directly from James Siddall- owner of World Sports Imports.  This was James' trophy bike.  He mentioned that after it crossed the finish line, it went directly to his office to set behind his desk.  The only hands that have touched the motorcycle since purchase were those of Perry Melneciuc -who, if you know him- besides his being a Factory Mechanic for Ducati, Honda, Yamaha, AMA Race Teams- is considered the most correct, fastidious, compulsive Gran Prix mechanic alive.  All that, PLUS he was a World Sports' team member/rider.  Perry went thru it from tip to tail and made certain everything was correct, fresh and set to their true running settings.  (Perry's notes are included in the sale as to what World Sports ran and what it is set for now -including upper/lower, unleaded/leaded, head volume, deck height, squish, carb settings, transmission selections, etc.)

 

After Perry's meticulous go-thru, fluids were drained and it went into storage/display.  Until now….

 

The motorcycle is completely outfitted with very rare and otherwise unobtainable parts.  Almost every single nut, bolt, axle and pivot is either titanium or aluminum.  Forks and shock are the state of the art (for the time) Ohlins.  Expansion chambers/pipes are factory "A" kit titanium.  Wheels, are five spoke Marvics.

 

The spares package is rich and thick:

 

*Complete set of later model Corbin  #1 body work (seat, two lowers, two uppers, tank (un-dented) (left over from the 2000 campaign)

*Extra set of Factory "A" kit steel expansion chambers

*Sprockets (front and rear) and carriers

*Clutch basket (inner, outer) rod, gear, bearings etc

*two cyclinders

*at least three sets of heads (8.1cc, 8.3cc w/ deto sensors, etc)

*2 Ohlins alternate shock springs

*alternate Ohlins fork springs

*throttle sleeve

*Stator/Rotor

*New side cover with new gasket in package

*TEN brand new matched pistons with rings, wristpins, etc.

*4DP-40 CDI (black box)

*one World Sports Imports Team Polo shirt!

*two (matched L/R set of brake rotors)

*19 spark plugs (11 in bag, used, 8 in holder used but entirely serviceable.

*foot pegs, clutch springs, etc

*electrical umbilical cord for exhaust valve setting

*spare battery, charger

*the SEVENTY-FIVE (not including the ones in the motorcycle) individual gears/alternate ratios that make up the UNOBTAINABLE FACTORY RACING TRANSMISSION KIT.
*tire warmers, f/r stands

*etc.

 

To further document things, the photos should take over from here.  I tried to photograph all the spares so you can paw thru them…  but one photo got missed -showing the two alternate rate Ohlins shock springs. The only thing that has happened to the bike in the years on display is the right aluminum clip-on split due fatigue/time under load.  (You can actually see it in photo #6, right clip on…  a small white line, about 3/4″).

 

Outside of that- the motorcycles' internals are fresh and as set by Perry.  With fluids, tires, battery and a proper set up for you- the bike is ready to ride.
There are no takers yet at the $17,500 starting bid. The listing includes a huge amount of spares as described by the seller, something that can make or break the deal on a bike like this, unless you're just planning to simply display it. Two-strokes, especially highly-strung, tuned-to-within-an-inch-of-their-lives racing two-strokes consume parts regularly. Folks racing on a budget are likely familiar with that and comfortable wrenching but, when you're running a nearly twenty-year-old, limited-production motorcycle with parts you likely could never have simply picked up on the shelves of your local dealer, the chances of finding what you need are vanishingly small.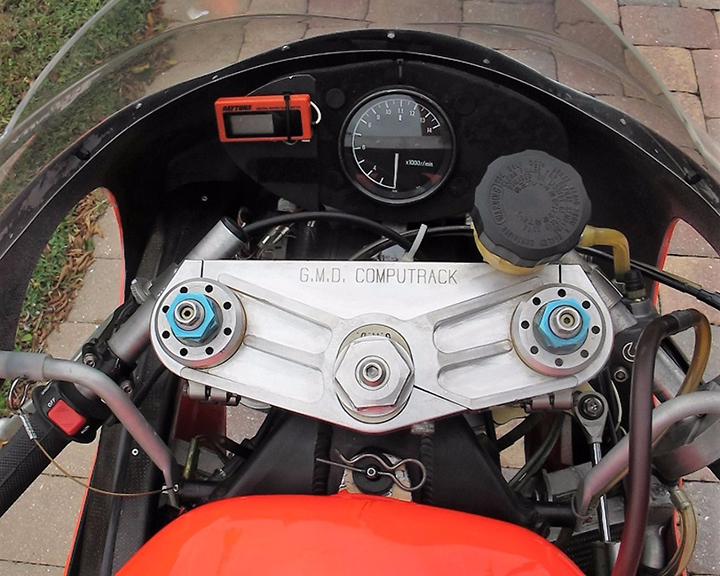 And not only are maintenance parts included, but go-fast bits are in the mix. I can't imagine there's a track in the world you couldn't configure those seventy-five gears to tackle, which is probably the whole point, and I have no idea what the trick front end and shock would be worth on the open market. $17,500+ is a lot of money, but considering the race-winning history and the fact that it's basically a complete race-bike kit in a box (just add rider) that suddenly starts to seem pretty reasonable.
-tad