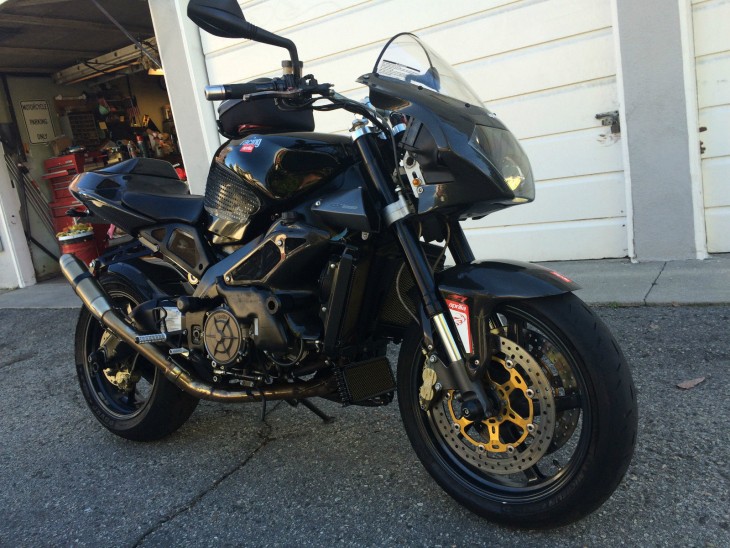 The Aprilia Tuono is bike with a style only an engineer or a racer could love, someone who truly appreciates what something does, rather than how it looks. I'd like to call it "form-following-function," but Aprilia always manages to include plenty of random styling bits that seem to do neither, so I won't. But it looks wicked, in the same way a medieval warrior on a heavy metal album cover done up in impractical spiked armor looks wicked: we know it ain't practical, but the design is a sort of short-hand for "bad ass".
The Tuono is exactly the type of naked bike journalists and riders keep asking for, but Japanese manufacturers never seem to be able to deliver: a headbanging sportbike stripped of its fairing, with more humane ergonomics for street riding. The Tuono followed Triumph's recipe for success, matching an uncompromisingly sporty frame and quality suspension to a just slightly retuned and regeared powertrain to create a comfortable streetbike that can get a wiggle on when twisty roads beckon.
In Aprilia's case, the beating heart of the frisky beast was their liquid-cooled 998cc Rotax engine that featured a pair of balance shafts to cancel out the vibration the 60° v-twin might generate. It's generally considered to be extremely reliable and very strong, if slightly less refined than comparable machines from Ducati.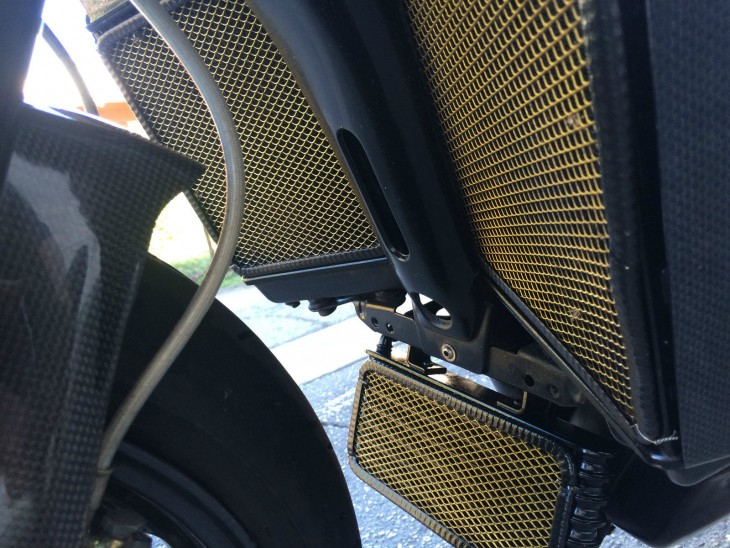 From the original eBay listing: 2004 Aprilia Tuono 1000R for Sale
I bought this Italian bike at this same time of year in 2010 to add to my stable of bikes (9 at the time).  I wanted to round out my riding skills and learn to road race so a couple times a year I would put a set of clip-on bars on this bike and head to the track.  Over the past four years I have done about a dozen track days – six of those days while being a student in Jason Pridmore's STAR School.  Most everybody at the track knows what it is and yet is surprised just how much drive it has coming out of a corner, provided that you're not spinning the rear tire.  Having said that, I learned that if I am to get more serious, continue to do track days and hone my road racing skills I best do it on a bike that won't make me cry if I lay it down.  This bike is just too beautiful to go through that and have to rebuild it after an incident.  

This is an incredibly flexible motorcycle.  It can a beast, a bike perfectly suited for hooligan behavior.  It can also sport tour quite comfortably, I took it on a three day Baja trip last year and it ran beautifully.  The engine is very smooth and reliable.  The brakes stop with a vengeance.  These Italian Aprilia's have been dubbed "…the best Japanese bike to come out of Europe…" because of their Honda-like reliability and usability.

I changed out the original plastics for carbon fiber because (A) I love how it looks and (B) the carbon components are more readily available and less expensive than OEM Aprilia parts.  I included a photo of how the bike looks with the original plastics.  ALL of the original plastics are included in the auction – faring, front fender, coil covers, rear faring, fender, passenger seat pillion and factory belly pan.

I swapped out the original plastic gas tank for a metal black one (goes with the carbon fiber).  Stock tank is included.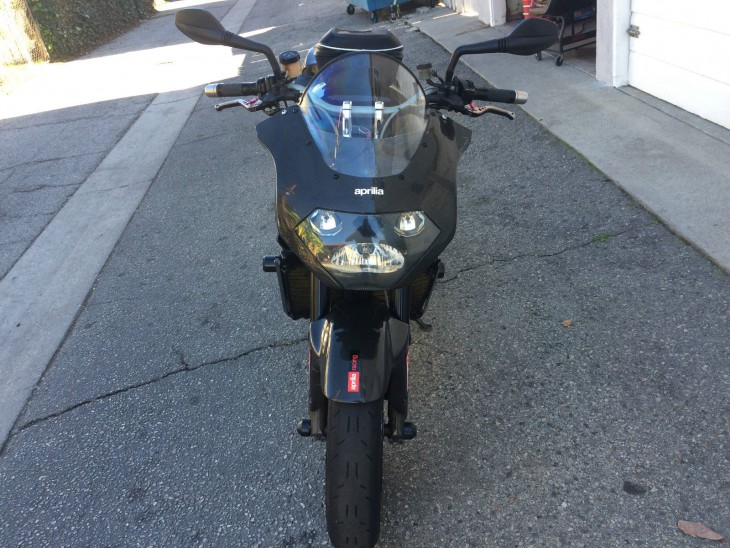 Some minor flaws, cracks and scuffs aside, this bike should offer a TON of bang-for-the-buck, with just a bit of Italian funk thrown into the bargain. It looks clean and well cared-for, with some minor scars and wounds earned in 20,000 road and track miles. That GPR exhaust ain't the prettiest choice, but neither is the bike, and it does look pretty cool, and is definitely visually slimmer and a whole lot lighter than the original part.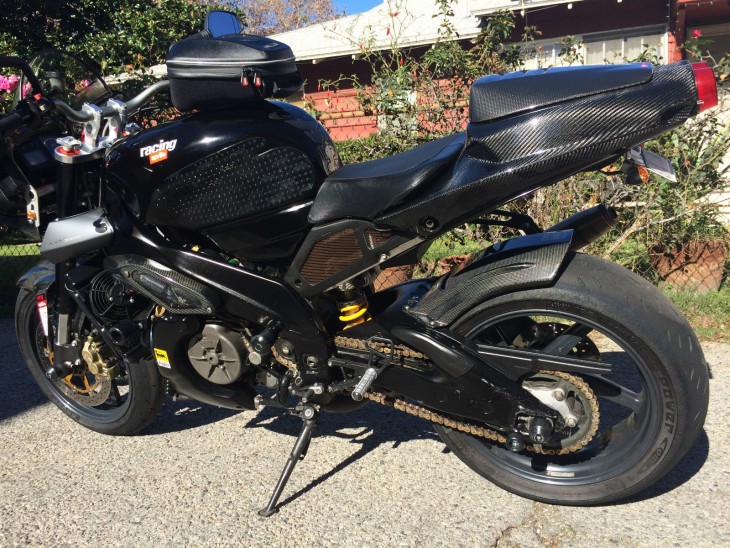 The Tuono has long been the darling of motorcycle journalists, although they haven't exactly sold like hotcakes… Maybe something to do with the fact that Aprilias don't get snapped up by weekend warriors and collectors the way Ducatis do. Or maybe their styling is an acquired taste. Whatever the reason, Aprilias represent an amazing value on the used-bike market, combining Italian charisma with excellent reliability to create the perfect low-cost exotic.
-tad