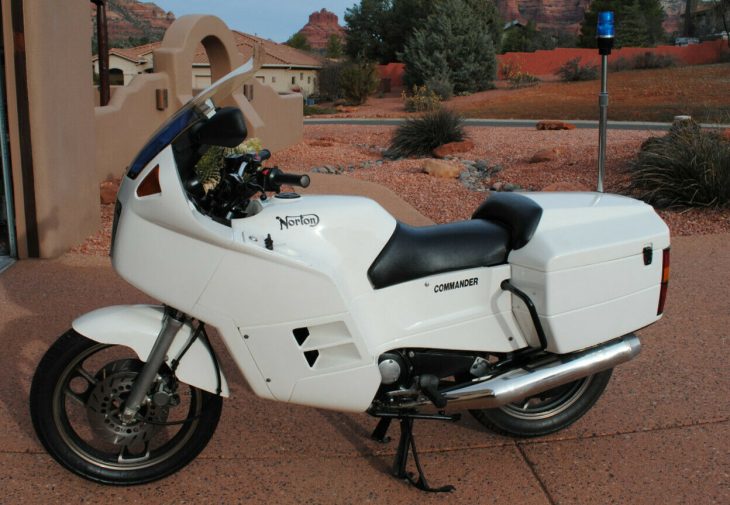 The history of rotary motorcycles is relatively short and includes a few technologically interesting, but largely unsuccessful motorcycles by Hercules, Suzuki, and Nortons. I'll admit that I'm stretching the definition of "sport bike" much more than I usually do with this Norton Commando P52 police bike, but it's such an oddball I had to post it. I mean, how could I not post a fully-faired Norton rotary-powered motorcycle? Hey, at least the P52 shared the same basic engine with the very rare and sporty Norton F1!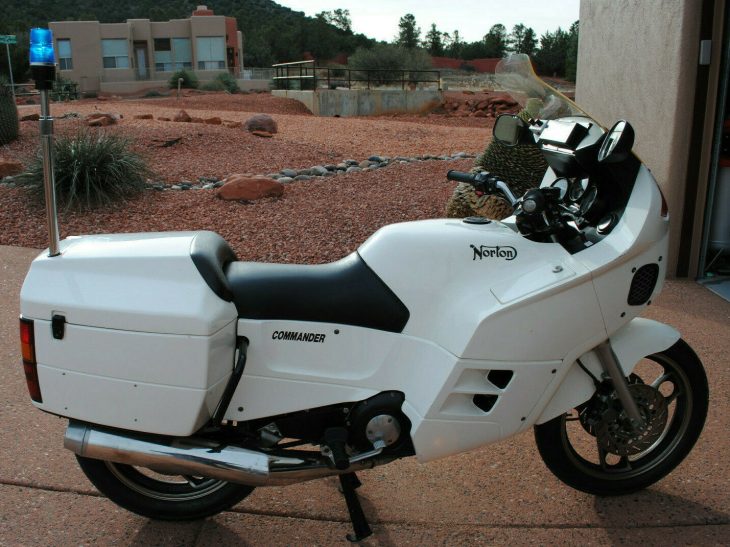 A rotary engine is elegant simplicity in concept, but problematic in execution: they have very few moving parts, and no need for camshafts, as the rotors themselves effectively open and close the fuel/air inlets. There are no poppet valves to bounce and play havoc when they try to share space with fast-moving pistons, and their rotational motion means they're extremely smooth, compared to a reciprocal piston engine. One can understand an interest in avoiding engine vibration, as Norton's previous parallel twins required the company to engineer the famous "Isolastic" mounting system to prevent the bikes from basically shaking themselves and their riders to pieces.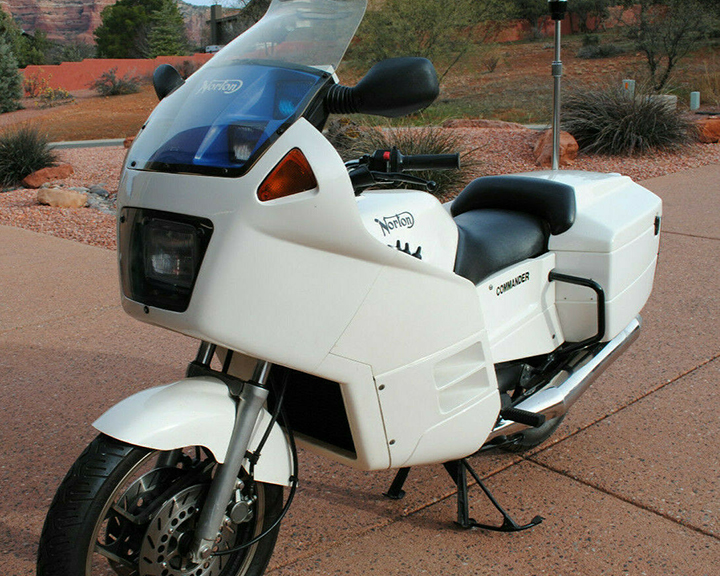 Unfortunately, Norton traded one set of problems for another by switching to a rotary design and, aside from a few spectacularly cool racebikes that did well in competition and a few road going F1 replicas to match, the bike was a relative failure. Rotaries tend to run hot, so after an initial run of air-cooled motorcycles, Norton switched their twin-rotor design to liquid cooling, which helped control temperatures somewhat, but added weight and complexity. Overall, Norton managed to work out most of the bugs, aside from emissions, fuel economy, and problematic apex seals. Reliability improved, but the bike didn't really offer much of a performance advantage, compared to conventional machines, and it never really found enough of an audience to justify itself or save Norton from insolvency.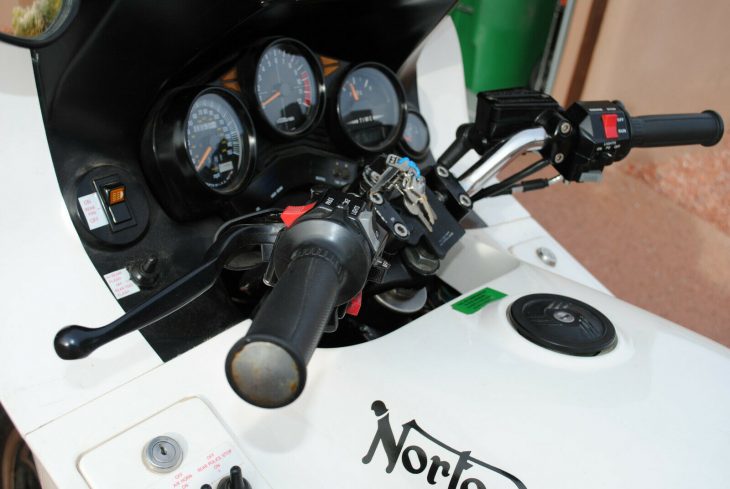 Rotary-powered cars haven't fared all that much better than rotary-powered motorcycles: enthusiasts may love them, but warranty claims for NSU's R0 80 basically sank the company and Mazda's rotary has been in and out of production for years, owing to their fairly horrible fuel consumption and issues with emissions, as well as rotor apex seal durability. Ultimately, they're not the simplest, or most efficient way to motivate a motorcycle. Considering the hard miles law-enforcement machines rack up, I can only imagine the headaches experienced by officers using a Norton Commander P52 in the field…
From the original eBay listing: 1989 Norton Commander P52 for Sale
This is a very rare Norton Rotary motorcycle and is in running condition.  It was sold to the Dubai (Middle East) Police Department as a demonstrator, probably with the hope of a large fleet sale.  I purchased this bike in the UK around 1995 and have finally been able to go thru it and get it 100% running and titled in the State of Arizona.

This bike has matching frame (VIN) and engine numbers.

This bike has a calibrated speedometer and has only 1150 original miles from new. Very little was done to bring the bike up to full running condition. As it sat for years (always indoors), I had to professionally rebuild the SU carbs with proper parts from the UK. As a safety measure the fuel lines were replaced due to age and hardness. (I have the old fuel lines for historical reasons). 31 years ago Iridium spark plugs were not yet either in wide use or even available. These plugs are well suited for an engine that burns oil  (as is the case in 2 stroke or rotary engines) so I installed NGK Iridium plugs in this bike to minimize fouling and promote easy starting and running. Again, I have the stock plugs. Norton also recommended Shell Rotella oil but once again I did some research and was advised by several people in the know that the Shell oil is perhaps not the best modern choice of rotary oil. Mazda, who perhaps has more success with the rotary engine in the world had commissioned Idemitsu  of Japan to develop a full synthetic oil for use tn their rotary engines. I decided that the Idemitsu oil was the best modern choice for the Norton Rotary and drained the oil tank and replaced the engine oil with Idemitsu full synthetic oil designed for the rotary engine.

The bike has all the equipment as shipped from the factory, including a 58/100 watt siren, front and rear blue flashing strobe lights and the STOP POLICE illuminated  rear sign. I have 2 new screen printed extras that were made by a friend of mine in the sign business. The siren can be heard for miles so I will include a 100 Watt audio L PAD that can be plugged in line with the siren driver to safely adjust the volume to a comfortable level. I Laser cut a "Norton" sign to replace the Police sign if so desired.

The machine uses 2 batteries and new sealed batteries were installed recently. ALL keys are included and except for the trunk key, duplicates were made for the rest.

The factory workshop manual only ever existed as a "work in progress" but I was able to secure a copy of the manual as a draft. All further work on the full published manual stopped when Norton shut down. I was also able to secure a full wiring drawing of the bike.

Several sales brochures  for the strobes and siren manufacture are part of the literature package included. A full parts list with images is part of the sale.

Norton designed in some unique features into this machine such as a 100% enclosed rear drive chain with an oil bath to promote long life. Built into the trunk is an on board battery charger with the typical UK plug and 240 volt AC input. I designed and built a 110 VAC to 240 VAC step up transformer, all mounted in a plastic box with a UK socket. This allows the built in battery charger to operate properly from US 110 VAC power.

The original owners manual, operators manual, and color sales brochure are part or the package along with letters from Norton to the Dubai authorities and letters in Arabic back to Norton.

The brake system had to be 100% rebuilt as the DOT 3 fluid had started to degrade. All calipers, and master cylinders were completely rebuilt and the fluid was replaced with DOT 5 silicone fluid to eliminate any future  concerns. Again, due to the age of the machine I did change the antifreeze coolant. The rubber hoses connecting the radiator to engine have hardened to the point of minor leaking… I have factory original  replacements that  have not been installed yet.

The tool pouch was missing the basic tools except for the important real wheel axle spanner wrench.

As the bike in NOT restored, various scratches and blemishes exist. I went so far as to NOT polish the bike in any way. To the best of my knowledge the bike is as described.
The Norton F1 is the bike we'd normally want to feature here on RSBFS, being a full-on race-replica with pretty solid performance credentials. The sport-touring Commander seen here used a variation of the liquid-cooled two-rotor powerplant, with fully-faired bodywork that included integral panniers, although later machines used detachable luggage instead. The starting bid is set at $15,000 which seems… honestly, I'd have no idea how to value this bike, but hopefully some collector with a taste in interesting machinery will give it a good home!
-tad