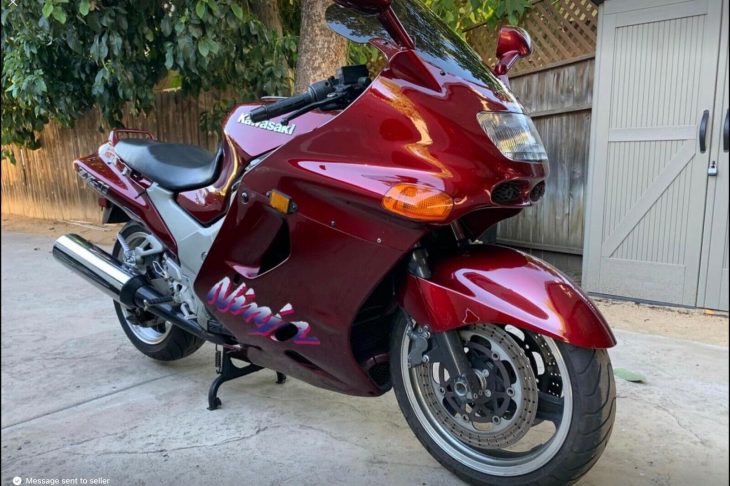 I'm sure you all must be exhausted by the never ending stream of exotic Italian confections that have assaulted your senses this week. Rich, high-calorie recipes that include a bit too much of all the things that make motorcycles great. As a palate cleanser, I'd like to offer this very clean, very handsome, very appropriately painted, and very fast Kawasaki ZX-11.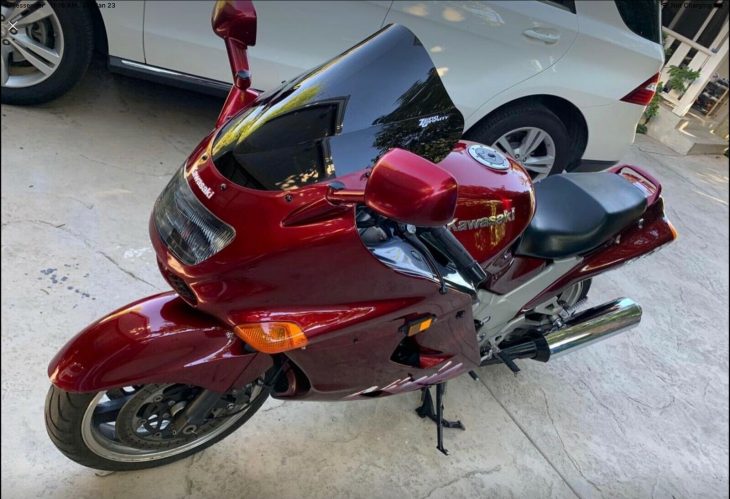 Kawasaki's entry into the 1990's Horsepower Wars was introduced in 1990 and produced until 2001, when it was superseded by the reskinned and stroked ZZ-R1200. Power naturally came from a big inline four that displaced 1052cc and was connected to a six-speed gearbox. Aided by one of the very first functional production ram-air systems, the big four produced 150 crankshaft horses, enough to push the bike to a top speed of over 175mph.
Handling was neutral and very stable, exactly what you'd want from a bike this powerful. But although it was fast, the ZX-11 was no track bike: it was designed as a roadbike, with very reasonable ergonomics that made it far more of a gran tourismo, as the sleek, mature looks and lack of the period's famously garish graphics suggest. The near 600lb wet weight helped provide stability at speed and pummeled road imperfections into submission.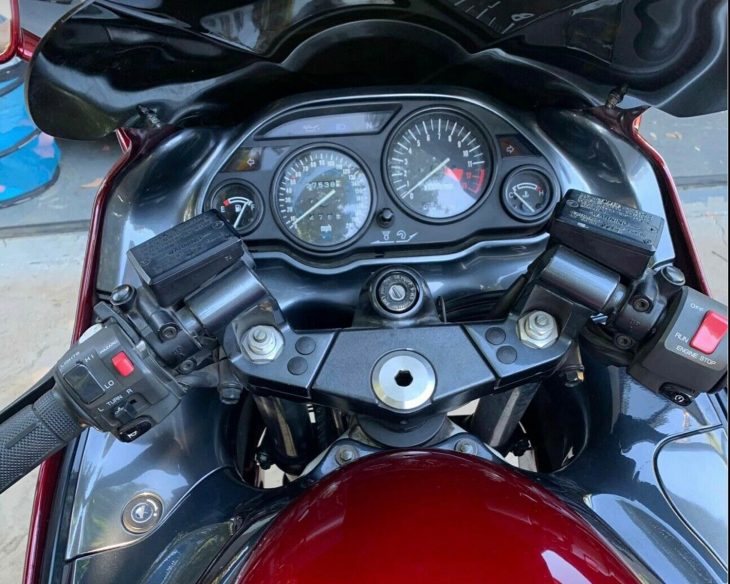 From the original eBay listing: 1993 Kawasaki Ninja ZX-11D for Sale
100% OEM Condition… 1993 Kawasaki Ninja ZX11 D-1 in a very desirable Candleberry Wine Red with only 27,800 miles that comes out to 989 miles a year. This bike could easily qualify as a survivor (Pride in Ownership shows). Overall paint is in great condition. Exhaust and ECU are stock. Exhaust cans are very clean. Starts and runs good! Everything works as it should. No leaks, no smoke, no overheating. Plenty of tread on the tires. Decals and emblems are all original. Adult owned and cared for its entire life.

Original tool kit is under the seat. This is a very clean example and as the time progresses these are harder to come by in such great shape. As a matter of fact I've only ever come across a couple that were even close to this condition in years past. 

You will be very hard pressed to find one let alone in this condition. Free and clear title in hand. Bike has never been laid down or crashed. I purchased the bike from the original owner who was well into his late 70s. Hate to see it go. Price is firm. No rust whatsoever and garage kept.

I'll include bar risers and a flat bar should the new owner decide to take touring comfort to another level. I will also include JTR488-45 rear sprocket. Zero Gravity tinted screen mounted, stock clear screen and a black out screens will be included.
Condition of this Candleberry Wine Red example appears excellent, although miles aren't especially low. But it's not surprising that the previous two owners racked up some miles, considering the ZX-11'sraison d'etre: ballistic mile-munching performance. I genuinely think these are very cool and, when prices were at their nadir, entertained fantasies of finding a clean example and fitting a set of soft luggage so I could blast up and down the West Coast. I've seen lower-mileage examples for less than this one's $4,200 asking price in years past, but I have a feeling this will look like a very good deal in just a couple years' time… Snap bargains up while you can still find them.
-tad