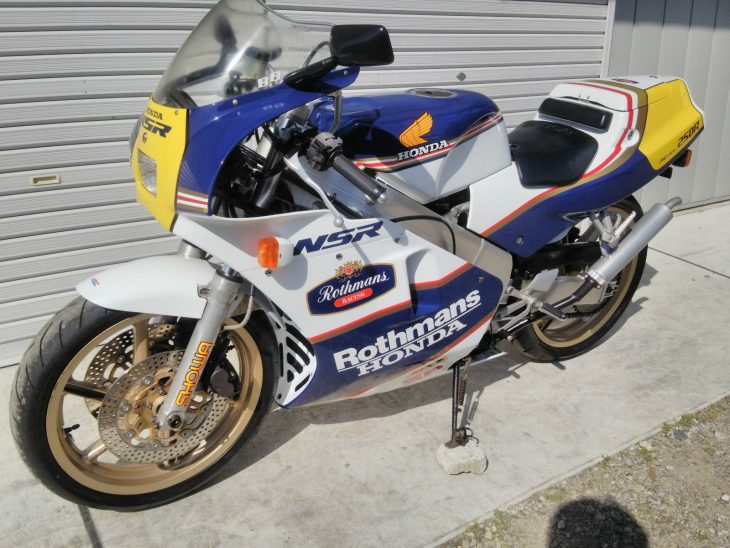 All of the quarter-liter two-stroke sport bikes of the late 80s and early 90s are pretty desirable, but Honda's v-twin NSR250R is both one of the best-known and most popular. Power was a modest 45hp, but the NSR could be de-restricted for additional power safely, if not always easily, since that factory output was mandated by government decree and not because of any sort of mechanical limitations. This earlier MC18 version of the bike lacks the later MC21's cool asymmetric "gull arm" swing arm and the MC28's heavy, but very trick-looking single-sided unit, but I really like the slightly chunkier lines and that solid-looking aluminum box-section swingarm. It could also be that MC18s are a bit more affordable than those later bikes, and much easier to import and register than a late-model MC28…
We've featured bikes from this seller in the past, and they appear to be one of the companies that's recently begun importing these little sportbikes on a regular basis, turning them from "rare sportbikes" into "uncommon sportbikes." But even though these two-stroke sportbikes aren't quite the unicorns they once were here in the USA, the NSR250 has a bit of cachet the TZR and RGV seem to lack, and that Rothmans design makes this one of the best-looking race replicas of all time.
From the original eBay listing: 1988 Honda NSR250SP MC18 for Sale
Up for sale is 1988 HONDA NSR250SP MC18 rare 2-stroke sports! The bike is just imported from Japan. Not registered yet in the U.S. Very good running condition sharp response of 2-stroke engine is still well. Can shift all gears very smooth. Brakes are work fine. Electricals are all work but front brake switch is not working. Has an original key. According to frame# this bike is SP version.

Speedometer looks HONDA genuine parts and shows 24600km = about 15400miles, but actual mileage is unknown. Will needs new tires and fork seals. Has HONDA genuine fairings and MAGTECK wheel. But has hairline cracks and chips and scratches and under fairings are looks repaired by FRP and repainted. Have hairline cracks and chips on fairings, so look carefully all pictures and video. Used motorcycle with scratches and wear as 28 ages.

And then, feel free email me for more info on this bike!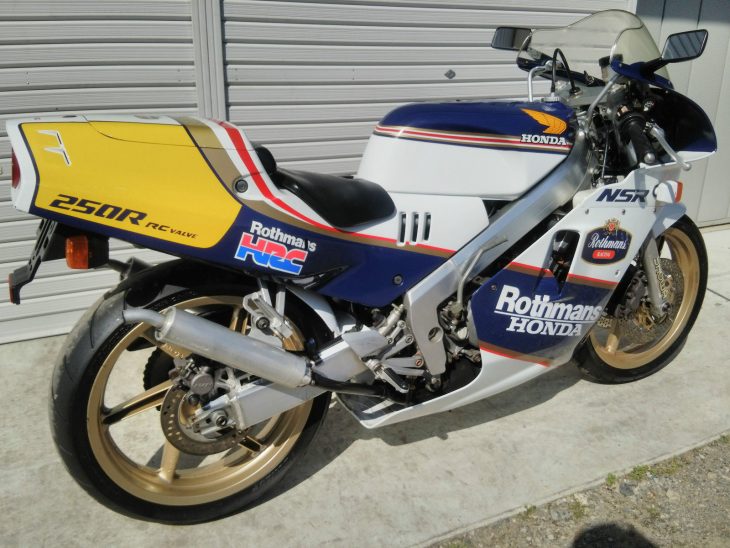 More pictures are available for your viewing pleasure here. The seller also includes a video of the bike being started here. It's not in flawless condition, with some wear and a couple deep scratches on the fairings, so this one might be more of a rider than a display bike. Bidding is up just north of $3,000 with a few days left on the auction and active bidding so far.
-tad