Update 8.14.2014: I had this post scheduled for today but the listing was pulled down early. Anyone from here snag it? Thanks for the post Tad. -dc
The term "race replica" gets thrown around pretty often. But as racing machinery has become more and more specialized, race replicas have become more and more of an "in name only" proposition, a paint and tape job featuring the exact same technical specifications, with a higher price and additional free advertising for the sponsors. I mean, I love the Repsol Hondas, but let's be honest: they've got little to nothing in common with the race bikes.
But that wasn't always the case, and Suzuki's RG500 Gamma was much closer to the real thing than you're likely to find at the dealer today.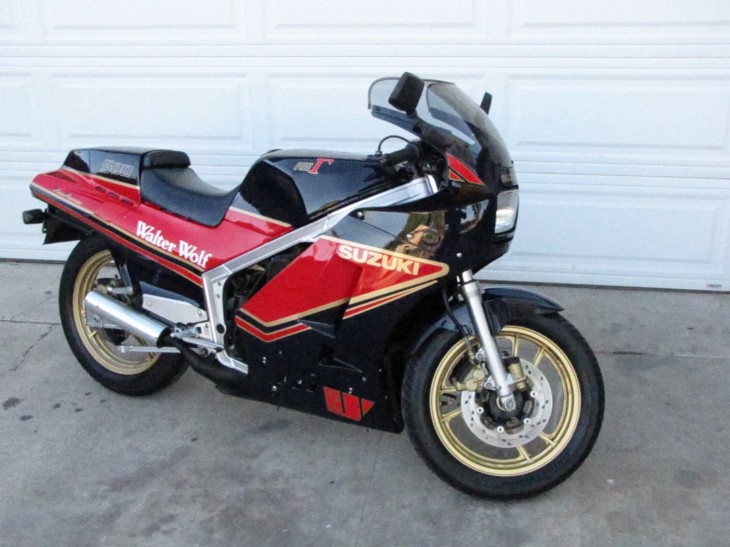 Another one of the unusual powerplants from the wild-west period of the 1980's is this Suzuki RG500 Gamma and its square four. Basically two water-cooled parallel twins geared to a common crankshaft, it was powerful, lightweight and, compared to Yamaha's RD500, was much less compromised for the road: weighing in at under 400lbs dry, it made almost 100bhp at the crank. With typically brutal two-stroke power delivery and a short wheelbase that made it a very serious tool for experienced riders.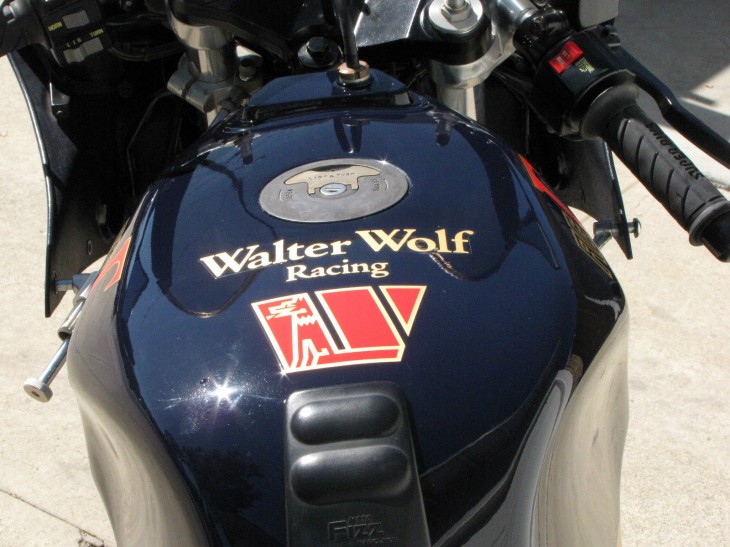 While "Walter Wolf" sounds like the villain from a James Bond film or possibly a children's cartoon, it was actually the name of oil magnate and motorsports lover/sponsor who sponsored teams at the highest level of competition in both Formula 1 and Moto GP. Walter Wolf was born in Austria, but a Canadian citizen and the racing team was based out of the UK. Still with me? He's quite a character, and still very much alive, although much of his story is too long and strange to recount here…
From the original eBay listing: 1986 RG500 Gamma Walter Wolf Replica
This 1986 Walter Wolf RG500 is in beautiful condition for its age. All pictures are recently taken. The bike does have a few flaws such as one of the side rear panels is missing a tab on the right side the front fairing has been repaired do to cracking which appears to be very well done. The belly pan has some gas damage as well as a few scratches. I have been a collector of the 2 stoke street bikes and I don't like being surprised and don't want to surprise anyone else so I will disclose everything I know about this gamma. The rear brake is not leaking but could possibly use a rebuild or bleeding. The bike runs very well with fresh tires and battery. Pictures do not do this beauty justice this bike is stunning in person. It has gross valves and air filters on it and also comes with stock seat and air box parts. The belly pan is not really too visible but it is damaged from fuel. There is a small repair of the sticker in the picture and the clock foam has a small imperfection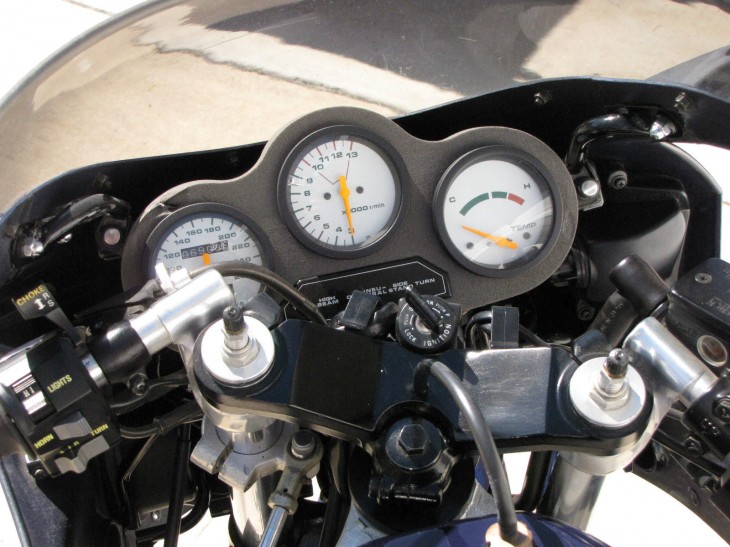 Production for the Gamma isn't exactly rare by European bike standards, with just north of 9,000 built between 1985 and 1987. But with only 100 genuine Walter Wolf replicas produced in total, these are a rare edition of an already very desirable bike. It's located in Cali, but it's not clear if the bike is titled for road use, which would make this "WW" even more special.
With a $20,000 starting bid, there are no takers as yet, although that seems like a pretty fair price, considering what regular Gammas go for… And that black and red paint really flatters the slightly slab-sided styling of the bike.
-tad