Some more 80's Honda action this week, only this time the bike is in much better condition and has all of its parts included! Modern sportbikes often obsessively address issues of weight while clawing at ever-higher horsepower numbers, worshiping at the temple founded by Lotus founder Colin Chapman and his philosophy that, "adding power makes you faster on the straights, subtracting weight makes you faster everywhere." Today's Honda VF1000R is a substantially-engineered motorcycle that lives by the first part of that axiom, but falls down a bit on the second…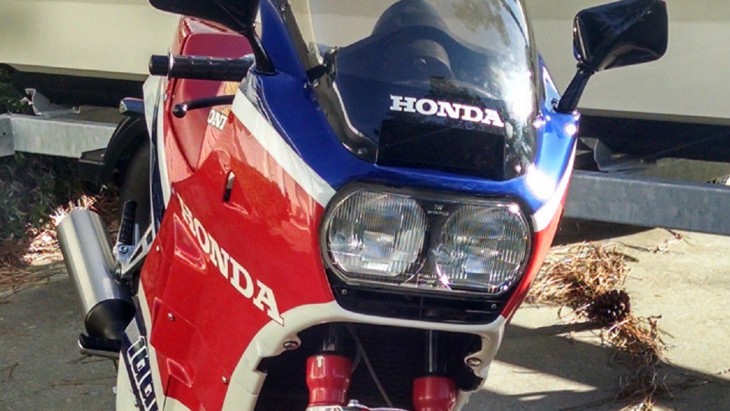 Looking much like a scaled-up GSX-R, the fully-faired, monoshock VF1000R was designed to homologate a number of features for Honda's endurance-racing efforts, but was actually noticeably heavier than the sport-touring VF1000F at over 600lbs wet. The 998cc V4 replaced the F's timing chains for the gear-driven cams that would eventually become an Interceptor calling-card, while anti-dive front suspension, quick-release axles, vented rear brake disc, and distinctive Comstar modular wheels fitted with radial tires rounded-out the exotic package.
All-in-all, the VF1000R was a bit of a disappointment as a roadbike, but that was never really the objective anyway: like most homologation machines, it was built to allow specific included parts to be used in much higher-performing, production-based racebikes. And it paved the way for Honda's all-conquering RC30 and RC45, although I understand those were also fairly disappointing in road trim. Spare me your anger and flame in the comments section: I freely admit I've never ridden either of them, but I've read plenty of period reviews that were less than impressed, especially considering those bikes' price tags then and now. Once again: road performance wasn't really the point of those bikes, either.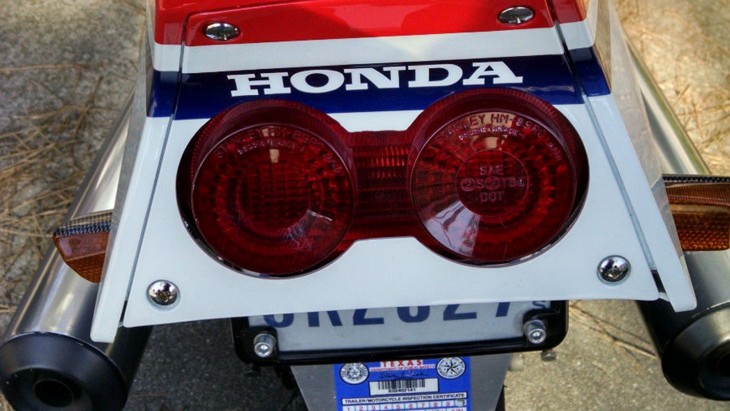 This particular example from '85 has been upgraded with the dual-headlight setup from an '86 model and looks to be in pretty spectacular shape, considering the bike's age and the fact that it has seen a reasonable amount of road use, as opposed to a pampered life in a collection. For most of us, that just makes it sweeter, and means that it's a runner, not a display bike. The included D&D pipes should make this bike a real howler: among Ducatisti, D&D is known for making pipes that exchange volume for anything resembling subtlety…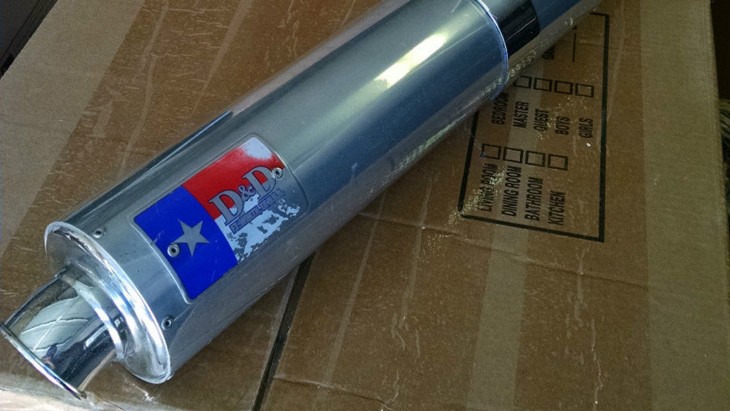 From the original eBay listing: 1985 Honda VF1000R for Sale
Super Clean 1985 VF1000R, dual headlight upgrade over the original single one, clean paint, like new tires, smooth idle, it's a Honda all the way!!! I hate to part with it, but I destroyed my left shoulder in Afghanistan and just can't take the lean forward any more 🙁 … She is garage kept, and the pics don't do it justice… I will include a set of D&D pipes to the winning bidder as well! Any Questions just ask, I'm listing an Aprillia 1000R in a few more days as well.

Thanks for looking
The biggest challenge with many Japanese bikes from the 80's and 90's was their mass-produced affordability: people bought them, rode them hard, and exploited their famed reliability. That means in spite of higher production, tracking down nice examples of bikes like this can be just as difficult as finding a more exotic Ducati or Bimota that was produced in much smaller numbers, but has led a much more pampered life.
There are still a few days left on the auction and bidding is active, although the reserve has still not been met at just north of $3,000. Much more a "GT" and less of a "back-road-burner" by today's standards, this should make for a pretty cool road tool for Honda fans and that V4 soundtrack, complete with gear-whine, will make any bike fan smile.
-tad