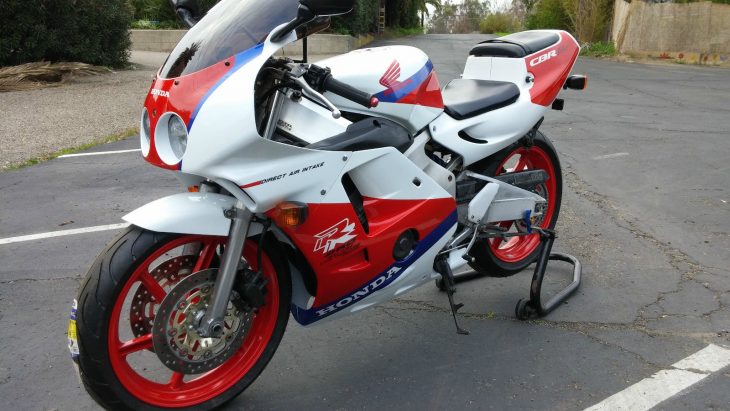 Displacement creep means that although a 750cc motorcycle was considered big in the 1970s, it's barely a middleweight now. And while there used to be a variety of sophisticated, small-displacement motorcycles, these days anything under 600cc's is considered "entry-level" and probably has just one or two cylinders. Surprisingly for a quarter-liter machine, the Honda CBR250RR is powered by an engine with four tiny pistons and sixteen jewel-like valves operated by gear-driven cams, with a six-speed gearbox putting a very reasonable 40hp to the rear wheel. The wet weight of 350lbs isn't quite two-stroke territory, but the bike is still an excellent handler and the shriek of those little oily bits spinning at 18,000 rpm might make up for that somewhat.
Produced between 1986 and 1996, the CBR250RR was sold mainly in Japan, although some found their way to other countries as grey market imports. Here in the USA, they are as rare as hen's teeth, but will likely become a bit more common as importers scoop up these relatively common machines in Japan and ship them over here, alongside the usual NSRs, TZRs, and RGVs…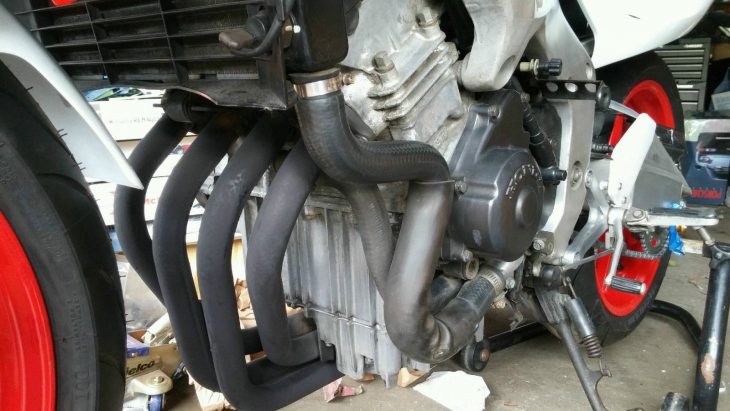 From the original eBay listing: 1990 Honda CBR250RR MC22 for Sale
Red and white version very rare bike for the USA. Perfect, like-new fork tubes. 17,000km. The carbs were recently cleaned hand have new floats, gaskets, NGK plugs, air element, and runs perfect. The only defect is the trip meter knob was broken when shipped to me in crate with body set upper was off and has a spare speedo set with 22,000km to install later. New o-ring chain, new Pilot Power tires, near new F/R OEM discs, Motul oil and filter change. Valves were adjusted and checked for proper tolerance. The bike has a new aftermarket body set, the only difference is the white is not a a pearl white but is very high quality fit and finish. The tank is very clean except for two light scrapes and light indentation. It comes with the original body set that has a few scrapes but still very clean. Has an English service and parts manual. Imported last year, no title, bill of sale only. Import documents provided, not sure if it can be titled in California and is your responsibility.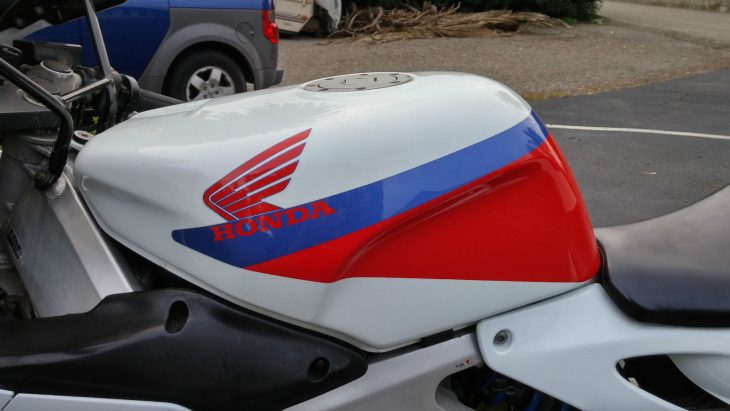 The Buy It Now price for this little beauty is $8,500 which is, I think, ambitious. It is a very cool motorcycle, but these seem to generally sell in the $5,000 range, on those rare occasions they come up for sale. Obviously, the usual "make sure you check with your local DMV" admonishments apply here. It's in excellent condition and miles are relatively low though, so I'm curious to see if some quirky collector decides that this little bike is worth that big chunk of change…
-tad