Right after Thanksgiving, we have this Moto Guzzi Daytona 1000 that's definitely no turkey! Bad jokes aside, it's a shame that Guzzi is a part of the Piaggio Group these days, since it means bikes like the Daytona 1000 and Sport 1100 may very well be the last Moto Guzzi sportbikes, as it makes little financial sense for them to compete directly with their siblings over at Aprilia. You might scoff, but prior to the 1980s Guzzi made some very capable sportbikes and had a successful racing history.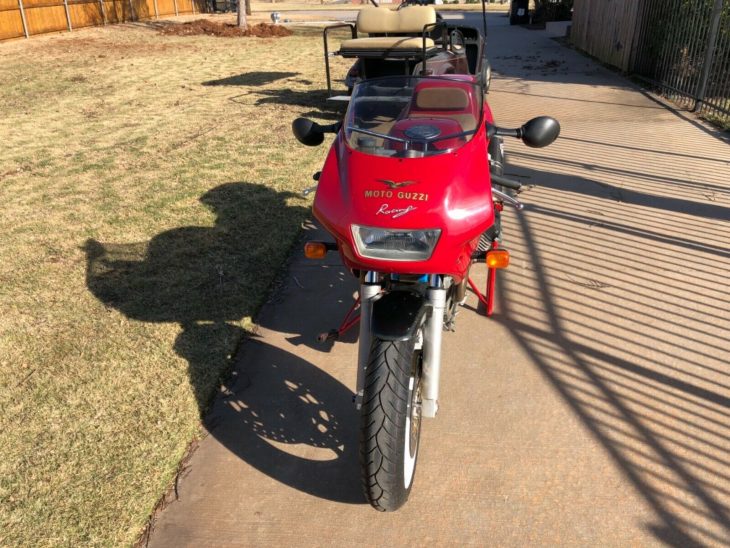 By the 1980s, things were pretty dire, at least for the factory efforts. At least one privateer was having a bit more luck: Dr John Wittner, an American dentist, successfully campaigned a Moto Guzzi in AMA Pro Twins, so Guzzi tapped him to help develop a new sportbike and the Daytona was born. This new machine was built around a "spine" frame with distinctive side plates, and the bike was powered by an updated powertrain that featured Guzzi's familiar five-speed gearbox, automotive-style clutch, and shaft drive. Most notably, the engine featured a significant revision in order to produce competitive power: four valve cylinder heads.
Interesting to note: these new heads did not use overhead cams. Instead, it uses a sort of "high cam" arrangement with a pair of cams operating a short pushrods and a set of rockers. The result approximated the performance of an overhead cam engine and the new 992cc setup produced 92hp without the benefit of liquid-cooling. The bike featured quality WP suspension and handled well, allowing for the usual torque-reaction of the longitudinal crank and driveshaft. The biggest problem with the Daytona and its descendants was always its 502lb dry weight, and it was never able to compete directly against rival sportbikes. That shouldn't bother anyone who's interested in this beast, since it offers distinctive looks, stable handling, and plenty of character.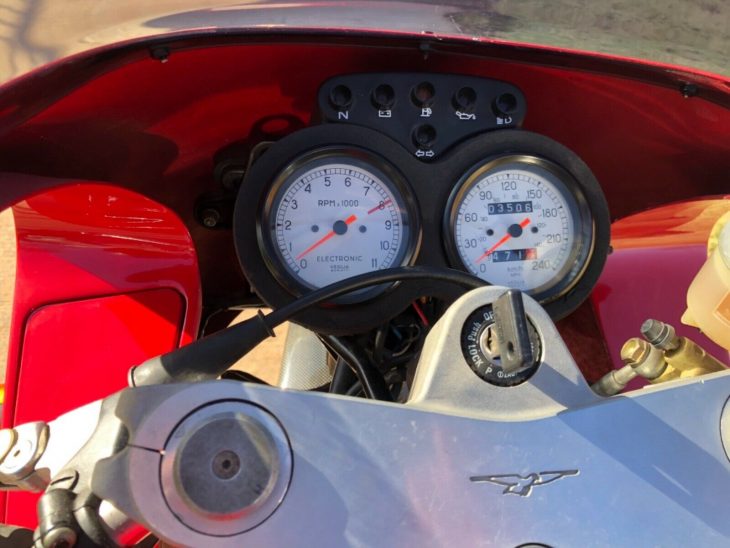 From the original eBay listing: 1993 Moto Guzzi Daytona 1000 for Sale
93 Moto Guzzi Daytona (very rare) in excellent condition. Moto Guzzi stage 1 upgrade Termignoni full exhaust, intake system, (Computer Flash, I was told?) Bike was serviced by a professional. All fluids changed, tires, timing belts replaced, valves adjusted, new fuel pump, fuel lines, tank was cleaned & sealed by a professional in Florida. Bike was ridden approximately 30 miles last week. Runs & drives like it should. Odometer & speedometer is reads in kilometers. Pics available on request. All questions welcomed.
And did I mention the noise? With those Termi exhausts and the performance chip/ECU installed, this thing should make a satisfying boom and look great doing it! The bike appears to be in very nice condition, with several new hoses visible and the excellent European-market trapezoidal headlamp that looks far better than the usual rectangular unit. Bidding is up to $6,000 with the Reserve Not Met and just a few hours left on the auction, so jump in quick and get your Guzzi fix!
-tad