Okay, so the MV Agusta F4 is on my short list of "must own" bikes. The 1000's are fairly common, but somehow I'm paranoid those extra 250cc's will be the death of me. When they were released the 750's were a bit disappointing, with performance on-par with Suzuki's GSX-R 750 and a much higher price tag.
But these days, prices for F4's are shockingly affordable, assuming you stay away from any that have "Oro," "Senna," or "Tamburini" in the name. Notice I'm not saying anything about maintenance costs: I had a buddy with a 750 Brutale that was, shall we say, "less than reliable…" And with dealers sometimes thin on the ground and some parts shipping from Italy, things can get dicey if you actually want to, you know: ride your motorcycle.
But with a bit of luck, these days you can get yourself a gen-u-wine Italian exotic for under $10k.
Reportedly developed with input from Ferrari, the F4's engine mostly follows standard superbike specifications, with four cylinders, four valves per actuated by dual overhead cams, hemispherical combustion chambers [see listing] Then it gets weird: Radial valves.
Radial valves are simple enough in theory, with clear on-paper performance advantages. But making those work in practice isn't quite so easy, which may explain why basically nobody else uses them. With no measurable performance advantage over traditional parallel valves, and some very real downsides in terms of complexity, these sound cool, but fall into the same category as Desmo valves: probably not worth the trouble, except as a marketing tool.
So the F4 is more complicated than a GSX-R, much more expensive to maintain, and not likely to be faster on road or track. So why buy one? Well just freaking look at it: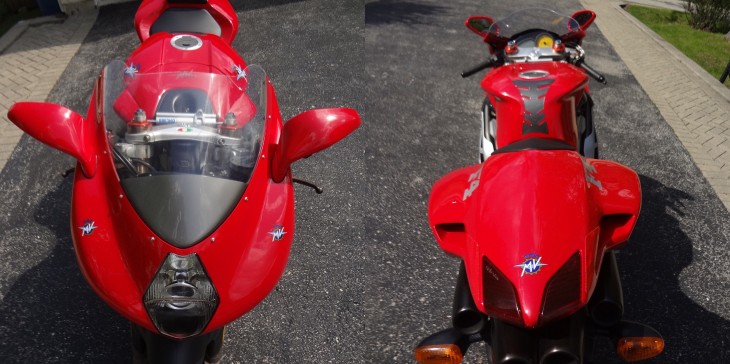 Rumors have swirled that this was originally penned to be Ducati's 916 replacement before designer Tamburini left the company. Regardless of the truth of that, this is a truly gorgeous motorcycle, even ten years on. The tail's a bit chunky, but otherwise what would you possibly change?
And it's not like it isn't a fast motorcycle, it's just not appreciably faster than more mundane alternatives. It'll still blow your hair back just fine, and the 1000 version will pull it out by the roots… Figuratively: of course you're wearing a helmet.
From the original eBay listing: 2000 MV Agusta F4 750 for Sale 
The F4 was created by famous motorcycle designer Massimo Tamburini at CRC (Cagiva Research Center), following his work on the Ducati 916. The F4 is unique with its four pipe undertail exhaust, single-sided swingarm, large front forks (49 or 50 mm diameter) and traditional MV Agusta red and silver livery. The F4 is also one of the few production superbikes to have hemispherical chamber 4 valves per cylinder engine.

The F4 engine is a liquid cooled inline four cylinder (4-stroke) with two overhead camshafts (DOHC), 16 radial valves, electronic multipoint injection, induction discharge electronic ignition.

Be ready to turn some heads with this one of a kind motorcycle. This is a rolling piece of art. All hand built in conjunction with the engineers of Ferrari.
Other nice feature of the 750s is that nice yellow-faced tach. I'm big on interesting tachs: I figure you'll probably spend a good bit of time with it stuck in your face on the road, might as well be looking at something cool, and I can't name another bike, except maybe modern Benelli, that has a yellow-faced tach.
The seller may not be an expert, but the bike looks very clean, with low miles. And $8,900 seems like an awfully fair price. Miles wouldn't stay very low for long if I bought it.
-tad