Location: Madison, WI    Mileage: 15,358    Price: Auction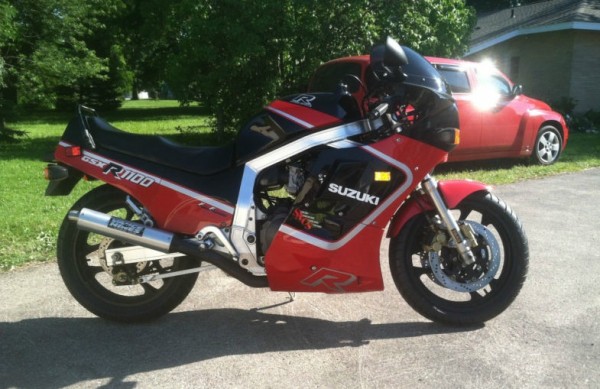 I love to see original, early GSX-R's like this one pop up for sale. We all know about the legendary status of the 1100 with its bullet-proof air and oil cooled motor. So much motor that it pushed the chassis almost too far. These early GSX-R 1100's set a high bar for everything that came after.
From the seller-
Her I a 1987 Suzuki gsxr 1100 never been laid down straight no dings or scratches. bike has a small flaw in one sticker has pealed a little( shown in pics). It has a Vance and Hines slip on and after market windshield. other than that this bike is STOCK. As of last week it had two new tires, new battery brake caliper rebuilt, master cylinders rebuilt, needles and seats, float bowl gasket, and all fluids replaced. this bike is beautiful unmolested  unrestored condition. 15,346 original miles
Photos-
The seller describes the bike as stock, outside of the Vance and Hines pipe and smoked windscreen. Not too bad for a bike that's 26 years old. Mileage isn't bad for this motor as long as its received regular maintenance. The seller also describes recent work that's been done. You'll want to do your homework but it sounds like this ride is in pretty decent shape.
This GSX-R could be a solid pick for anyone who's a Suzuki fan or wants to add to a collection or just wants a cool sportbike. If you can give this bike a nice garage to live in, go place your bid!
-RN