Location: Las Vegas, NV    Mileage: 43,000   Price: Auction, no reserve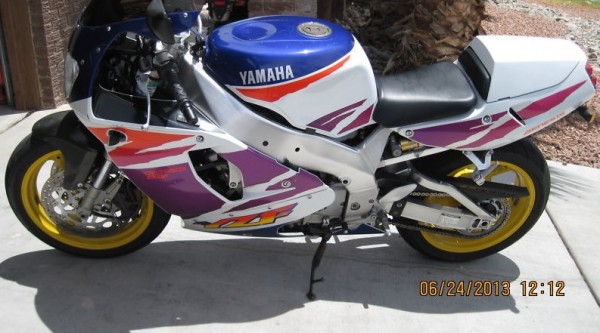 So we at RSBFS like to bring our faithful readers the mintiest, rarest and most sportbikiest of rare sportbikes we can find for your viewing and purchasing pleasure. And that's awesome. However, sometimes there are other bike choices out there for the many of us who don't light our cigars with hundred dollar bills. Here is a case of one of those bikes. This bike is not perfect and certainly has the miles, but it's no reserve, so you could own something maybe you want to restore for not a ton of cash. Pretty cool.
From the seller-
hello.im selling my 1994 yamaha yzf750.im a mature rider and this bike is not raced or tracked just a streetbike.it is pretty much all original except for the windscreen the turn signals and the front fender.i still have the original yamaha key.the previous owner before me put the windscreen and front fender on years before i owned it.it has a clean title.the tires are in good shape and has no leaks anywhere.she has 43 thousand miles,but dont let that fool you these motors run for along time and are pretty much bullet proof.this basic motor has been in the fz750 since 1985.you can jump on this bike and ride cross country if you want.these bikes in this condition are getting harder and harder to find.this bike fires right up and runs smooth and quite with the stock exhaust.it does have a few little scratches here and there and i took a couple pictures of them.all in all a very solid motorcycle and in great condition for being 19 years old.im listing this as a no reserve auction.i also have the bike for sale locally and reserve the right to end the auction early.all sales are final and full payment to be made in 72 hours.you can come by my house and take it for a ride if you would like.also buyer is responsible for shipping if he or she desires to ship it.if you have anymore questions or would like any different pics feel free to call me and i will be glad to send pics or talk about the bike.thanks and good luck bidding.
And pics-
Now, with this kind of mileage you're gonna want to do all you can to verify the condition and make sure she runs right. Or as right as it can for the age. The bike isn't 100 percent stock and has its cosmetic nicks and dings. But part of your fun can be restoring back to factory stock. And then have a cool looking ride that is rare and will be fun to ride.
So for the rest of us who would like to have all the killer bikes we see on RSBFS everyday but aren't a celebrity or maybe an owner of multiple websites that feature rare cars (German, Italian) and bikes (cafe, sport) and such, here's an opportunity. Make the most of it and get in on the action!
-RN