Location: Clemson, SC   Mileage: 30,955   Price: Auction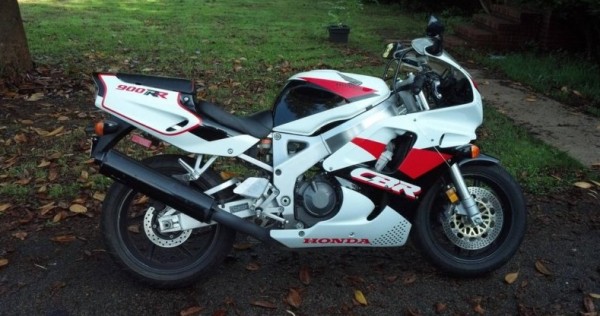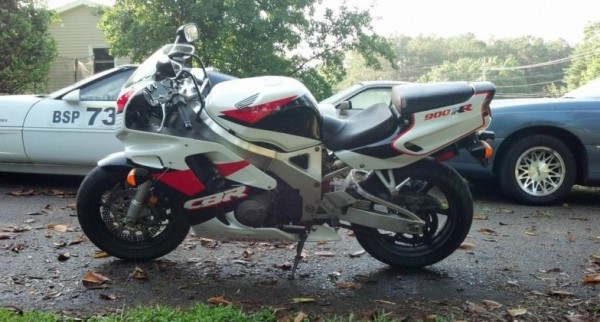 So this CBR900RR isn't a minty, garage-queen, low-mileage, museum piece that we like to normally feature here on RSBFS. But that doesn't mean it doesn't belong. The 900RR is such an iconic, important bike in the evolution of the sportbike that any 900RR that's relatively clean is a bike worth considering. In that mindset, here's this one.
From the seller-
You are viewing a 1994 Honda CBR 900 RR with less than 31,000 miles.   

This motorcycle is in excellent condition and runs perfectly.  Both tires are like new.  It has a newly installed K&N air filter, and a fresh oil and filter change using full synthetic oil.  Spark plugs were changed within the last 500 miles. There is a Corbin seat installed which is much more comfortable than the stock seat.  It also has heated hand grips. The only flaw with the motorcycle is some scratches on the muffler (see pics).  The bike was in a low-speed accident several years ago.  All damaged plastics were replaced with OEM parts, but the damage to the muffler wasn't worth repairing.  

Feel free to ask any questions about the bike.  I'll respond as quickly as I can.

The following information is from Wikipedia:

CBR900RR 

The CBR900RR was introduced in 1992 with an 893 cc inline-four engine and set a precedent for light weight in the super bike class. At 453 lb with a full fuel tank, the CBR900RR was just 4 lb heavier than Honda's own CBR600F2, and 76 lb lighter than the next-lightest open-class machine at the time, the Yamaha FZR1000. Minor changes to the 1994 model included an improved shift drum to cure notchy shifting, and steadier mirrors. 

In a move to refine the CBR900RR's handling on bumpy roads, the 1995 model's suspension was upgraded with revised spring and damping rates, and a compression adjuster was added to the front fork. More aggressive styling incorporated a "cut reflector" design headlight and fewer of the CBR's unique fairing holes. Slimmer and firmer footpegs were patterned after the RC45 and a shift linkage replaced the original model's backward pedal. A new instrument panel included an electronic speedometer that measured speed from the countershaft sprocket. The only engine change in 1995 was the replacement of the aluminum valve cover with a magnesium piece.
And photos-
So, like I said, this isn't a low-mieage, living room piece. It's clearly seen its share of road time, been down, had fairing replaced and still has some scrapes and bruises. But, it's not all that bad, if you want to own an iconic bike and not pay collector prices. If it runs and is somewhat put together, you still have an awesome ride.
Here's your chance to take the 900RR home and rest well knowing you have one. To make that happen, place your bid!
-RN