Location: Nacogdoches, Texas
Mileage: 9,253
Price: Auction, BIN $6,500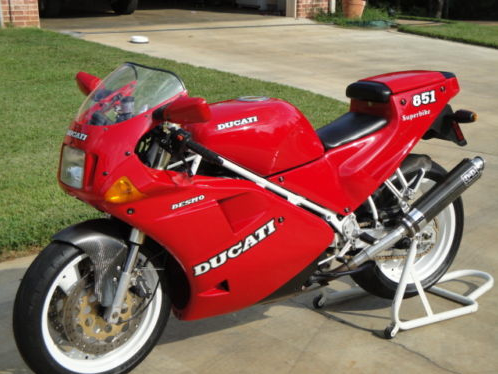 For me the Ducati 851 is simply one of the best looking Ducati's ever. And that's saying something since they're not a company that cranks out a lot of ugly bikes. Then there's the race heritage that I'm sure most Ducati fans are familiar with. But for those that aren't, the 851 started Ducati's WSB success and won the first WSB race. It's the first  V-twin, 4 valve, liquid cooled Desmo engine and it cranked out 93 bhp at 9,600 rpm. And I'll say it again, the thing is just beautiful.
There's only a few pics-
And here's a brief rundown from the seller-
This is a classic, all original, never scratched bike.  This bike was completely serviced by Eurosport Cycle in Ft. Worth, in march of 2010, and has less than 100 miles since, I have all receipts when serviced.  They replaced tires, battery, changed the oil, new front fork seals, new ohlins rear shock, cam belts, chain.  This bike sat four 5 years and was not touched.  Its has D&D carbon fiber slip-ons, and carbon fiber front and rear fenders.  I have all the original parts. Please let me know if you need any more info.  thanks for looking 
The seller highlights some of the changes to the bike (D&D slip on exhaust and carbon fiber front and rear fenders) but also kept the original parts. The bike also looks to be taken care of in the maintenance department, hopefully addressing any issues with the fact that the bike has sat for a while. Otherwise this looks to be pretty clean example with decent mileage. At a BIN price of $6,500 it also seems like it's pretty affordable for a bike of this condition.
I love these Ducati's for their beauty and all they represent, but don't have one…yet. Someday. If you love these bikes too and have the ability to pull the trigger, or even if you don't and just like stunning bikes, go ahead and check out this auction.
-RN