Warning!
This post is in our archives. Links in this post have been updated to point to similar bikes available to bid on eBay.

Update 3.5.2020: This bike has SOLD! Congratulations to buyer and seller! -dc
The 1990 Honda RC30 was built specifically to win the World Superbike Championship for Honda, back in the glory days when racing meant almost as much to manufacturers as their retail operations did. People still came out in hordes to watch roadraces at tracks around the world, and the level of talent and daring were visceral in a way that the hyper-controlled environment today just cannot match. Somewhere there is video footage of Joey Dunlop changing a clutch on an RC30 laid on its side on a patch of grass. 
The street legal RC30 homologation specials wed that spirit with the highest tech available to sportbikes at the time and created a legend. As a marketing exercise, they executed their mission far beyond expectations. The 118 horsepower seems pedestrian by today's standards, but the feathery, torquey RC30 rewards focus in a way that modern machines can't match. 
This one, #58, had a fair number of miles put on by the first owner's wife, before our pal Mark bought it, rode it enough to get the feel for it, then winterized it and put it on display in his house. As a result, it is in beautiful condition, with under 5,000 miles on the clock. It has a CBR600 front wheel to fit modern tires, but the original is included, along with the original rear. We'd keep those around for posterity, but there's one choice if you're actually going to ride it.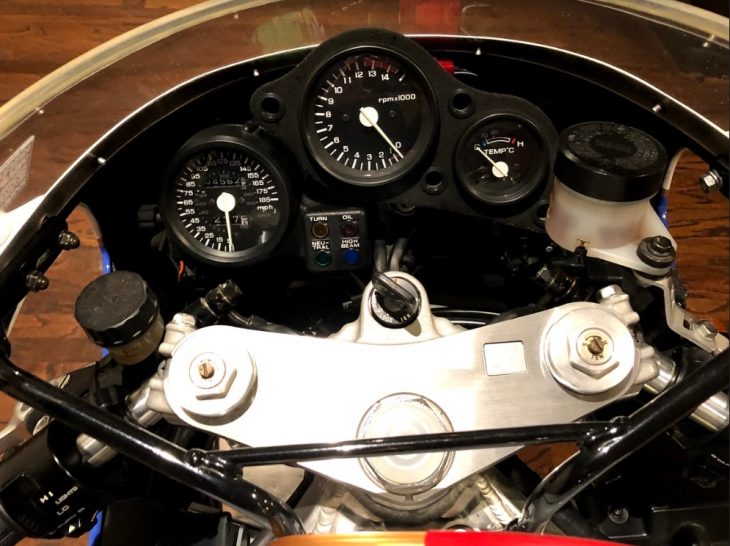 From the seller:
The bike is #58, which was previously on RSBFS years ago. Original owner put most of the miles on it, his wife rode around NorCal. All the documentation is there including original pink slip! The tires are the originals for display. There's currently a CBR600 front wheel on it for the 3 1/2″ rubber. I wanted to try the legendary RC30 so I put new rubber on it and then rode it for 50 miles before it went into the basement. It really is a piece of rolling artwork, never really appreciated it until I rode it.

All gas was removed etc. Comes with original stand, in great condition as you would expect from something that's lived in an air conditioned basement for the last few years. Photos are not great, happy to do a video call with any real buyer that wants to see specifics…..bodywork on or off. There's nothing to hide, no stories with this one.

Price: $35,000.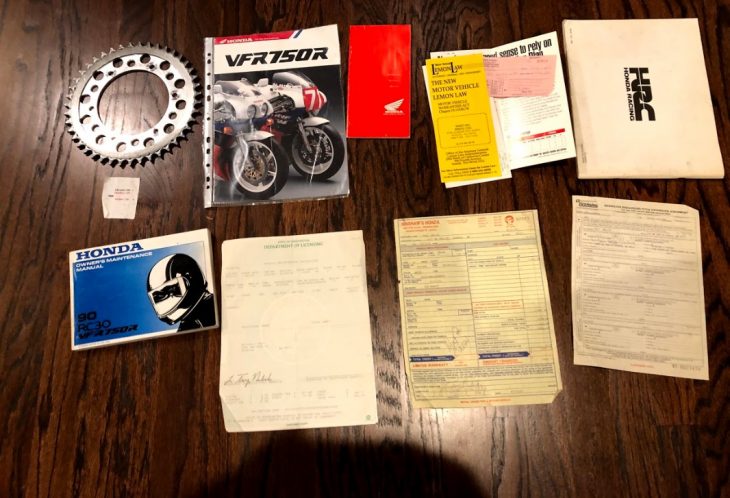 The rarer these get, the more desirable and expensive they become. This one is one of the best we have seen, and it has been made ready to ride, display or do double duty. You can't say fairer than that.