Warning!
This post is in our archives. Links in this post have been updated to point to similar bikes available to bid on eBay.
Every post will be sent right to your inbox every morning when new posts are made. We will never sell our list or spam you. Plus you can click links to bid or buy right from the email and skip the site entirely. Subscribe to Rare SportBikes For Sale today!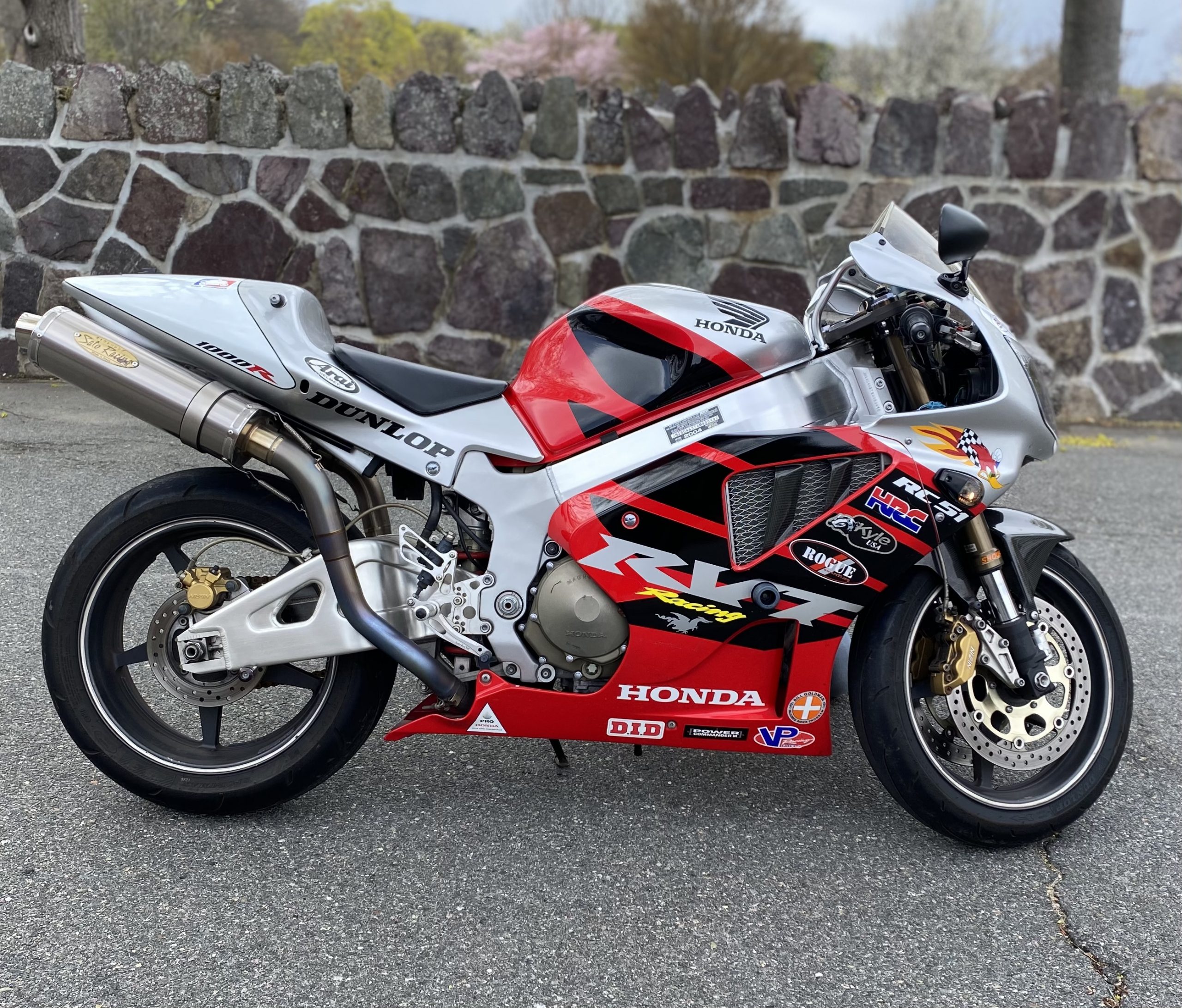 AMA Superbike champion. AMA Superstock winner – in both 600cc and 750cc classes. Formula Extreme winner. MotoGP rookie of the year. MotoGP world champion. Dethroned Valentino Rossi by interrupting his 5-in-a-row championship streak. Three time MotoGP winner and 28 time podium visitor. Scored at least one point in each of his 14 seasons in the top class. Won in WSBK. Inducted into the AMA Motorcycle Hall of fame. When it came to racing, there was not much that Nicky did not accomplish. Known as a genial and affable persona, Nicky was a wonderful ambassador on the world's stage, and brought the US back to the top step in international competition. The Kentucky Kid will be missed.
2004 Honda RC51 Nicky Hayden Edition
Honda created the RC51 in order to go Superbike racing. With ruling changes that allowed twin cylinder motorcycles a displacement advantage over four-bangers, Honda ditched the successful RC45 (RVF750R) for an all new effort to be known as the RVT1000R in the US and VTR1000 in other markets. The new 90 degree v-twin displaced just under the rule book limit of 999cc and thus was born a Japanese interpretation of a Ducati. And while the 130-odd HP twin is special in its own right, the packaging of the narrow motor within a sculpted wraparound twin-spar aluminum frame is what made the RC51 successful. So successful that it won the WSBK championship in 2000 – its first year out – with Colin Edwards at the helm. The RC51 then won a spectacular double championship in 2002, with Edwards taking WSBK honors and Nicky Hayden winning the AMA Superbike title in America.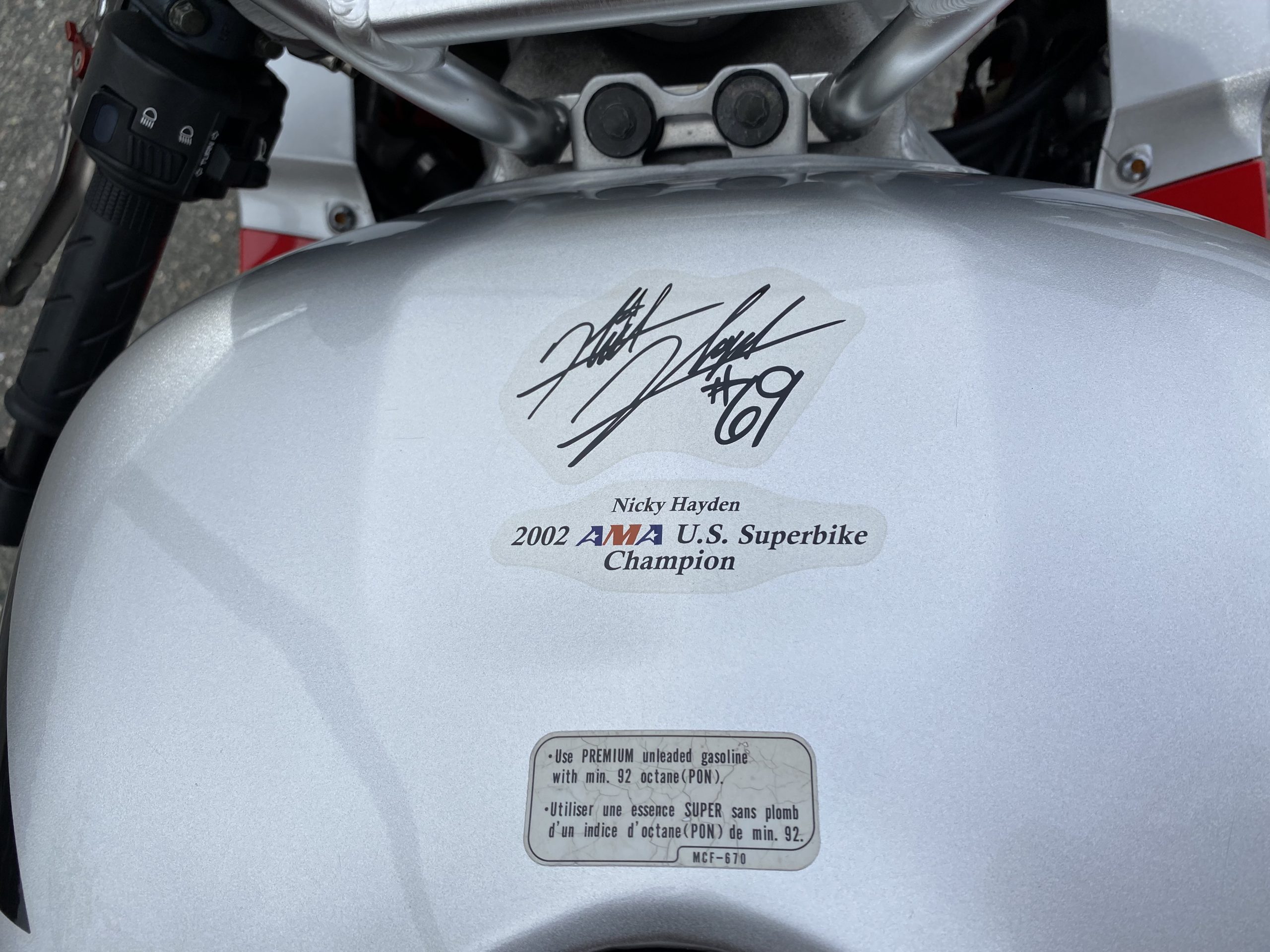 From the seller:
This is a Honda RC51 or RVT1000R Nicky Hayden Special Edition, #69.

Contact: Keri: kroskill@gmail.com
Asking $12,000
22,703 miles

This racing bike has been heavily modified with track riding/racing in mind. Meticulously maintained this RC51 is meant to be ridden and enjoyed. Starting from the top down it has a Power Commander III professionally tuned by BMW's race team. Engine mods to the airbox/emissions. Sato Racing high mount exhaust and rear sets. New sprockets and gearing changed to favor acceleration over top speed. Stainless brake lines. Suspension professionally set up for a 180 lb rider. Custom undertail with LED's. The bike has been tracked but never been down. There is some small cosmetic damage with the left fairing in the sticker kit very minor. (check pictures).

Included in the purchase:
Rear passenger seat, travel bag that goes in place of the rear seat, original front signals, original tail and signals, stock exhaust, original clip-on bars, and original brake and clutch levers.
The Nicky Hayden Edition of the RC51 is a special tribute to a special rider. This one year only offering differed very little mechanically from the same year base RC51, but included a special brushed aluminum finish on the frame and swingarm, a white area on the front and tail sections for numbers, and a unique Nicky Hayden sticker kit as part of the #69 livery. The tank is also bestowed with Nicky's signature and 2002 AMA Superbike Championship creds.
How about a video of this beast running? See below and turn up those speakers!
Today's Feature Listing RC51 is a rare Nicky Hayden Edition with some tasteful performance mods. On the engine side, intake, fuel injection and exhaust have all been massaged thanks to a Power Commander module and those gorgeous Sato Racing cans. Running gear has also been upgraded in the way of improved gearing for the real world, and upgraded brake lines for even better stopping power. Visually the bike has been cleaned up with the undertail kit, and the trick adjustable levers serve double duty as good looking and highly functional. The Sato rear sets are a work of functional art in their own right. All in all, this bike appears to be well sorted and ridden as it was meant to be. The seller is asking $12k for this rare homage to the Kentucky Kid. Please send inquiries to Keri, and snag this rare beauty. Nicky would approve. Good Luck!!
MI