Warning!
This post is in our archives. Links in this post have been updated to point to similar bikes available to bid on eBay.
Every post will be sent right to your inbox every morning when new posts are made. We will never sell our list or spam you. Plus you can click links to bid or buy right from the email and skip the site entirely. Subscribe to Rare SportBikes For Sale today!
The mighty Suzuki RG500 is well known on the pages of RSBFS. Derived as an homage to the RG500 GP racers developed in the 1970s, the Gamma is probably as close to the GP bike as you can get when comparing it across the other big factory two strokes. Utilizing the same twin crank, square four configuration as the racer, the street going Gamma was big, powerful and menacing. It was also fast and quite exclusive – especially if you lived in one of the 50 states that did not officially import this smoker across their borders. Enter the Canadian connection. Our closest border to the north, most of the forbidden fruit known as grey-market bikes came this route. Today's example is a step further removed, in that it still resides in its native Canada.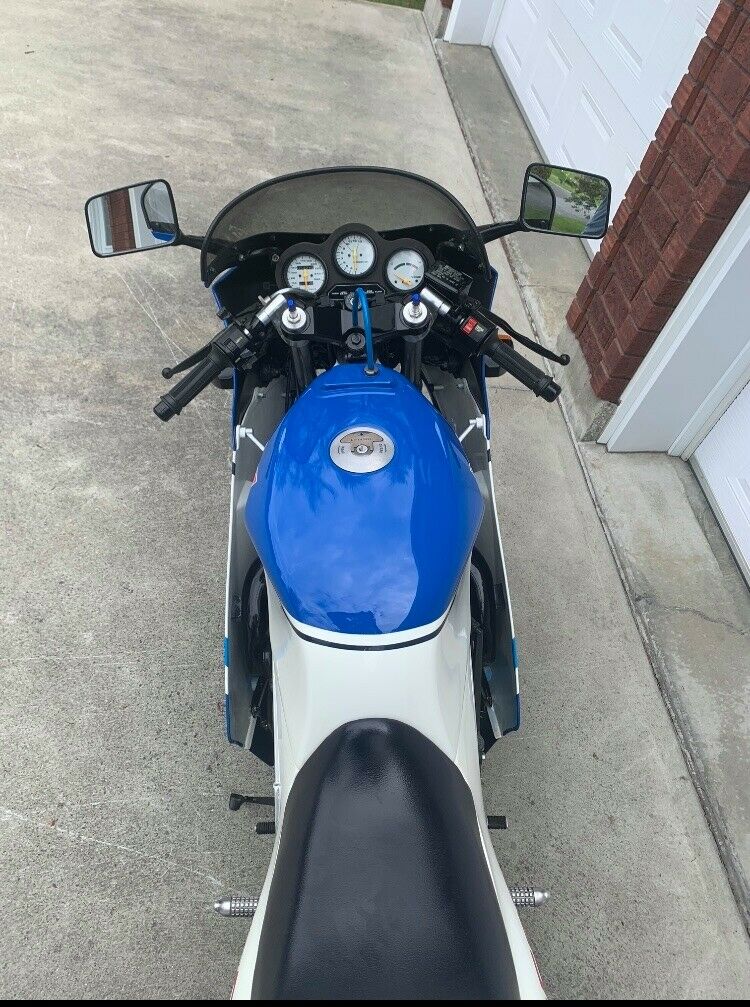 From the seller:
1986 RG 500 4 cylinders- THE MOST POWERFUL of the ORIGINAL 2 stroke Motorcycles! and 90lbs lighter than a std RZ 500.. Include current Canada, Quebec Clean title/ownership in my name with SAAQ/CarProof vehicle history and odometer reports from new. + r.d.p.r.m. no liens Certificate

And I can include a Quebec saaq inspection sticker to be road legal here (if sold in my province)…easy to pass the inspection because the bike is run &drive and everything work great

Immaculate condition and excellent example of a 35 years old collectable bike ( one similar in perfect condition like this one…just sold for $ 34000 in Canada!) .*** very good compression steady on all 4 cylinders!
More from the seller:
Only imperfections I could see are inside the OEM front right middle fairing with 2 smalls cracks but PROFESSIONALLY repaired (please look these repairs at the 2 last pictures..the exterior fairing is PERFECT). And I can't see any aftermarket parts(except top forks valves caps and fuel hoses..that are brand new …with new battery and new carbs kit). ***previously, gas tank always drained + a thin layer of oil inside for no rust spot…please see the picture
The (mostly low-res) photos show a clean and well sorted RG500 that appears to be stone stock. There was some minor bodywork repair that is evident from the back side of the panel, but the outward facing paintwork and graphics appear to be good. There is no service history noted beyond general condition, and it would be interesting to know if the crank seals have been replaced. Two strokes are notorious for seizing (usually at the worst possible moment), and the most common reason for that failure is a lean fuel mixture due to an air leak in the bottom end. The lean condition is doubly catastrophic as the air:fuel ration creates a tremendous amount of heat AND since two strokes mix oil in the fuel to lube bearings, etc, the high temp situation is exacerbated. That is why a leak-down test is paramount before wringing the neck of a 35 year old bike in anger.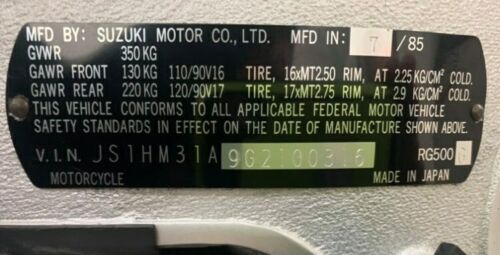 Bidding has been pretty constant on this one, and while the bidding is in Canadian dollars, the US equivalent is sitting just below $20,000 USD with reserve still in place. There are still days left to go for this low-mileage wonder bike, which should give you plenty of time to arrange for transport over the border. Bikes this old can skate under DMV restrictions in some states, so best do your homework. Check out all of the details here, and Good Luck!!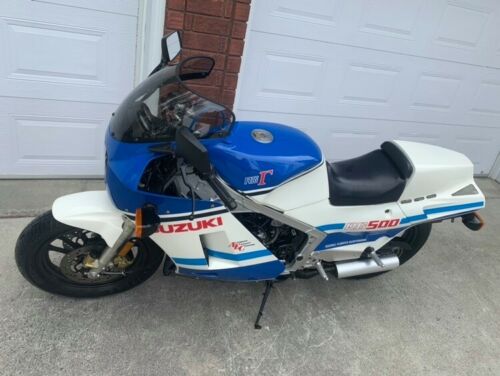 MI