It's not that hard to come across clean Kawasaki ZX-7Rs these days, even after many of them were used and abused and thrown away. But this 1993 Kawasaki ZX-7R M1 is a lot more special. It's not quite an RR, but the M1 is an early homologation special of the ZX-7R, and it wears a plethora of very sexy race track-oriented bits. To wit: an aluminum gas tank, a rack of four 39mm flatslide carbs, adjustable suspension front and rear, an adjustable swingarm pivot and a close ratio gearbox. There's also a solo seat cowl to really hammer home the idea that this ain't your average street bike.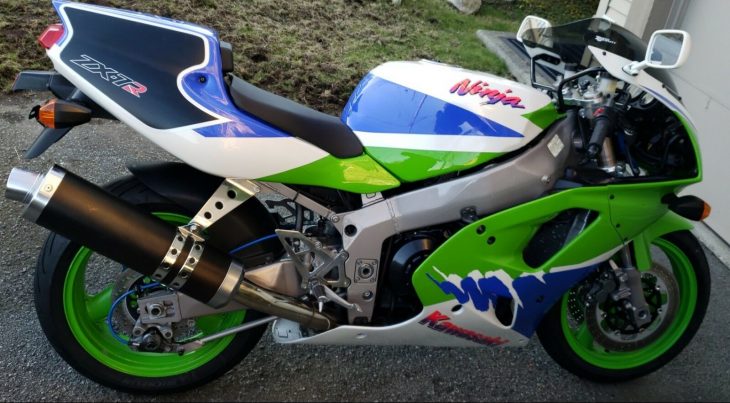 To take full advantage of the bike's potential, you needed to spring for the race kit, which would get the thing ready for whatever series you wanted to throw it at. With 121 horsepower at the crank pushing around about 440 pounds, the M1 was no slouch. This one has been in the care of a Kawi tech for the last decade, and he says he purchased it from his friend who is the original owner. He claims it has never been raced, and all 21,000 of its miles were racked up on the roads around Burnaby, BC, where it lives. It got an extensive going over last year, with a catalog of new parts listed below.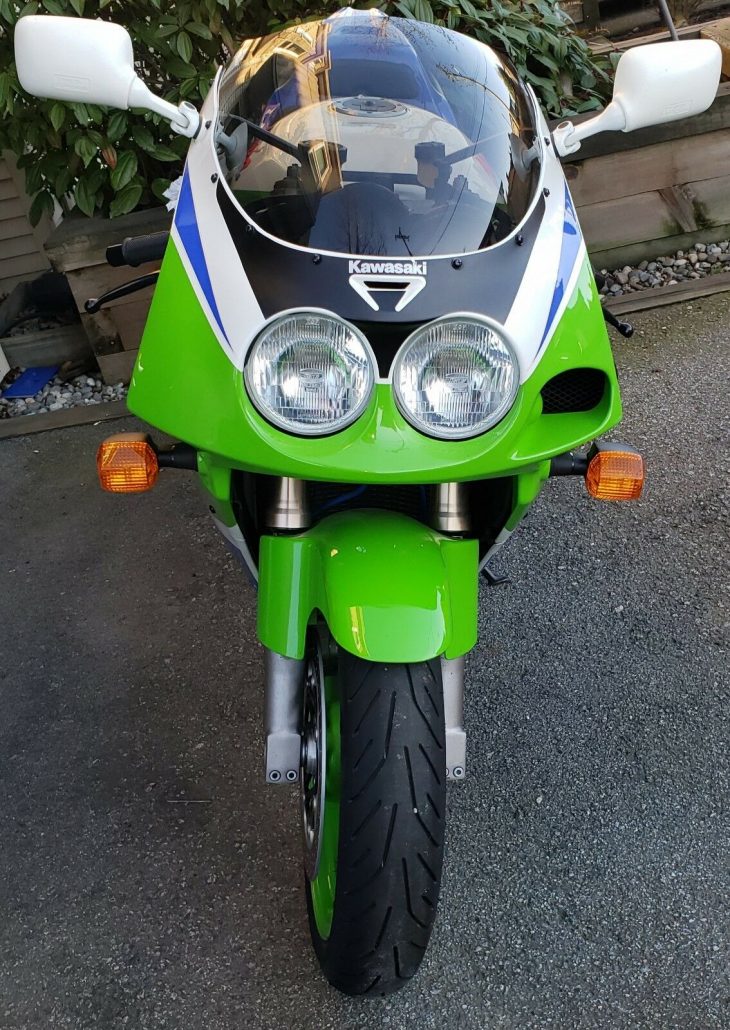 The bike is in beautiful condition, with the exception of a very scarce few blemishes.
From the eBay listing:
Motorcycle is a Canadian M1 model.
Originally purchased new from my local Kawasaki dealership, Burnaby Kawasaki in BC Canada, est. 1975.
Previous owner is a friend and I have always wanted my first love, a 1993 ZX7R M1.
I purchased the bike June 2009.

Currently has 37,385 kilometers / 23230 miles

Wheels do have some minor light scratches where balance weights were removed when changing tires in past. Front fairing, above headlights, where Kawasaki silver lettering / black decal has, small Nick in decal. See pics.

Two things are missing:
Bike is missing fuel filter bracket, I've never had it, didn't really bother me, but I ordered one last year, it never showed up. Bit disappointed. They are used ones out there.
The remote idle adjuster is bit shorter than the original. I do not know what happened to the original, I bought it like this, and again, never really bothered me. Its just short to reach the holder bracket.

All service work completed in 2018 by myself, factory Kawasaki trained tech.
All the fluids and oil filter have been changed.
Valve adjustment, shims changed as needed.
Carbs cleaned, adjusted as needed and synced. Bike runs great, see video of running operation, link below.
Brakes front and rear rebuilt, oem seals.
Fork seals replaced oem.
New sparkplugs.
New oem air filter.
New oem butt pad.
New brake pads and new oem brake rotors front and back.
Replaced the brake lines with spieglers, I do have the oem brake lines front and rear.
Zero Gravity tinted screen.
I do not have oem windscreen. These can be made to exact oem match by a company in Florida, www.bikescreen.com
New Michelin pilot tires with less than 300kms.
I do have the side fairing left and right side reflectors.
Two ignition keys plus the key code tag.
New chain and sprockets, went with blue chain, reminds me early 90's. Stock oem gearing.
New battery, new thermostat. New brake reservoirs. All the lights, speedo lights etc work, nothing burnt out. Charging system checked, ok.
Bike starts up, idles, operates properly. I do have video https://youtu.be/M0ofJBc2JXI

Call me if you have any questions, Jason @ 1-604-816- 2915 Try to call between 9am-10pm PST
Much appreciated.

Buyer is responsible for shipping. Bike is located in Vancouver, BC, Canada,
1 hour north of USA border.

Motorcycle is listed for sale locally as well, so auction can end anytime.
Since the bike is in Canada, it will take a little bit of paperwork for U.S. buyers to get it on the road, but for a bike this cool and in condition this nice, it should be worth the hassle.