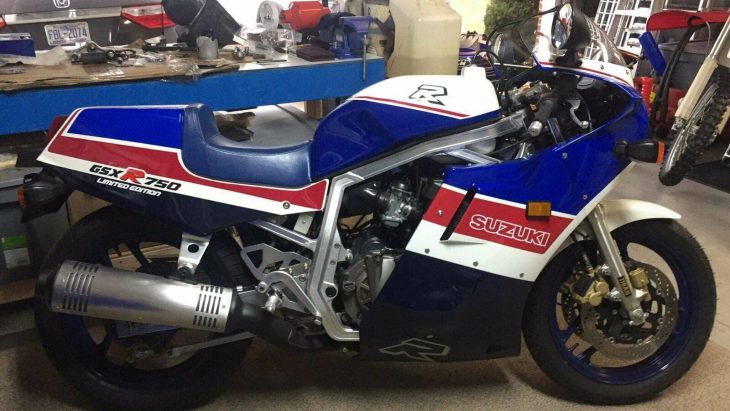 The seller of this 1986 Suzuki GSXR750 LE claims he's got the nicest one around, and he might be right. According to the eBay auction, his dad, a former AMA mechanic, bought it in the mid-1990s from the original owner, bought a raft of NOS factory parts during a cosmetic restoration, and then mothballed it. It hasn't been ridden since a brief trip in 1998, and still wears a set of 1996 Michelins that still have their whiskers.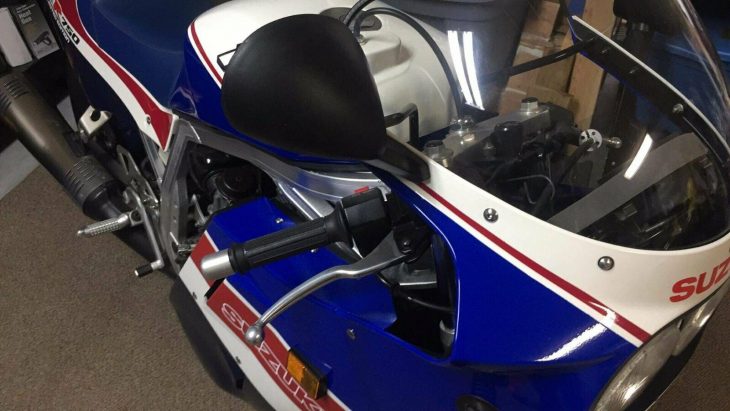 The seller says his dad decided the bike was too valuable to ride after a quick trip down the block, which for him is a shame, but is to the modern collector's benefit. With dry clutches, lighter wheels, stouter suspension and healthier engines, the 1986 Suzuki GSXR750 LE was meant to have the plate and signals removed and ridden in anger at the track. They were a race kit and some expertise away from an AMA grid.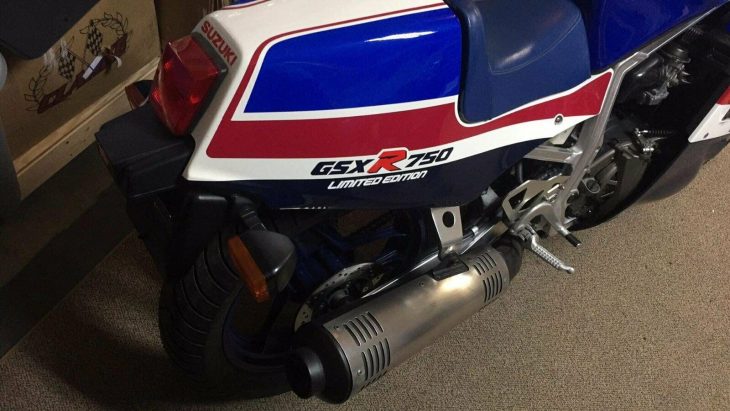 Suzuki built a few hundred of the LEs and stopped, so they're scarce as hen's teeth in any condition, let alone near perfect, as this one is.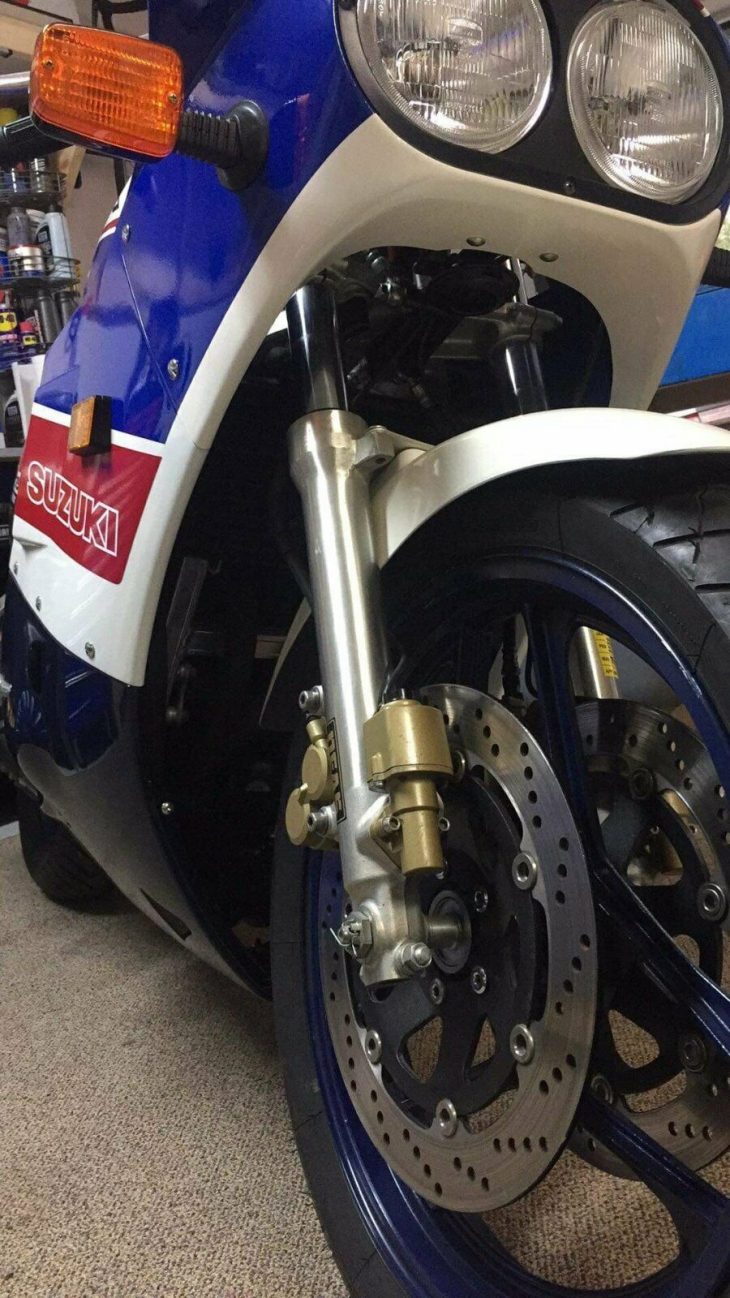 From the eBay listing:
Significance

The 1986 Suzuki GSXR750R was a unique, limited-production homologation sportbike which featured many race-oriented options. Among them were a Yoshimura dry clutch, GSXR1100 forks and wheels, proprietary magnesium parts, a solo-occupant seat, remote reservoir shock and quick-release DZUS fasteners. The colors and graphic scheme were unique to the model, and ~200 examples were said to be released. My example is the most accurate, stock representation of the '86 Limited offered on the market today.

History
This motorcycle was acquired by my father in March of 1995. He purchased it locally from its first owner, who was recalled to Active Military status to participate in the Bosnia peacekeeping operations. The motorcycle had cosmetic damage associated with its first owner. This consisted of scratches in the tank and bodywork.

My father, an AMA Superbike mechanic from 1980-1988 was very familiar with this generation GSXR, and its significance. He wanted a showroom-perfect example. Through our connections with a local Suzuki dealership, he ordered every piece possible for the bike: Tank, tailsection, chin fairing, turn signals, headlights, warning stickers, fairing, windscreen, fuel lines (anything that would dry-rot), etc. Anything that has been replaced on the GSXR was done so in 1996 with factory Suzuki parts. The replacement bodywork is NOS Suzuki. The sidepanels came from Suzuki unpainted, but were painted to exact replica specifications. The front fairing, lower fairing, tank and tail-section were painted from the factory as-is. Windscreen is a period-correct Lockhart Philips brand. Everything on the bike is the real deal, and it is entirely discontinued now. We were unable to secure a NOS set of original tires. Brand new (from '96) Michelins are fitted.

We have done nothing but protect it and care for it since. It was registered in 1998 for road use, but my father drove it down our street, turned around, and rode back in. It was too valuable to ride.

Overall Condition

My bike in the enclosed pictures is arguably the best example of a US domestic market '86 GSXR750R Limited Edition. Most examples have an aftermarket pipe, no airbox, non-standard turn signals, stickers, etc. This does not. It is OEM down to its vent hoses and grips. You'll find all mechanical properties to be impressive, as in very low/no corrosion, and completely functioning.

Why Sell?

It's no secret that this Limited stands to appreciate. In a decade it could easily be worth $40k. Unfortunately, our children's education costs are increasing.

Please inquire with any questions!
At $21,500 buy-it-now, the seller has some idea what he's got, and isn't letting it go for a bargain. That said, it's a beautiful example of an insanely rare and important bike, and will be a must-have for the right collector.