First up is a 1986 Suzuki RG500 GAMMA for sale on Columbus, Ohio Craigslist for $10500 (20k miles):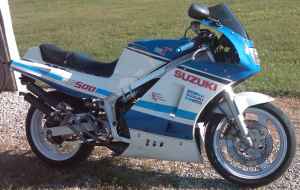 quote from the listing:
1986 RG500 Gamma, top end was done about 8000 miles ago, dyno'd at 98.x horsepower, Fox shock, Racetech gold valves, upgraded gsxr brakes, Katana front rim (17″x3″), GSF400 Bandit rear rim(17″x4″), induvidual filters, Jolly Moto GP pipes, proper jetting, Airtech RGV250 upper fairing, Raask rearsets. 20,000 miles, Polaris synthetic oil, tinted double bubble windscreen.
Next up is another 86 on Eugene, Oregon Craigslist for $12500: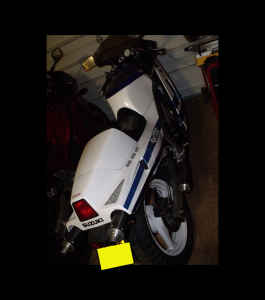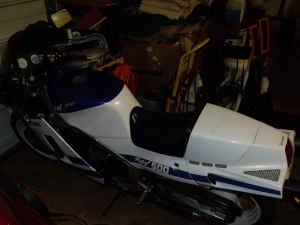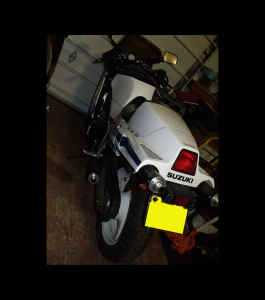 quote from seller's listing:
Extremely rare Sportbike for sale. One of approx. 400 in the States, this one is from Canada. Never imported directly. 500cc four cylinder 2-stroke – it is the road going version of Suzuki's class dominating GP bike of the late 70's. 100HP in a 300# package – you do the math = FAST and fun. Although I hate to see it go, I need to make space in the garage and I really don't have time to ride this awesome piece of machinery any more. The bike is in excellent condition. It does need a battery. And the reg. is expired.
And finally a nice and original looking 1990 GSX-R 750 for only $2500 (15k miles, Fontana, California):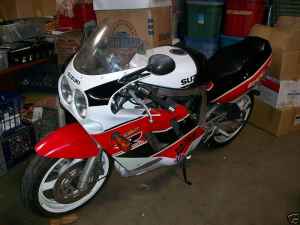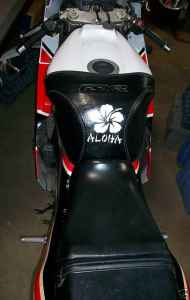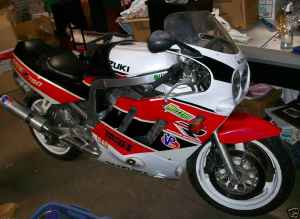 quote from seller's listing:
THIS 1990 GSXR 750 HAS 15K ON IT, RUNS GREAT AND HAS A K&N AIR FILTER,D&D PIPE,NEW TIRES,BRAKES,NEW BATTERY,REG UNTIL 6/2010,NEVER BEEN DOWN,NO BODY DAMAGE,DENTS,COMES WITH A BRAND NEW GSXR RIDDING JACKET XXL.OIL/SYNTH , ALL LIGHTS WORK,HORN,SIGNALS,BRAKE,CLEAN TITLE
Amazing that we have 3 different RG500's posted this week! Have a good weekend everyone!
dc