This is a pretty good looking example for only $2500. Oh yeah, it only has 5k miles too! I know there are a handful of Pacific Northwest followers in here, not to mention Doug is an owner, so naturally I had to post right away:
1990 Yamaha FZR400 on Medford Craigslist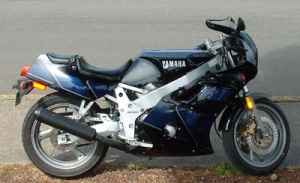 quote from the listing:
1990 yamaha fzr 400 only 5k miles, with aluminum delta box frame AND swingarm. only imported for 3 years and the 1990 is the only year with a delta box swingarm. very rare and unique bike. rated best ultra lightweight superbike of all time… even by todays standards. $2500.
The black plastics on this one remind me of my old FZR600 from college. Good memories and I've always heard the 400 was more than a match for the 600 with the lighter frame. I can practically feel the Citibank cash advance jumping out of my wallet right now!
dc