Update 5.22.2019: This minty FZR1000 is back on eBay with a starting bid of $5k and NO RESERVE! Parts are now available separately for purachse. Good luck to buyers and seller! -dc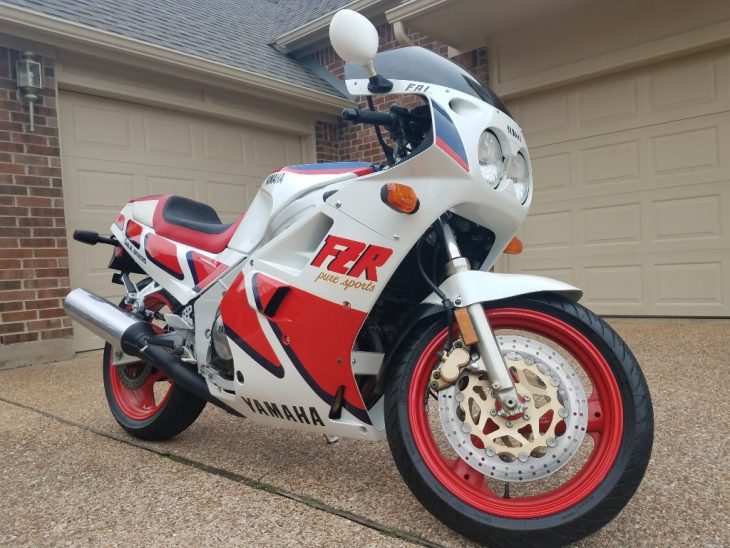 This 1987 Yamaha FZR1000 is what we're all about. It is, at this point, rare, it set the industry on its ear when it hit the streets, it's the textbook diagram of a sportbike and we want it. Badly. We'd wager a fair penny that you do, too. When Yamaha unleashed these in 1987, they joined the growing ranks of bikes from the Japanese manufacturers that would come to define the segment. Suzuki had the GSXR, Honda had the Hurricanes and Yamaha had the FZR1000.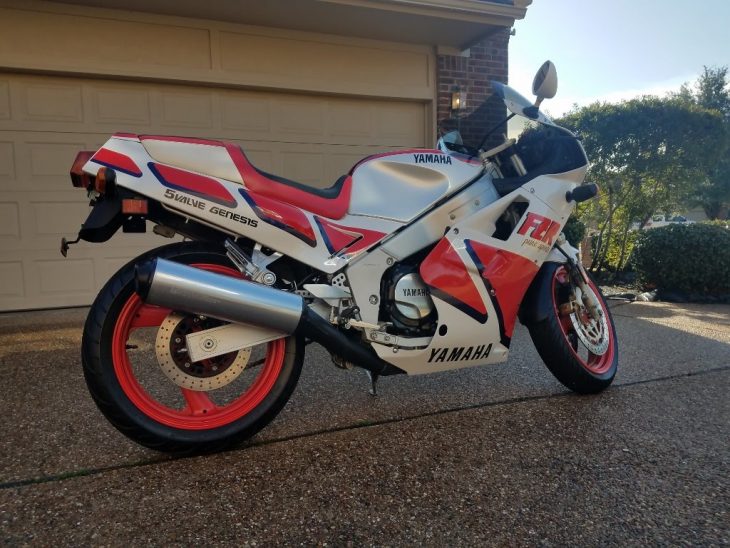 With five valves per cylinder, water cooling and an astronomical 135 horsepower, though, the Yamaha stood apart. Like the Honda CBR900RR did six years later, it combined a svelte frame with prodigious power and grip to incredible effect. They'd hit 60 in around three seconds and go on to a top end of about 160 mph. At the end of the 1980s, Cycle World dubbed them Bike of the Decade.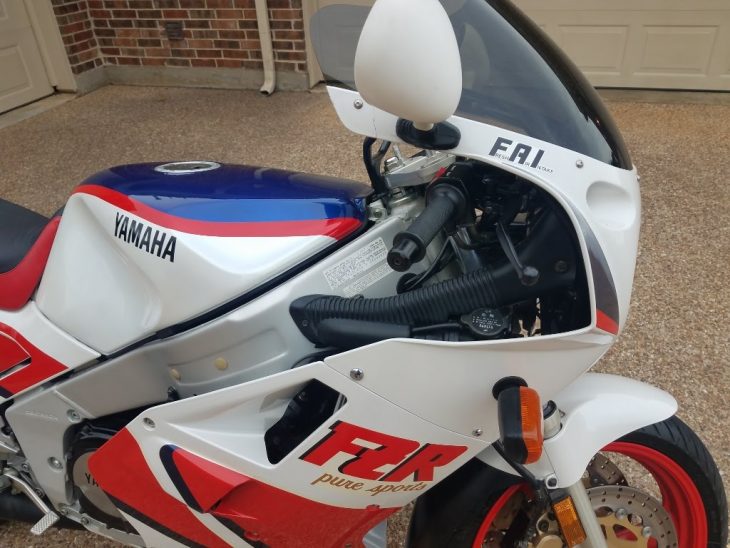 As you can see, this one has few flies on it. It's a two-owner machine with under 5,000 miles on it and most of its original parts intact. The seat and windscreen are aftermarket, but the original seat is included in the sale. The paint appears to have few, if any, blemishes and the original fairings are in great shape. Tired of taking our word for it? Check out the seller's detailed rundown in the eBay listing:
Bike comes with $1k in NOS + few used parts! Bid with confidence!!! Click for two video links to hear the bike run: https://www.youtube.com/watch?v=4Olpfe0GYss&t=23s

Click for additional photos of the bike and all parts that go with it.

https://photos.google.com/share/AF1QipO9YuIdNxiIWcSczGr44Pf9F2LzNnljEOowgr0C-B8P99l9QqPv7U-xH5w5amQi6g?key=Y3R0TWVIMnVyb0lndXhFQXJmRUluZkhNd0Q2cl93

Up for sale is this rare, iconic 1987 Yamaha FZR1000 with 4,700 original 2-owner miles. This motorcycle is incredibly period-correct, sporting all its original plastics and paint, and even exhaust system! The only aftermarket/non-original components I have found are the smoked windscreen, windscreen fasteners and Corbin seat (bike comes with original black seat). When I purchased the bike in February 2018, it had been in a private collection as one of the cleanest, lowest-mile, first-year FZR1000 in the world. And from the photos and video hearing it run, it's easy to see why!

The '87 FZR1000 was truly groundbreaking motorcycle, with Cycle Guide naming it "The Fastest Streetbike in the World", due to the bike's legendary, bulletproof 20-value Genesis engine delivering massive amounts of power from the lowest RPMs to its 11,500 redline. Yamaha's 998cc 20-valve inline four is one of the most reliable powerplants Yamaha ever assembled (valve adjustments every 26k!), with the engine just beginning to scream at 7,000 RPMs, force fed by factory ram-air induction plumbed through dual openings in the front of the fairing, adding to the bike's power at speed.

One of the greatest characteristics of this particular FZR is its extreme light weight and maneuverability, making it a blast to handle around town or throttle and lean through the twistees. It's ground-breaking Deltabox frame makes the bike an extremely rigid, solid and secure machine to ride. Unlike many modern sportbikes that require you to perch on top, this FZR is super comfortable and allow you to become one with the motorcycle with little effort.

The story:

I'm no stranger to these vintage Yamaha sportbikes, owning an '85 FZ750 followed by an '88 FZR1000 back in the day (30+ years ago) when these were new. And this particular '87 FZR1000 is so much better balanced and more powerful than any FZR I've ever ridden.

I purchased this FZR a little more than a year ago when it had 4,300 original miles, when I signed the original title from the original owner (who purchased the bike new in 1988), transferring the FZR1000 into my name last year. At some point the original owner sold the bike to a collector, who had the bike in a private collection for several years without ever transferring the title. It was then sold to a motorcycle shop managed by a former Yamaha mechanic and FZR expert, who spent many hours and dollars on NOS parts refreshing the bike's mechanical, braking and cooling systems prior to me purchasing the bike. And that's when I came into the picture and snapped her up. Without a shadow of a doubt, after seeing and riding this FZR for the first time was love at first sight for me (and will, no doubt, be for you as well).

I spent the last year having a blast rounding up NOS parts, some super rare, for this motorcycle. Fast forward 12 months and 400 easy/careful miles later, and I'm now offering the bike and all the NOS parts up for sale for another person to fall in love with and ride, or better yet, to complete a collection with a highly original, beautiful low-mile bike that you'll be set up to own and service for many years to come.

The ONLY reason I'm selling is another bike caught my eye and is now in the garage – and don't have the room to keep three bikes. Plus, I don't ride the FZR much as to not add too many miles to it. However, YOU sure could, as this FZR is a dream and better than you remember they were back in the day.

What you're getting:

(Note: The RH hand grip / throttle end cap is not in place in the video; I didn't realize it had come off and is now back on the bike. I took a few new pix the morning of 3/10 in the same spot in the driveway with the RH throttle end cap back in place.)

1987's fastest streetbike in the world and the first of a nearly 10-year run of FZR100s; a bike with nearly the same powerplant and transmission as the '97 YZF1000R "Thunderace" (which I also own!) and the predecessor to the infamous Yamaha R1 that debuted in 1998.
Starts flawlessly every time and reaches/maintains operating temperature as she should, pulling hard toward the 11,500 RPM redline from any RPM and in any gear. Smooth, constant/linear power delivery results in a bike that absolutely files from a dead stop and from any gear.
Idles and runs down the road like a sewing machine. And there are none of the lags, EXUP valve "chirping" or failures as with the later EXUP-valved FZR1000 models.
Fantastic bike in every way – looks, operating, riding. This machine feels like a new bike due to the low miles.
This bike is inspiring to ride, and is much better than you might expect for a 32-year-old sportbike.
Original plastics and paint (with zero evidence of the bike ever having been down)
All service is up to date; all fluids have been changed (brake, clutch, coolant); oil and filter
New front fork seals and fork oil
Front brake calipers freshened with new seals internally
Front master cylinder has been rebuilt with NOS parts
Clutch master cylinder has new NOS seals internally
New NOS Thermo Switch assembly (#3LN-82560-01) installed
New NOS temp gauge #2GH-83590-00 installed (used original gauge and packaging provided)
Clutch slave cylinder replaced with an NOS unit
New Yuasa sealed battery less than three months old
Main fuel petcock disassembled and refreshed with a new o-ring (solving a fuel drip)
Original exhaust
Bike passed Texas inspection two weeks ago (all lights, signals, horn work flawlessly)
No coolant, oil, fork, or brake fluid leaks
Needs nothing (zero issues with this bike (e.g., does not pop out of gear on hard acceleration, strong clutch lever and grip, does not use or drip oil, etc.)
New (less than 400 miles ridden) Michelin Sport Pilot 3 tires (120/70-17 front and 160/60-18 rear
Wheel bearings checked during tire install
Both cooling fans come up when bike reaches proper temperature; she does not overheat in the Texas summers
Super strong, confident brakes
Firm, sporty suspension feels as it should on uneven road surfaces, road imperfections, etc.
Has only been fed non-ethanol fuel for the past year + Sta-bill additive = zero carb. issues (I don't run ethanol-blended fuel in either of my bikes)
Comes with a period-correct Corbin seat that matches the '87-88 red/white/blue paint scheme (in addition to original black seat)
All original fasteners used on bike with the exception of the windscreen attaching hardware
Comes with $1000+ in spare parts (see list below) to allow you to run/maintain the bike for many years to come!
Two original ignition keys come with the bike
·

The flaws

Overall condition is very good for its age, but it is not absolutely perfect. The right fairing (next to the air scoop) has a crack from shipping to Dallas (as shown in the photos). Also, there is a crack in the edge of the RH cowl (next to the mirror). This the only actual damage on the machine and did not even happen while riding.
Some light scuffing and marring in the original plastic (as shown in photos). I bunched all pix of the scuffs/cracks in the google image link here: https://photos.google.com/share/AF1QipO9YuIdNxiIWcSczGr44Pf9F2LzNnljEOowgr0C-B8P99l9QqPv7U-xH5w5amQi6g?key=Y3R0TWVIMnVyb0lndXhFQXJmRUluZkhNd0Q2cl93

Parts (new/NOS and used) that come with the bike:

(1) NOS emulsion tube (carburetor) #1AE-14141-90-00.
(8) emulsion tubes (Japanese made) 1AE-14141-90-00
(1) NOS FUEL COCK ASS'Y (under tank) # 2GH-24510-01
(1) used FUEL VALVE PETCOCK (main; LH side of bike)
(1) NOS Flasher (fuel pump) Relay #41R-83350-71-00
(6) NOS #36Y-13441-00 OEM oil filter elements
(5) NOS Yamaha O-RING Oil Pump, Cyl Head, Chain (oil filter bolt o-ring) #93210-16629
(4) NOS Plate Washer 90201-21608-00 (washer next to oil filter)
(2) NOS oil filter O-Ring #93210-87723-00
(1) NOS Rear Sprocket 47 tooth 2GH-25447-22-00
(1) NOS front sprocket 16 tooth #2GH-17460-00-00
(1) NOS DID Drive Chain DID532ZLV-110 X-Ring
(2) NOS sets of front brake pads 2GH-W0045-01
(1) NOS Radiator Hose [long hose under radiator to water pump] #2GH-12578-00-00 HOSE 3 + (1) used spare house
(1) NOS Radiator hose [short 90 degree hose under thermostat housing to top of radiator] #GH-12577-00 + (1) used spare house
(4) used radiator hoses (4 total radiator hose – upper (small) 2GH-12577-00-00, radiator hose out of thermostat (larger molded) 2GH-12576-00-00, lower hose 2GH-12579-00-00, lower hose 2GH-12578-00-00)
(2) used radiator hoses 2GH-12577-00 + 2GH-12576-00 [long hose out of the top of the thermostat housing to the cylinder pipe] and (1) thermostat housing, thermo switch and cap
(1) NOS Clutch lever #1AE-83912-00
(1) NOS Brake lever 36Y-83922-00
(1) NOS throttle cable 1 #2gh-26311-00-00
(1) NOS throttle cable 2 #2GH-26312-00-00 US
(2) OEM Assembly Manual FZR1000T/TC FZR750RT
(1) OEM FZR750/1000 Service Manual
(1) Owners Owner's Manual 1987 Yamaha FZR1000T FZR1000 T
· Please review the photos and videos in the listing and hyperlinked within. Serious bidders may contact me at 214-289-sixtwo98 to answer any questions. I am offering this as a no-reserve auction, with all parts listed with the bike (over $1,000.00 worth). I'm selling this bike "as-is" with no refunds or warranty. However, in my honest opinion, this bikes needs nothing. A $250 non-refundable deposit is due via paypal within 24 hrs of the auction end. Winning bidder can pick up the bike in Dallas, Texas. If you need a transport company, I'd highly recommend www.keyboardmotorcycleshipping.com/ ($625 door to door across the U.S.- they are GREAT!) Good luck bidding and don't let this one get away! It's perhaps one of the nicest examples of an original, un-molested FZR1000 in the world.
The starting bid is roughly the price of a middling used Honda, so if you're looking for a new mount for the 2019 season, look no further.