1988/89 FZR 400 in concourse condition....almost unbelievable!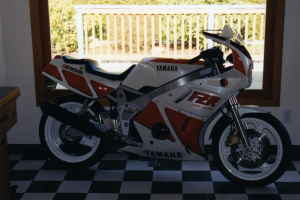 If you're a fan of the small cc sport bikes of days gone by then you need to pull up a chair and have a seat. This is a 88 or 89 FZR 400 that is said to be in "100% as it left the factory condition." Now, that can mean a couple of things, but the ad is a little vague and hard to decipher.
What can you make of the following?
This is a Canadian market FZR400 in museum condition; I cannot put into words how perfect this bike is. It has never seen rain, it is 100% as it left the factory including the tires, it was in my living room for 6 years and in my kitchen for 8. I drained all the fluids and put it into the house for safe keeping, now I'm selling most of my collection to make one large purchase. thanks for looking
Let's see.... 6 years + 8 years = 14 years. I understand that part, but what happened to the other 6 or 7 years??? What model year is it? How many miles does it have? Is the tank rusted? I would love to have some better pictures and information to back up the ad. I did the obvious and contacted the seller for more information, but I'm still waiting. So not to prevent any would be FZR hunter the opportunity to buy such a gem I figured I would post up what I had.
Being the FZR 400 aficionado that I am, I would say the picture does appear to back up what is said. And with an asking price nearly double what they cost when new it better damn well be a museum piece. But, you'll need to be the judge and take from my opinion exactly what you paid for it 🙂
Asking price is a steep $5,400.00 and bike is listed for sale on the Vancouver, BC CL.
Is this the last new FZR 400 in North America? If so, $5,400.00 would be the cheapest new FZR400 available for sale and someone needs to pick this one up quick before I do something silly. My kids should be getting nervous.
Cheers!
dd