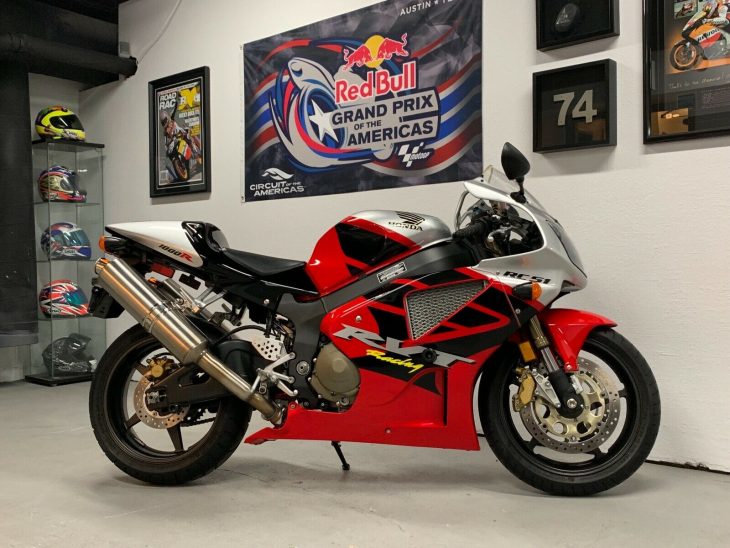 The Honda RC-51 was Big Red's answer to Ducati's twin-powered attack on turn-of-the-century World Superbike, with a big v-twin stuffed between the generous alloy framerails. The big-bore twin immediately paid off for Honda, with Colin Edwards cracking off to the 2000 World Superbike Championship on the bike's first try. It won the WSBK crown again in 2002 with Edwards and took the AMA Superbike Championship the same year with Nicky Hayden.
This 2003 Honda RC-51 is an SP2 model, meaning it is stiffer, lighter and slightly more powerful than the 2000-2001 models, and easily the more desirable version. It's not too hard to find an RC-51 in decent shape these days, as they didn't sell in astounding numbers and tended to go to Honda and superbike fanbois who took excellent care of them. This one takes that to a new level, though, with fewer than 1,000 miles on the clock courtesy of two previous owners.
According to the seller, the first owner was an elderly man who bought the bike to hold on to. The current owner bought it three years ago, and has since brought it back to running condition, though he stopped short of replacing the original tires or brake fluid. The bike certainly deserves to be ridden, though that choice will not be made easier by the prospect of disturbing an all-original machine.
From the seller:
This is a true unicorn, I'm curious how many are out there with less than 1,000 miles! The bike is completely free from corrosion, it was stored in a climate controlled garage. She has never seen the track and the finish is in amazing condition. The original factory torque markings are still found throughout the bike as well as the factory grease on the brake and clutch levers!

I purchased this RC51 out of an elderly gentleman's collection earlier this year. He was the original owner and used the bike very sparingly and gently as indicated by the odometer and it's condition. The RC was prepped for storage and sat for about 3 years before I brought it back to life. The gas was swapped and a new fuel pressure regulator was needed to get her running again. The bike has just received a fresh oil change as well. She is now running beautifully and everything works flawlessly as it should.

This bike is currently collector status with the original date-coded Metzler tires. The brake fluid and coolant is original as well. I think it would be taboo to ride this bike considering it's condition and mileage. However, if you intend to use the bike, the buyer should replace the brake fluid and tires (17 year old tires and fluids, even if they look good are unsafe)

Please take a close look at all the pictures. There is little evidence that this bike has been used. There is a tiny flaw on the left side exhaust that is barely noticeable, see photos for a close up. Auction includes original rear seat, solo cowl cover and also the original tool kit with all the tools and owners manual.

I highly recommend we use "Haul Bikes" if you are an interstate buyer. I've used them twice before and they are super professional.

I will ship worldwide but if you are an international buyer, please contact me before purchasing and research your shipping logistics. The bike is in San Diego CA 92101. Cash in person, Wire transfer or Cashiers check from a national bank is preferred.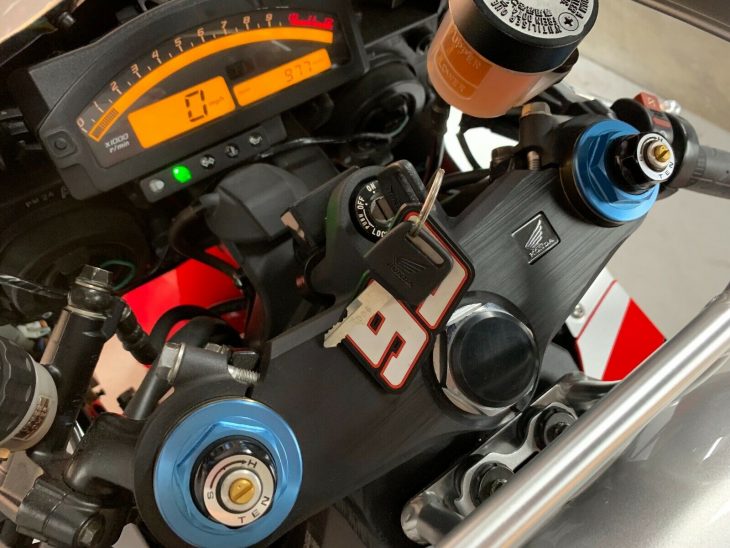 Though RC-51s don't carry the same ooh-ahh aura as the RC-30 and RC-45, they were aimed at the same target and were, without question, successful. The bikes might carry the same panache as their Italian rivals, but they are gorgeous, fast and ridiculously capable.