Update 3.15.2019: Now relisted on eBay with a buy-it-now of $37,900. Good luck to buyers and seller! Links updated. -dc
Before Honda and Suzuki engineered machines with turbocharged engines in the early part of the 1980s, Kawasaki pioneered the idea by using forced induction to make their musclebound Z1R a truly brawny street machine. By 1978, the thing was looking a little long in the tooth, and Kawi saw turbocharging as an effective shot in the arm. It was, but in true Kawasaki fashion, it was about as crude and brutal an execution as you could imagine. Instead of designing the engine in-house, and building a bike around it, they farmed out the modifications and made the TC a dealer-installed option.
That meant the turbo blew compressed air into a stock bottom end and the stock chassis, suspension and brakes were expected to make do. The Z1-R TC pushed out something like 130 horsepower in an era when air-cooled 1000s were usually content with somewhere around 90. The black and orange Molly graphic-sporting TC went on to become an icon, though only about 220 left showrooms. All things considered, that was likely for the best.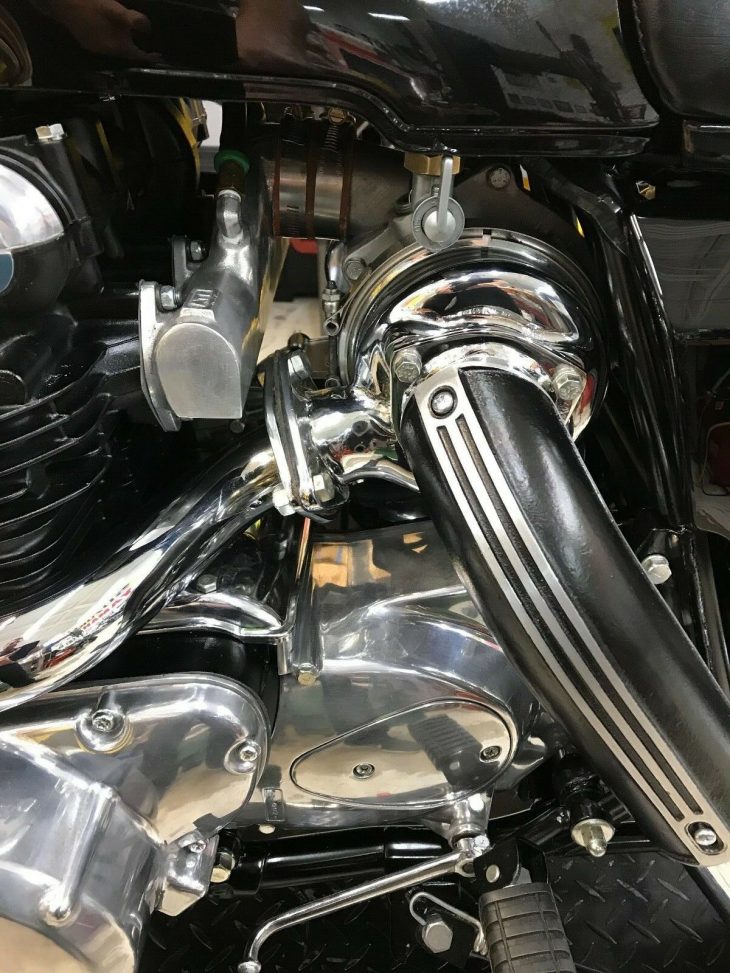 This 1978 Kawasaki Z1-R TC has had a nut-and-bolt restoration to better-than-new condition. The pictures speak louder than I can, but it has apparently been made perfect and original down to the grips. We're not sure how many TCs are left, but we'd stake money that this is one of the nicest.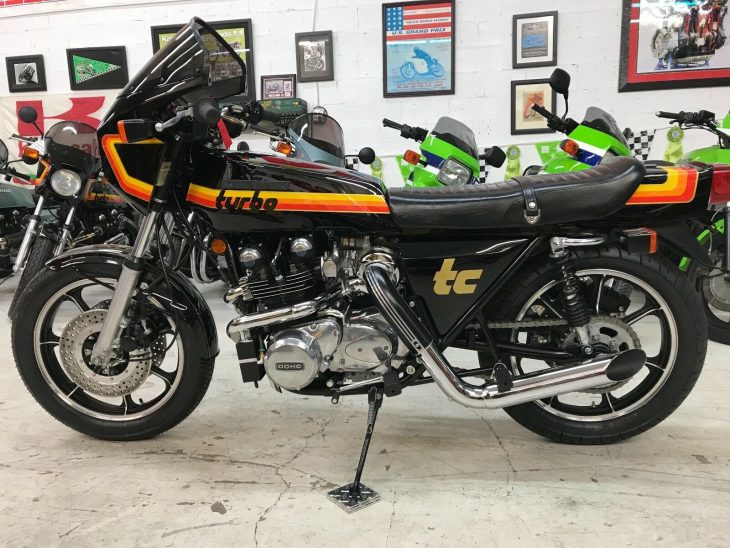 From the eBay listing:
1 OF ONLY 220 1978 KAWASAKI KZ1000 Z1R-TC/TC2 TURBO's EVER PRODUCED. THIS ONE IS COMING OUT OF MY PRIVATE COLLECTION. IT IS A DOCUMENTED LOW MILEAGE ORIGINAL BLACK MOLLY TC-2. MYSELF AND 2 INTERNATIONAL AWARD WINNING RESTORATION EXPERTS SPENT OVER A YEAR RESTORING HER TO ABSOLUTE ORIGINAL MUSEUM QUALITY (THE CORRECT GRIPS WERE INSTALLED AFTER PHOTOS). NO EXPENSE WAS $PARED! THANK GOD MY WIFE DID'NT SEE THE EXPENSE LIST. EVERY NUT, BOLT, WASHER, BUSHING, AND COMPONENT WAS REPLACED WITH OEM OR NOS PARTS, OR RE-PLATED TO EXACT OEM STANDARDS/SPECIFICATIONS. MOST OF THE BOLTS, SCREWS, NUTS AND WASHERS ARE NEW OLD STOCK AS I HAVE A VERY EXTENSIVE "NOS" INVENTORY), ALONG WITH COUNTLESS OTHER PARTS.

THIS BIKE WAS OWNED AND RIDDEN IN THE SOUTH FLORIDA AREA THRU THE LATE 1980's. I ACTUALLY WORKED ON THIS BIKE AT KAWASAKI SUZUKI OF FT. LAUDERDALE IN 1987 ( I WAS THE CHIEF MECHANIC). THEN IT MADE ITS WAY TO ANOTHER COLLECTOR THAT KEPT IT IN A COOL CLIMATE ENVIRONMENT UNTIL I ACQUIRED IT A FEW YEARS YEARS AGO.

IF YOU ARE UNAWARE OF THE HISTORY OF THE Z1R TURBO, IN 1978 KAWASAKI PARTNERED WITH WITH ONE OF THERE FORMER EXECUTIVES WHO HAD FORMED TURBO CYCLE CORPORATION TO CREATE THE WORLDS FIRST FACTORY TURBO MOTORCYCLE. KAWASAKI's MISSION WAS TO BOOST SALES OF THE Z1R BY MAKING IT THE FASTEST BIKE OF THE TIME. IN 1979 TO FURTHER DRIVE SALES, KAWASAKI CONTRACTED WITH ROLLIN "MOLLY" SANDERS TO COME UP WITH THE SINISTER BLACK PAINT SCHEME. ONLY 220 1978/1979's (some of the 1978 line came out as 1979 on the mso/tittle) WERE PRODUCED IN THE SECOND AND FINAL YEAR.

ENGINE: #006435 IS THE BIKES ORIGINAL LOW MILAGE ENGINE THAT WAS UPGRADED WITH ALL THE NEEDED MODS BACK IN THE EARLY 80s. I COMPLETELY WENT THRU THE ENGINE TO VERIFY, INSPECT/REPLACE AS NEEDED. IT HAD A WELDED, BALANCED CRANKSHAFT, UNDERCUT TRANSMISSION, UPGRADED OIL PAN, HEAVY DUTY CLUTCH ASSY, FORGED PISTONS, NEW RINGS, PERFORMANCE VALVE JOB, SHIMS UNDER BUCKETS, AND APE HARDWARE. THE BENDIX CARB AND TURBO CHARGER/WASTE GATE OVERHAULED. ALL NEW SEALS AND GASKETS. NEW DYNA S IGNITION AND NEW COILS. THE EXHAUST WAS STRIPED AND RE-CHROMED TO BETTER THEN NEW SPECS. THE ENGINE RUNS LIKE IT DID IN 1979.

FRAME: HAS BEEN STRIPED AND REPAINTED TO OEM SPECS. THE FRONT FORKS REBUILT WITH THE LOWER LEGS PROPERLY REFINISHED TO OEM STANDARDS. THE REAR SHOCKS WERE NOS. THE MOLLY CONCEPTS BLACK MOLLY PAINT IS THE ORIGINAL THAT HAS BEEN
RE-CLEARED TO BRING BACK THE ORIGINAL DEEP LUSTER. THE WHEELS WERE DISASSEMBLED AND REPAINTED/POLISHED TO OEM SPECS. SHE IS FITTED WITH NEW METZLER TIRES "SEMI PERIOD-CORRECT". THE BRAKES WERE COMPLETELY OVERHAULED. THE SEAT IS THE ORIGINAL SEAT FROM THE BIKE AND IS IN AMAZING CONDITION. THE WINDSCREEN AND SEAL ARE NOS AS ARE THE LEVERS AND MIRRORS AND MORE COMPONENTS THEN I CAN LIST. I WILL BE INSTALLING THE CORRECT VERY HARD TO FIND NOS GRIPS. NOTE THE VERY EXPENSSIVE AND IMPOSSIBLE TO FIND "NOS" ATP BOOST GUAGE THE ORIGINAL HAD THE USUAL CRACKED GLASS.

I HAVE BEEN COLLECTING, RESTORING, FIXING, RIDING, AND RACING MOTORCYCLES SINCE GRADUATING FROM AMERICAN MOTORCYCLE INSTITUTE "AMI" IN DAYTONA FL. IN 1980. I OWN 3 BLACK MOLLY TC-2's AND 2 BLUE TC's BUT THIS IS BY FAR THE NICEST IN MY COLLECTION, WORTHY OF BEING IN THE BARBER MUSEUM. ONLY SELLING IT TO MOTIVATE ME TO RESTORE THE NEXT ONE. THE LAST NICELY RESTORED BLACK MOLLY SOLD FOR OVER $38,000 ON E-BAY A YEAR OR 2 AGO. I BELIEVE MY BIKE IS A NICER MORE OEM RESTORATION.

BID WITH CONFIDENCE DON'T MISS OUT ON A MUSEUM QUALITY "OCD" NUT AND BOLT FRAME OFF RESTORED PART OF HISTORY. THESE LIMITED PRODUCTION MODELS APPRECIATE OVER 15% PER YEAR. TELL YOUR WIFE ITS A BETTER INVESTMENT THEN HER JEWELRY, SHOE AND HANDBAG COLLECTION. 🙂 THE BIKE CAN BE VIEWED DURING THE AUCTION IN PERSON OR VIA FACE-TIME OR SKYPE.

BIDDERS MUST HAVE A GOOD RATING. NO 0 RATED BIDDERS WITHOUT CONTACTING ME FIRST 954-816-0806 BOB. I RESERVE THE RIGHT TO END THE AUCTION EARLY, IT'S FOR SALE LOCALLY. A $500 DEPOSIT IS DUE AT THE END OF THE AUCTION. THE BALANCE IS DUE VIA BANK WIRE, OR CASH WITHIN 3 DAYS. I CAN STORE THE BIKE UP TO 90 DAYS AND WORK WITH YOUR SHIPPER OR RECOMMEND ONE.

PLEASE ASK QUESTIONS I AM SURE I LEFT OUT SOMETHING ELSE WE DID SINCE WE DID SOOOOOO MUCH.
If the stories of this machine's power and handling are to be believed, the scant mileage isn't much of a surprise. Given its rarity, lunacy and historical significance, there's a lot of value in this bike. The auction has active bidding and a few days left, so act quickly if this Z1-R TC is going to be yours.
-AR
While you're checking out Bob's Kawasaki, take a look at his custom Yamaha YZF750R as well! -dc