Update 3.13.2018: SOLD in 3 hours and 19 minutes!! Congratulations to buyer and seller! -dc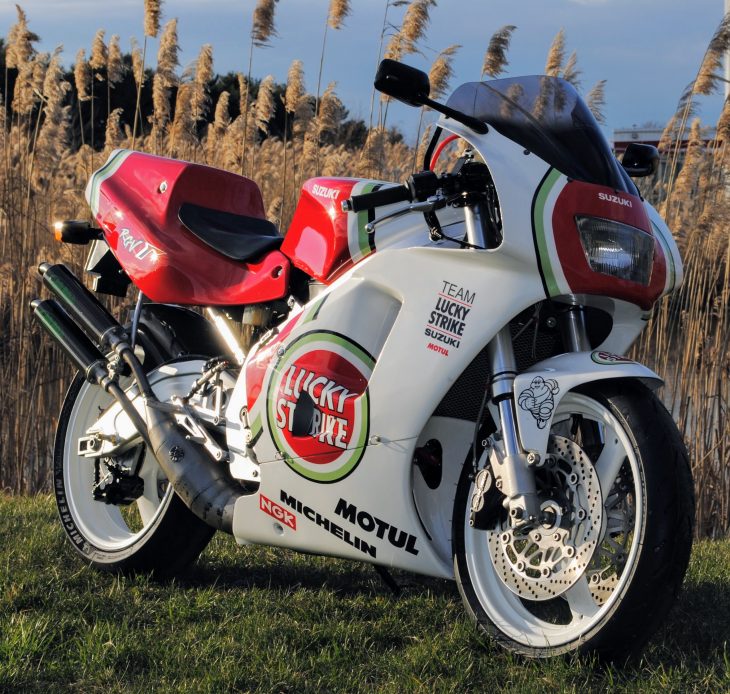 Our friends at Speed Werks have almost completely rebuilt this Suzuki RGV250-SP, to the point that it's almost too pretty for the rapidly advancing riding season. Almost.
The Lucky Strike livery on this bike isn't a sticker package, it has been painted onto the new Sharkskinz bodywork. It looks sharp, but it's what's under the plastic that's important here. The chassis has been rebuilt, and the engine is literally as good as new.
It also wears a raft of critical aftermarket parts, to include Jolly Moto cans, a derestricted ignition box and stainless steel brake lines.
From the seller:
Suzuki RGV250-SP VJ22 Lucky Strike For Sale.
Freshly rebuilt Chassis with a complete 'brand new' Aprilia motor. 500 Miles since completion. Jolly Moto exhaust, derestricted ignition, adjustable suspension front and rear, Brembo master cylinder, steel lines, JDM rearsets. Sharkskinz bodywork with a phenomenal custom paint job, all graphics are painted, not stickers. New Michelin Power RS's, gold X-ring chain, all fluids replaced, oil injection intact and a complete service/safety check. ready to ride.

Price: $10,900 delivered anywhere in the continental USA, world wide delivery available with quote on request.

Contact: 302-672-RACE or steve@speedwerks.com