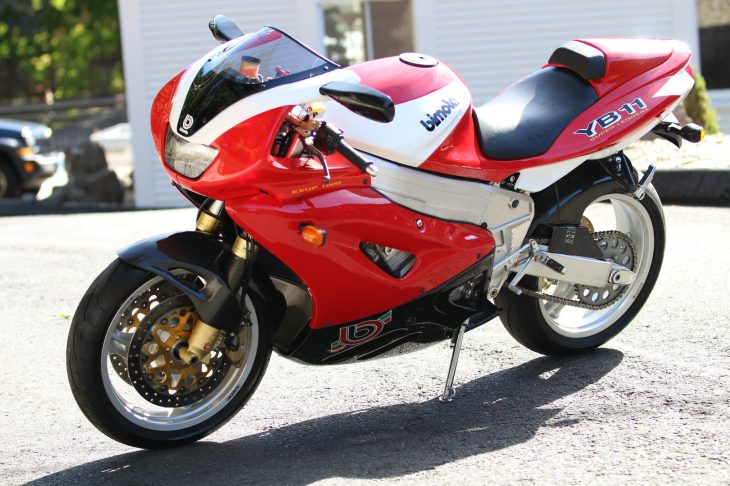 1990s Bimotas currently represent an amazing value, and this 1998 YB11 Superleggera has superbike performance, Yamaha reliability, and is very rare, all for under $10,000. "Superleggera" or "super light" is a style of construction that stresses lightweight materials and construction: Ducati's Superleggera is so super and leggera that it actually weighs less than the British Superbike Championship Panigale including ballast... So while 400lbs dry may not be considered the absolute lightest bike out there by today's standards, it's still in the hunt and was a solid 30lbs lighter than the YZF1000 that donated its engine and gearbox.
Plenty of superbikes these days weigh the same and make far more than the YB11's 145 peak horsepower, but without their electronics and sophisticated traction control systems, they'd likely be wrapped around a tree in short order. The five-valve Yamaha engine that powers the YB11 should be far less peaky than something like an MV Agusta F4 or even a BMW S1000RR, as evidenced by the 5-speed gearbox, which suggests a reduced need to chase narrow powerbands. It says much about the original bike that it's nearly 20 years old and, with 170mph top speed, can at least keep modern superbikes in sight, especially on the road.
The only catch with that "Yamaha reliability" thing could be actual access to the Yamaha parts on the YB11. That beam frame may be light and strong, but Bimota didn't worry about things like "servicing" when they designed this beast, and other bikes they've built aren't easy to service: for the similar, Suzuki GSX-R1100-powered SB6R, you actually need to drop the engine to change the front sprocket. The clutch slave? Drop the engine. And the alternator drive on the SB6R tends to fail due to overheating. Guess what you have to do to work on that?
Those beefy 51mm Paioli forks provide excellent roadholding but could be difficult to source parts for. And when I say "could" I mean, "I know one that was sidelined for a couple years with leaky seals because the parts were unavailable." Although I'm sure it'd be possible to swap in the front end from a modern superbike, if you're friendly with someone who can knock up a set of custom triple-trees...
From the original eBay listing: 1998 Bimota YB11 Superleggera for Sale
A Unique and Rare Super Bike On Display in the New England Motorcycle Museum!

Extremely rare! Only 650 made! Not many opportunities to buy unmolested, low mileage Bimotas present themselves! Act now!

Borderline savage power-to-weight ratio! There was nothing in its class that could touch it in sheer acceleration

This bike features an engine based off the Yamaha YZF1000 and featured a larger air box, reworked carburetors & a 4 into 1 pipe that turned the Yamaha engine into a rocket ship without comprising its superb reliability!

Immense handling capabilities! Extremely light weight makes for easy input and lean angle limits that are most likely well beyond the rider's capabilities.

This hand crafted, Italian made motorcycle is gorgeous and the photos speak for themselves! Here's your chance to own this Italian Stallion!

Ready for your exotic collection
The seller does include a video of the bike with a walk-around, but doesn't fire the bike up. It's pretty clear from the photos that this bike is in superlative condition and has just 3,000 on it. I'm not sure if the YB11 has similar servicing issues as Bimota's SB6, but I'd consult with a specialist shop or spend some time on the forums before assuming these will be cheap or easy to maintain. Plus, bodywork might prove a little difficult to replace if you take a tumble. That being said, I'd buy one in a heartbeat: with a Buy It Now price of just $9,500 it's rare, fast, and Italian. It even has passenger accommodations, something of a rarity for Bimotas in general.
-tad