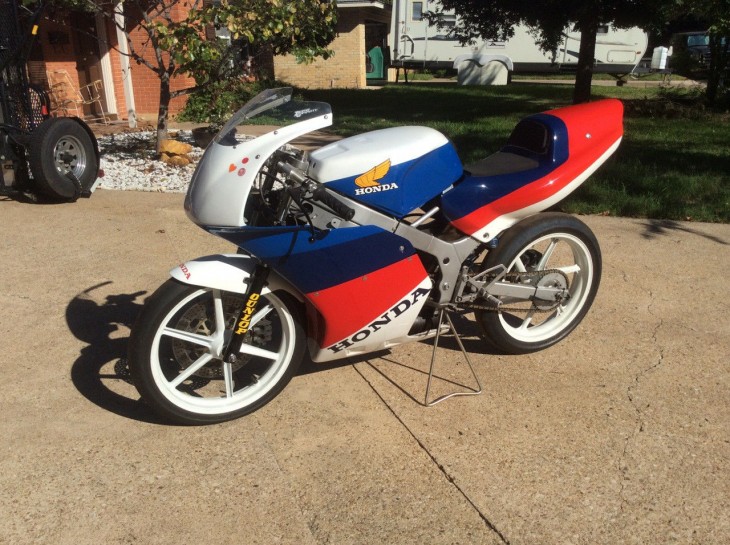 If you watch Moto GP, particularly the Moto2 and Moto3 races that are an exercise in mayhem for the first couple laps, you may be familiar with the Name "Moriwaki." With frames competitive at the highest levels of racing, you'd be hard-pressed to find something with this kind of heritage and performance at anywhere near an affordable price… Unless you're okay starting small.
This Moriwaki MH80R is powered by Honda's CR80 two-stroke dirt bike engine and was designed to provide an affordable, entry-level racing machine. It used as many Honda parts as possible to keep initial and running costs as low as possible. This particular example has been bored-out to 100cc's and a dyno sheet included in the listing shows 24hp. In a bike that weighs less than many riders, that's no joke, and should provide plenty of performance for anyone wanting to learn to race: outright power can cover up for a lot of sins and teach lazy habits as you're learning the fast way around a racetrack.
You won't have that problem with this little MH80R.
At this level, you need to carefully shepherd every horse, slipstreaming bikes in front to build up speed for a pass, willing yourself to be smaller to fit in behind the windscreen as you cling to the tank like a motorized lamprey, using the brakes as little as possible, and hanging on to every mph for dear life.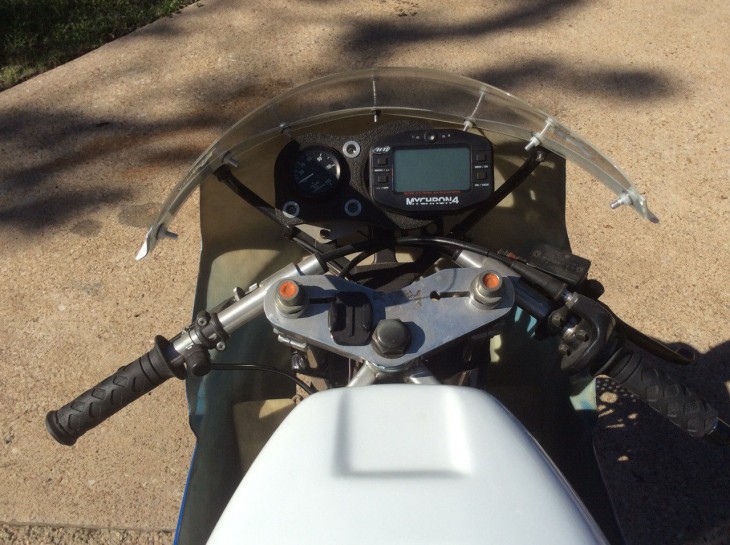 From the original eBay listing: 1992 Moriwaki MH80R for Sale.
Selling my Moriwaki MH80R GP bike, setup for CMRA F4 Sprint competition. This bike is a gray market import from Japan, and I bought it from another racer at the end of 2012. The motor is from a Honda CR85, and has been built to 100cc displacement by local guru Billy Wiese using a stroker crank and the Wiseco 5050 piston kit. Brand new topend (zero hours) installed by AF1 Racing, where it was dyno tested and made within 1hp of a Aprilia RS125. The bike has magnesium wheels from a Honda RS125 and a front brake from a Honda CBR600 F3. The suspension consists of RaceTech emulators in the front and a custom RaceTech 3-way shock in the back, all built and tuned by Roger Albert of OnRoad OffRoad Cycles.

The bike easily outruns Ninja 250s, given that it weighs well under 200lbs and can top 100mph. Selling because I've moved up to larger bikes for sprinting, and am only doing endurance races on lightweights. The bike is untitled, and I will include a bill of sale.

Many spares are included: Second CR85 engine (needs new bottom end); full exhaust system; clutch plates; original Moriwaki wheels and brake system (good for a rain setup); a full complement of front and rear sprockets; a box full of various gaskets, rings, spare parts, etc.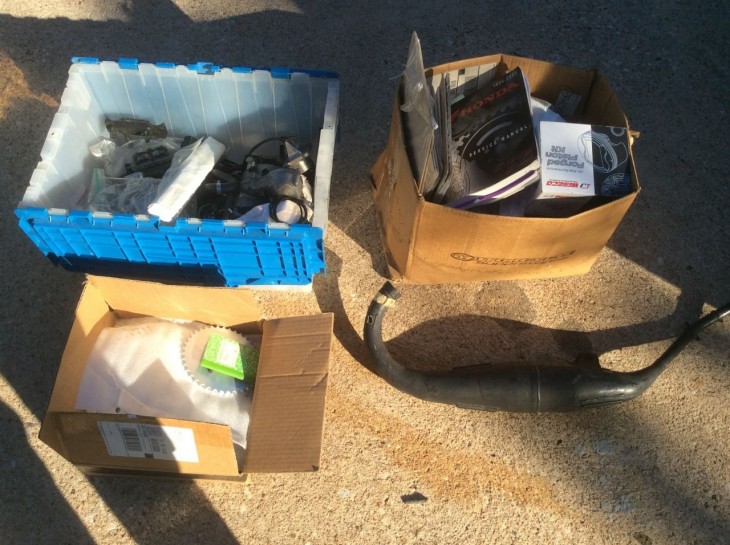 The seller helpfully includes a pair of videos of the bike in action here and here to whet your appetite. With just about 24 hours left and a $3,000 Buy It Now price, this could be your chance to get a little track day toy that will teach you the Art of Momentum Conservation that will hold you in good stead as you move up to 600's and 1000's.
-tad