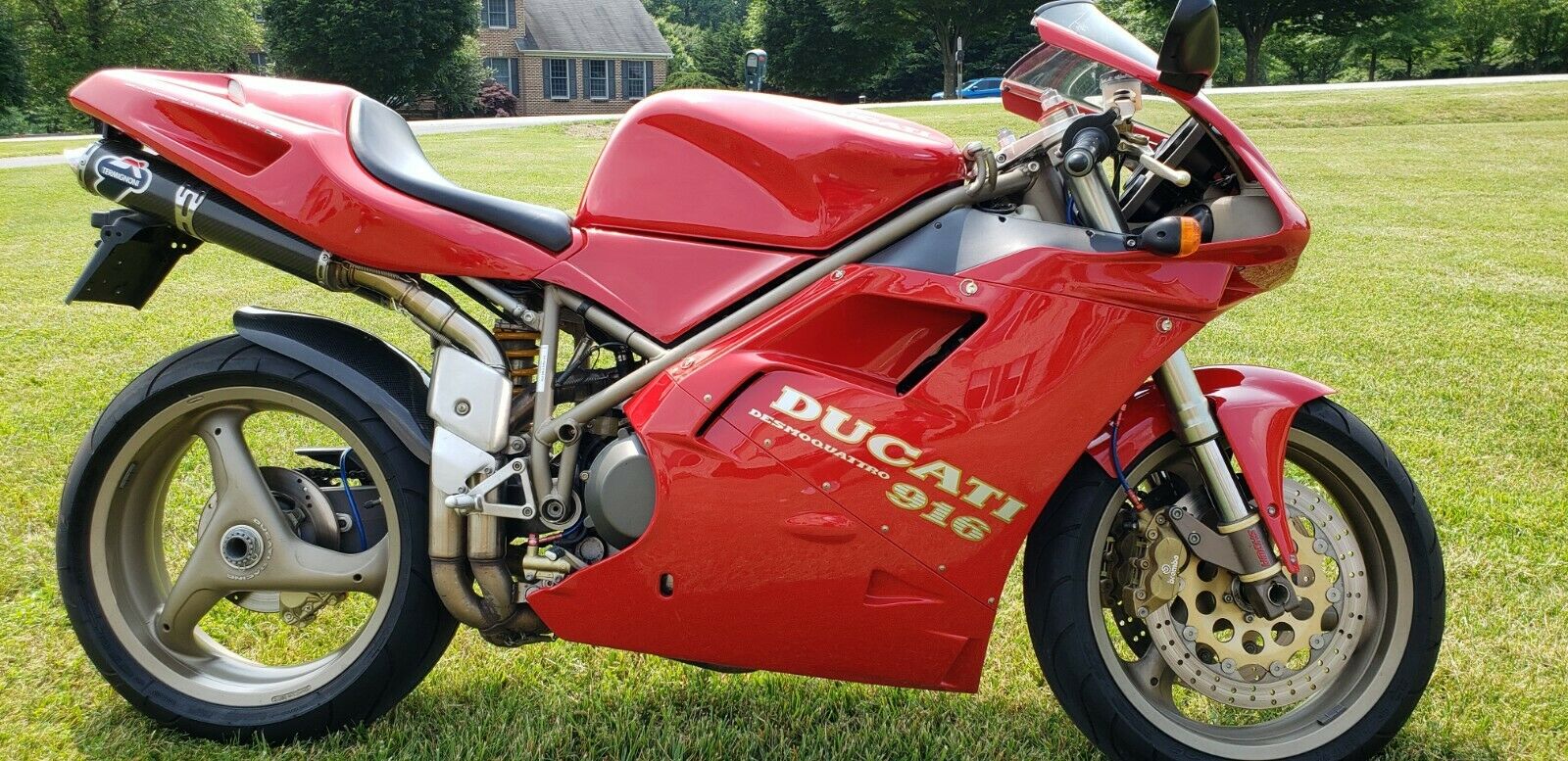 If you are looking for a collector category bike and figured the first generation Ducati 916 might have hit rock bottom, you are (unfortunately) already too late. Early year 916s have stepped onto the valuation escalator, and are already going places. They are still relatively affordable, but you will be parting with a fair number of ducets if you want an early model in clean condition. The Varese models will still top the dollar range, but any nice 916 will set you back some coin. It is with that in mind that we present you with this 5,000 mile, beautiful first-generation 1995 Ducati 916 located in Maryland.
As oral tradition dictates, the story has been told often around the warm, flickering glow of computer monitor screens – a story about a man named Massimo Tamburini and his desire to conquer the world with a motorcycle design the likes having never before been seen. Jump to the chase and one might believe he did just that. The Ducati 916 was a stunning design of sharp angles and flowing streamlines, of extreme compactness, yet dense with power. Of single sided swing arms and raucous pipes poking out beneath the seat. The four valve desmoquattro engine featured liquid cooling and fuel injection, and rev'ed higher than any twin in recent memory. Handling was redefined, and the bar was raised. Trophies stacked up; both those won racing in WSBK as well as those awards won at design competitions and motorcycle shows.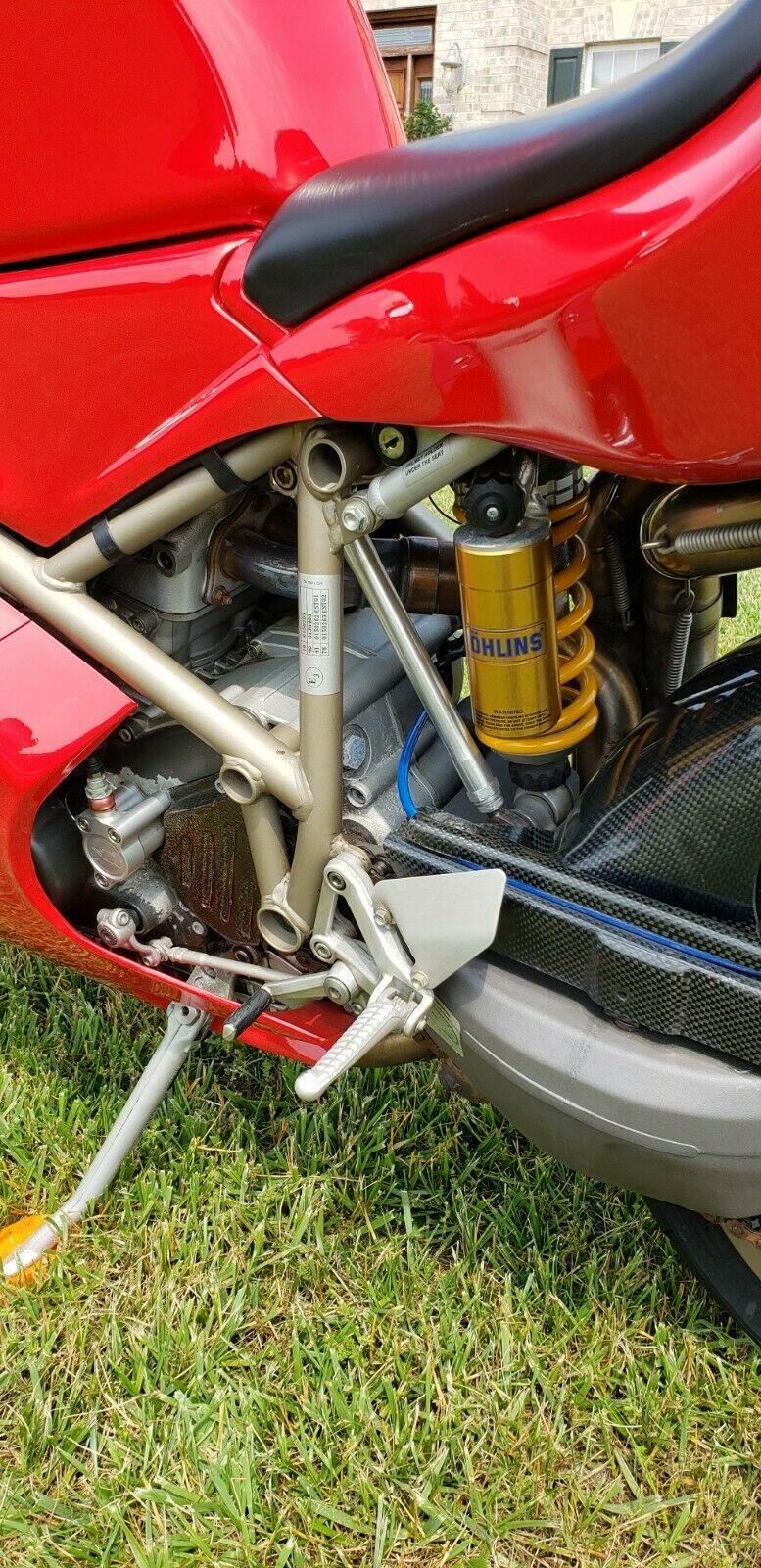 From the seller:
Up for sale is a beautiul 1995 Ducati 916 sport bike with 5196 original miles. Bike has been well maintained and not only looks great but still runs great as well. All maintenance records have been kept for this bike and can be emailed if needed. Only modifications to the bike are Termignoni carbon exhaust pipes and integrated turn signals. If you have any questions or would like more pictures or information, please send me a message. Thanks for looking!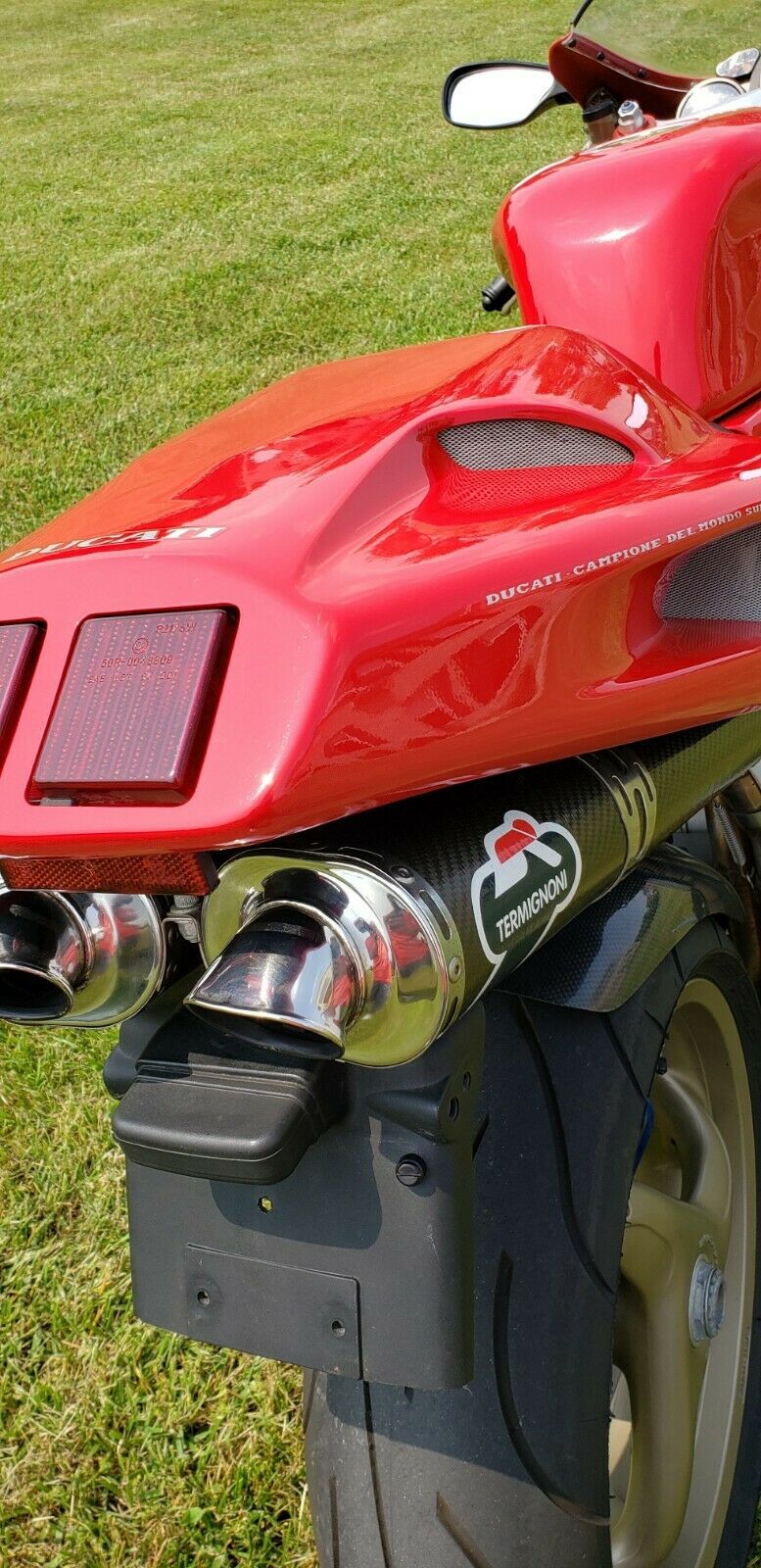 Now celebrating its 25th birthday (originally released in 1994), the 916 has reached that classic collector status. It is old enough to be able to re-emerge into the spotlight as a yesteryear machine, yet new enough to give relatively modern machinery a good run for that collector money. The iconic good looks remain fresh and vibrant, even as they have been re-interpreted, copied and evolved in models such as the Ducati 1098/1198, the Panigale, and the MV Agusta F4. This bike still looks modern, and if you can live without the electronic nannies such as traction control, wheelie control, ABS and bang-shift electronic gearboxes you will find that this bike still IS modern. The V-twin lights with a roar, and remains usable and tractable around town. But it is in the canyons where the 916 really shines, allowing a rider to make the most of the strong (at the time) Brembos and sublime Ohlins suspension, and really delve into the 114 HP as the tach swings past 9,000 RPM. The soundtrack is glorious.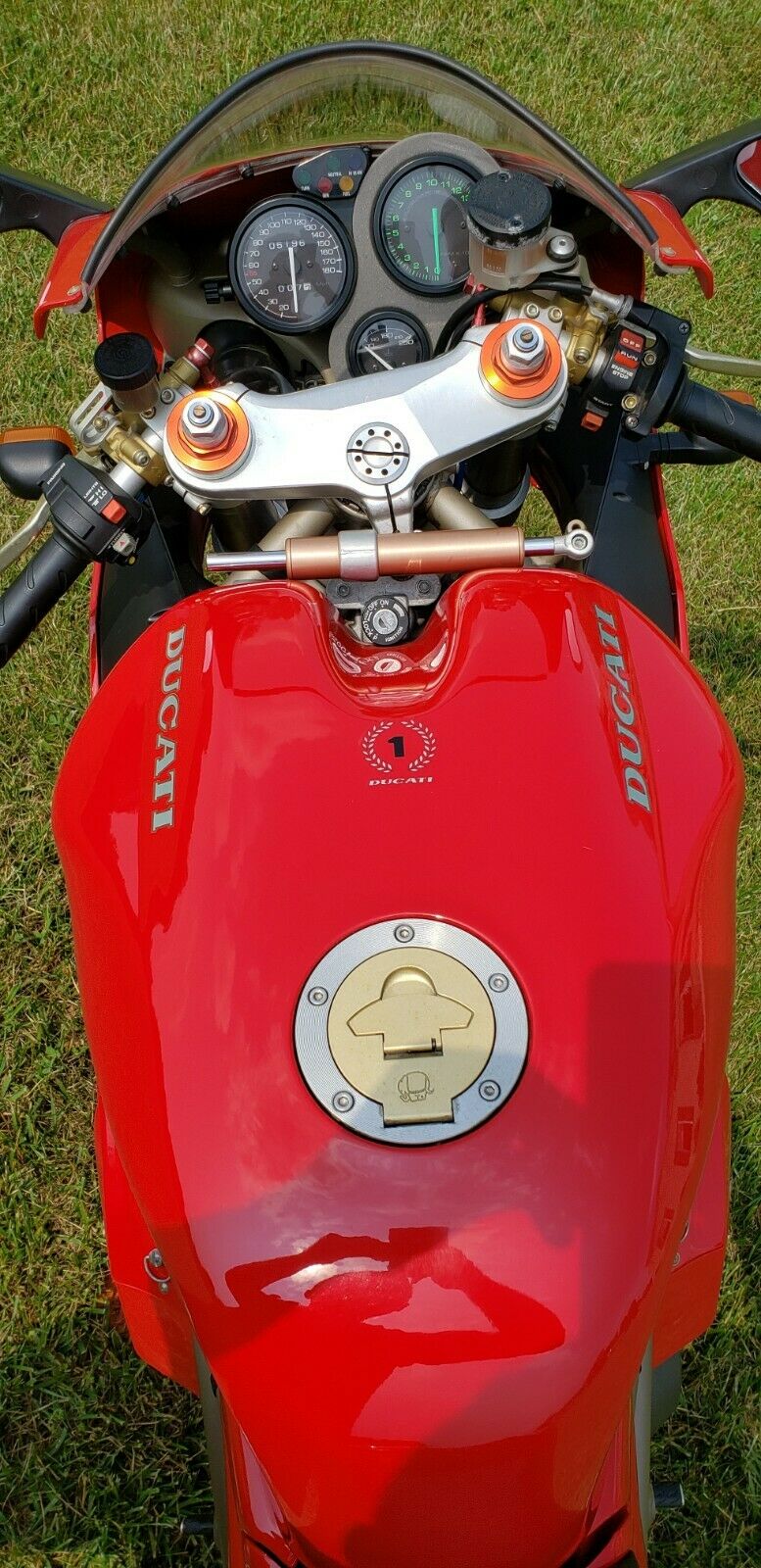 Stepping back onto the sidewalk of reality, the stewardship of a Ducati 916 is a little bit different than owning your average UJM. Desmo valve adjustments, for example, require specific shims and are more frequent and more involved than what you might be used to. Cam belts need to be replaced at regular intervals. Skip either of these steps, and ownership becomes an exponentially more expensive prospect. Aside from more frequent maintenance, these hyperactive twins are surprisingly robust. Mileage is rarely a factor in 916 ownership provided services are completed on schedule. The rest is riding, smiling, rinsing and repeating. This particular example looks very clean, and has obviously been well loved. It sports a few extra bits – such as the Termi exhaust cans, the carbon fiber mud guard, chain guard and front sprocket cover, uprated brake lines, and the rear turn signals have been re-positioned. There also appears to be a pigtail for either a battery tender or electric vest. With low miles, a clean presentation and a complete set of service records, this 916 looks to be a fantastic find – and the asking price reflects the condition. Check it out here, and then fire up your inner Carl Fogarty. Good Luck!!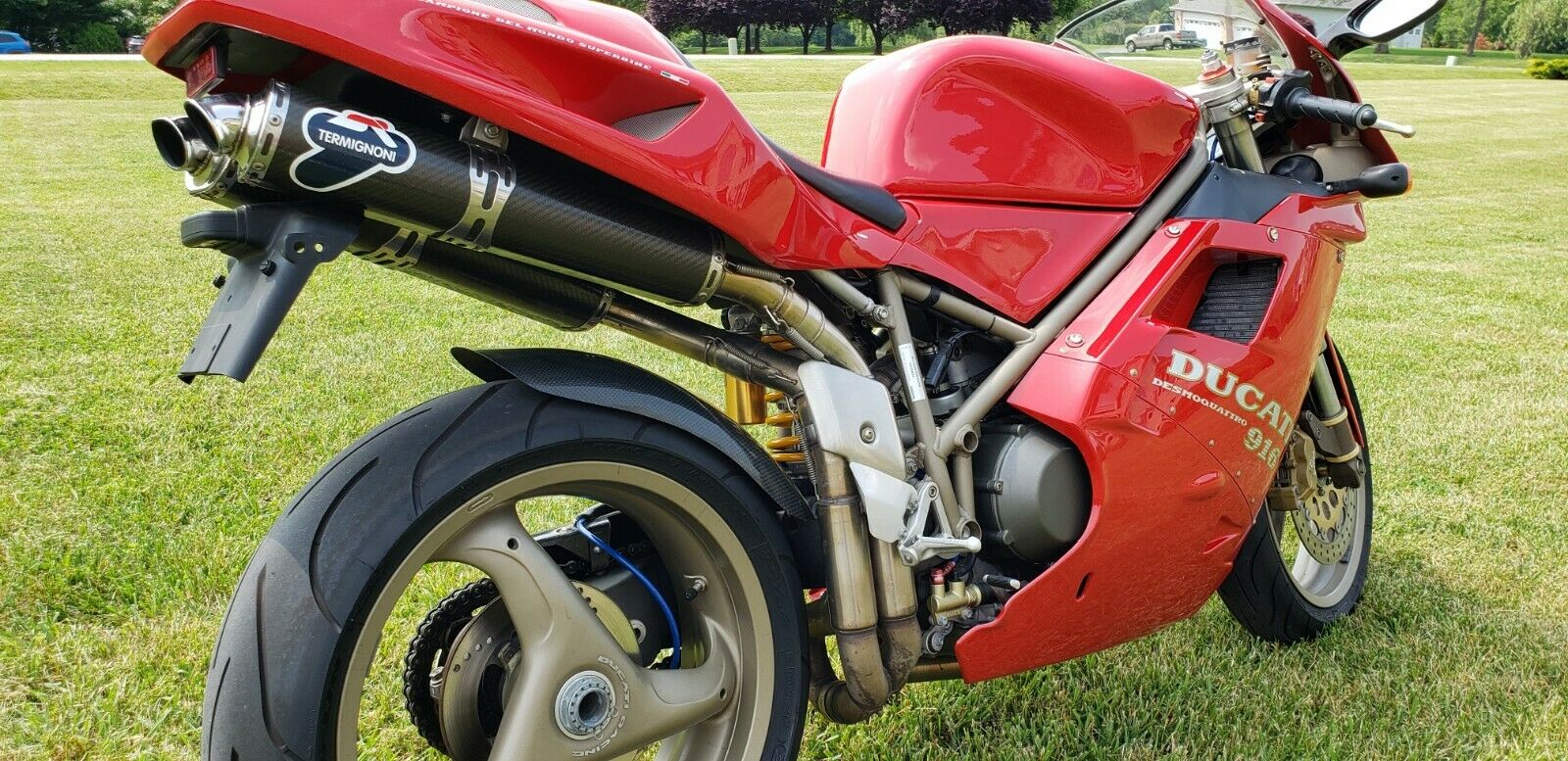 MI