The Suzuki TL-1000S was a monster of a sport naked that came out a little bit before the thirst for such things got really desperate, and then promptly got swamped in the publicity surrounding the TL-1000R superbike, which was supposed to beat Ducati at its own game. 
Unfortunately for Suzuki, the TLR whiffed as a racebike, but its market share still eclipsed the TLS, and some handling bugaboos for both bikes eventually spelled the TL nameplate's end. 
But for those who caught on, the 2001 Suzuki TL-1000S is still an amazingly competent canyon stalker, a sort of bug-eyed Japanese Tuono. With a sporty riding position, big brakes, USD front suspension and nigh-on 120 horsepower on tap, they're fully equipped to scare you witless.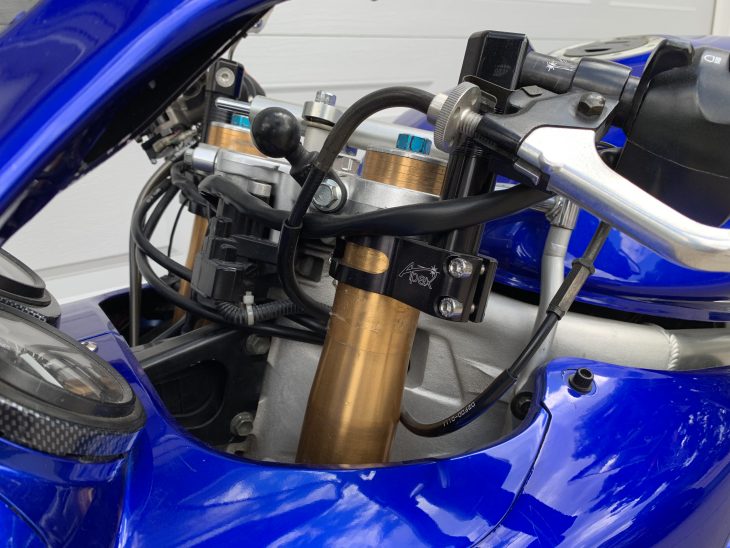 And this one has been tweaked and tuned heavily but tastefully, making it pretty close to the ultimate street TL. The list of mods is long, and we'll let the seller give you the full rundown, but here are the highlights: Ohlins suspension front and rear, Brembo monoblocs, gold Carrozzeria forged wheels and a Yoshimura exhaust. 
The Ohlins set up not only brings a big splash of bling, it also takes care of Suzuki's weird rotary damper rear suspension set up, which some riders reported could overheat and become scary.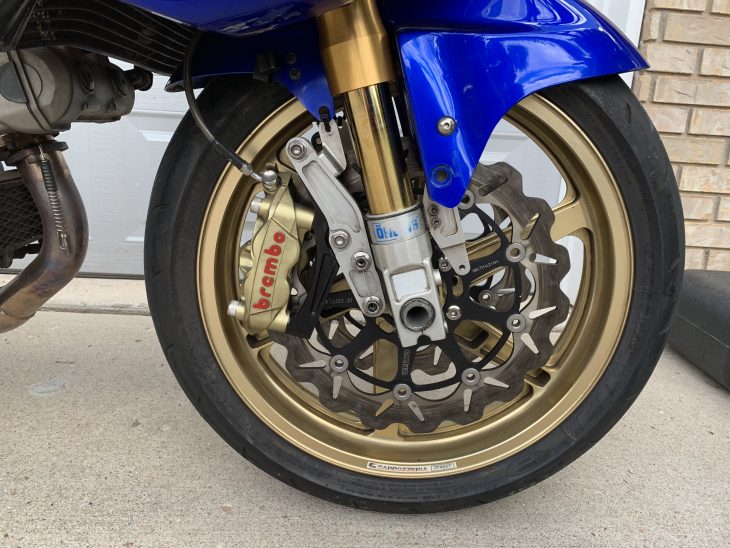 From the seller: 
2001 Suzuki TL1000S with clear Colorado Title: ~9000 miles
– OEM tank & fairings with minor nicks & scratches for its age
– Ohlins shock
– Ohlins R&T Fork (with Lindeman Engineering tune)
– Ohlins steering damper
– ride height adjuster for rear
– Taller tinted windscreen (by Puig)
– Carozzerria forged alloy wheels (3.5″ front/6 inch rear)
– Braking wave front rotors/lightened rear rotor + stainless lines
– Brembo monoblock calipers in front (from GSXR 1000)
– Brembo 19mm front brake master cylinder
– Brembo race rear caliper + Ladybird armless mount
– Yoshimura full stainless exhaust system (professionally restored/polished from Europe)
– Corbin front saddle
– 3″ riser handlebars
– emissions equipment removed
– Lightweight Lithium battery with charging pigtail
– Smart TRE + Yosh box programmed ECU
– Samco radiator hoses
– Pro-Tek rearsets + Vanzuki alloy rear brake reservoir
– Titanium nuts & bolts (swingarm, rear axle, front/rear brake rotors…)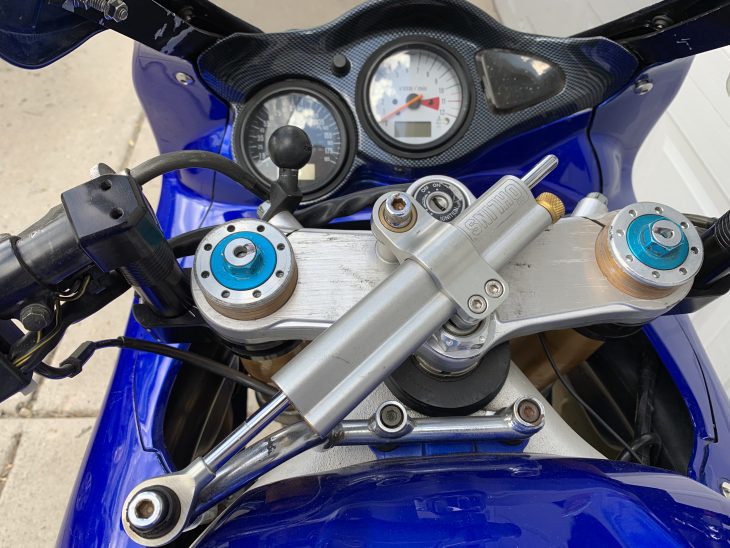 If that list doesn't make you jump at the chance to get your hands on this beast, ice runs in your veins. The bike is located in Colorado and the seller is asking $6,000. Shipping arrangements and costs are on the buyer. You can contact the seller at pekingduc1@gmail.com.