Update 7.24.2018: SOLD in 21 hours! Congratulations to buyer and seller! -dc
RSBFS would like to thank SpeedWerks for being a long standing sponsor of the site. Good luck to buyers and seller! -dc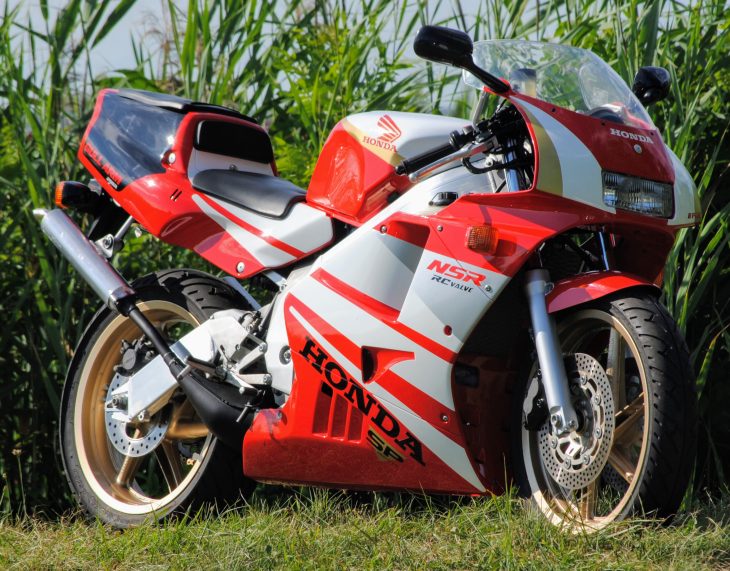 This 1990 Honda NSR250 in Cabin Tobacco racing livery is a 28-year-old new bike, having done just 75 miles. The seller, Speedwerks, have been good friends of the site, and grabbed this one up based on little more than a rumor, some bad photos and a prayer or two. They ended up shipping home an absolute winner, original down to the tires and protective film on the bodywork. The bike looks phenomenal in its rare livery, and the paintwork bears a couple marks from age, but the rest indicates it spent its time on display.
The bike does have some corrosion on various fasteners and metal parts, mostly on the left side of the bike. They take away little, and could probably be cleaned up with limited pain. Speedwerks is leaving that up to the buyer.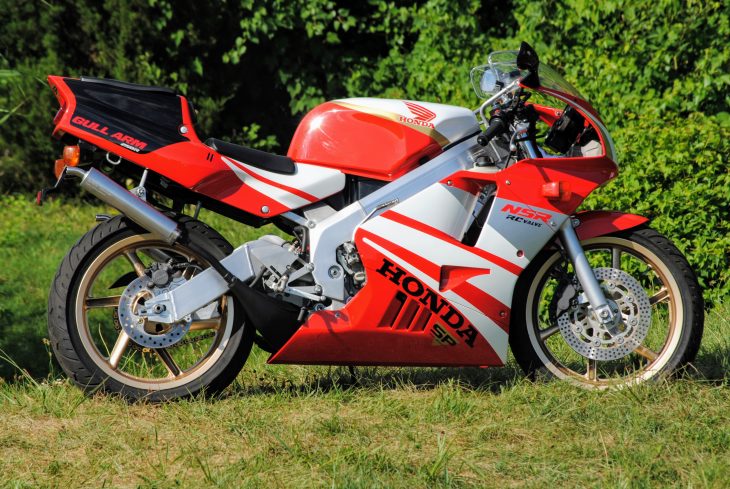 From the seller:
We discovered this bike in Japan. Advertised as a Cabin NSR250 SP that was essentially new, never registered and has covered only 75 miles. So we bought it, shipped it and it was exactly that: original down to the protective film on the fairing panels, bar code sticker and original Dunlop tires (I don't need to elaborate on how unsafe they probably are).

Radiator doesn't have a bug or bent fin in it. I would give it a solid 9 outta 10.

Unfortunately at one point on the island it was exposed to some elements. Mainly on one side of the chassis, it shows some small signs of corrosion and pitting. Some rust on exposed metal fittings. Really a shame but I guess garage space is at a premium in Tokyo.

We washed it, fully serviced it and fired her up. Everything works as it should, as if it was just uncrated.

Leave it as she is or put some tires on it be the happy first owner.

All Japanese paperwork included to convert to a US title, though unlikely in to register in California.

$12,000 obo.
Even with the pitting and sketchy tires, this thing is a winner for someone. I'd ride it. But I'm a heathen. Contact Speedwerks for more information or to make an offer.
– Aaron