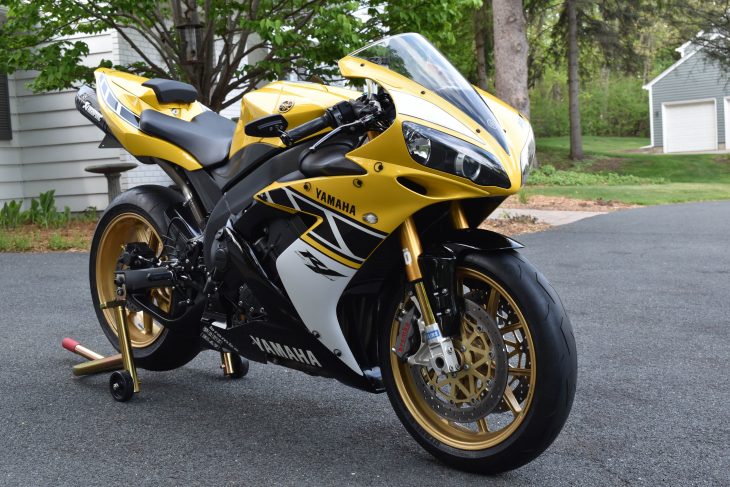 Built to celebrate the 50th anniversary of the brand, the 2006 Yamaha R1 Limited Edition came dressed to kill, sporting a livery that hearkened back to the heady days of Kenny Roberts and wearing gold Marchesini wheels. Just 500 were built, and Yamaha rounded out the package with a stock slipper clutch and Ohlins suspension all around. With so few available and with those factory upgrades, it's safe to say that the Yamaha R1 LE is a special bike even with a pile of miles on the clock.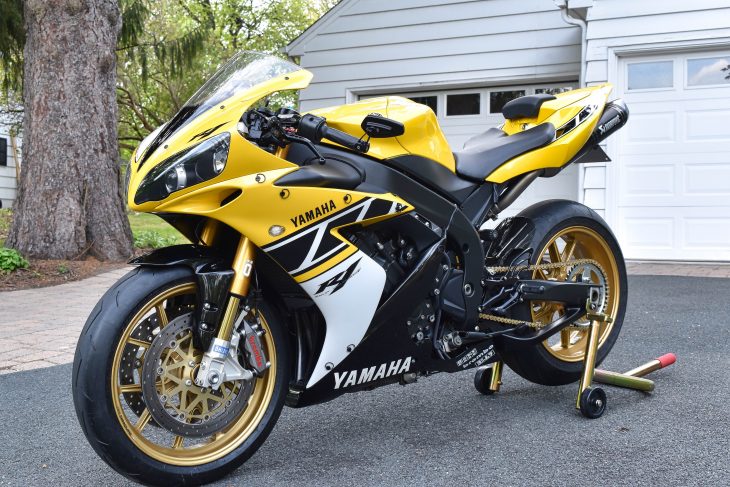 But this one, which comes to us from the collection of our buddy Don Potter, is a nearly virgin example, with just over 2,600 miles on the clock. And, as if it wasn't special enough, Don loaded it down with a long list of very tasteful modifications. As it sits, it is truly the ultimate expression of what the R1 was meant to be. In my opinion, the mid-aughts R1s are some of the finest looking models from the bike's 20-year history, and the speedblock paintwork really makes it sing.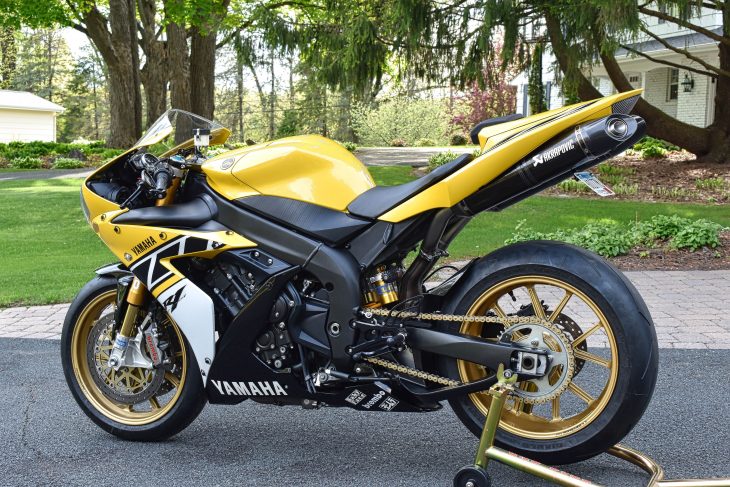 Yamaha made a wise decision adding better suspension and a slipper to the R1 LE, as the stock bike pushed out the best part of 180 horsepower at the crank and was capable of a terrifying 180 mph. This is not the realm of the new rider.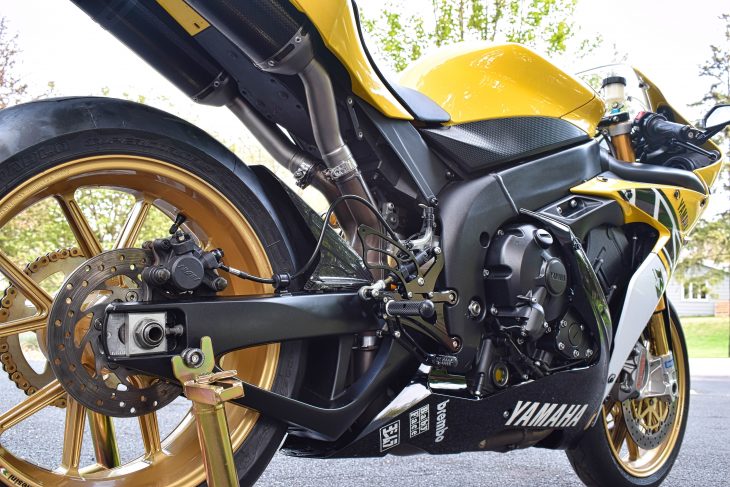 From the seller:
2006 Yamaha R1 LE

I bought this bike to make a collection of 2000's sports bikes, searching over a year to find desirable low mileage/model/color combos. I also have a 2001 GSXR1000, zero mile CBR1000RR Repsol and a Ducati 1198R. Anyway I decided to retire and move back to the UK so I am selling my collection.

#221 of only 500 made, the R1 LE came with Ohlins suspension, Marchesini wheels and a slipper clutch. I wanted to it to make it look even more special, so I put over $4000 of mods (parts cost only) on it. The build list is as follows:

Akrapovic Carbon Slipons with Link Pipes (sound great, not loud)
Brembo M4 Calipers with Brembo Pads
Brembo 19 RCS Corsa Corta Master Cylinder
Spiegler Brake Lines
Race Style Rear Brake Reservoir
Factory Pro Superflare V Velocity Stacks (improved midrange)
PAIR Mod
Power Commander
K-Factory Rearsets (very trick)
GTYR Genuine OEM Rear Seat Cowl (very rare – I found a NOS one)
CRG Bar End Mirrors
CRG Clutch Lever
Carbon Hugger
Blaster-X Integrated Rear light
Graves Flushmount LED Signals
Greggs Plate Holder and Mirror Blockoffs

I also serviced the bike, changing oil (Amsoil synthetic 10w40) and filter, fitted a new OEM air filter and changed the coolant.

I found this bike at a small bike shop in OH. The shop owner also had a zero mile R1 LE. The bike is in mint condition with 2600 miles and never been tracked. Only flaw is a very small crack just under the headlight trim (see pic). The decals I added to the lower bodywork and forks can easily be removed. New Pirelli Supercorsa tires were fitted just before I bought it. Original toolkit included. I have only ridden the bike 15 miles but it rides perfectly.

A video walk around and startup can be seen here.

Clean title with current MN registration in my name. I am in Minneapolis. I can store the bike for some time and assist with loading if buyer uses a shipper. I have all the stock take off parts so the bike can be returned to stock, including original uncut rear mudguard with reflector.
Price is $14,500 with all mods and every stock part included, or $12,500 returned to stock and no modified parts included.

Contact Don with your interest: don_potter@me.com
Of all the R1s made, this model is sure to go down as one of the best of the bunch, and this one is perfectly set up to be enjoyed as well as housed in a collection.