Correction: Price $12,750 U.S. -dc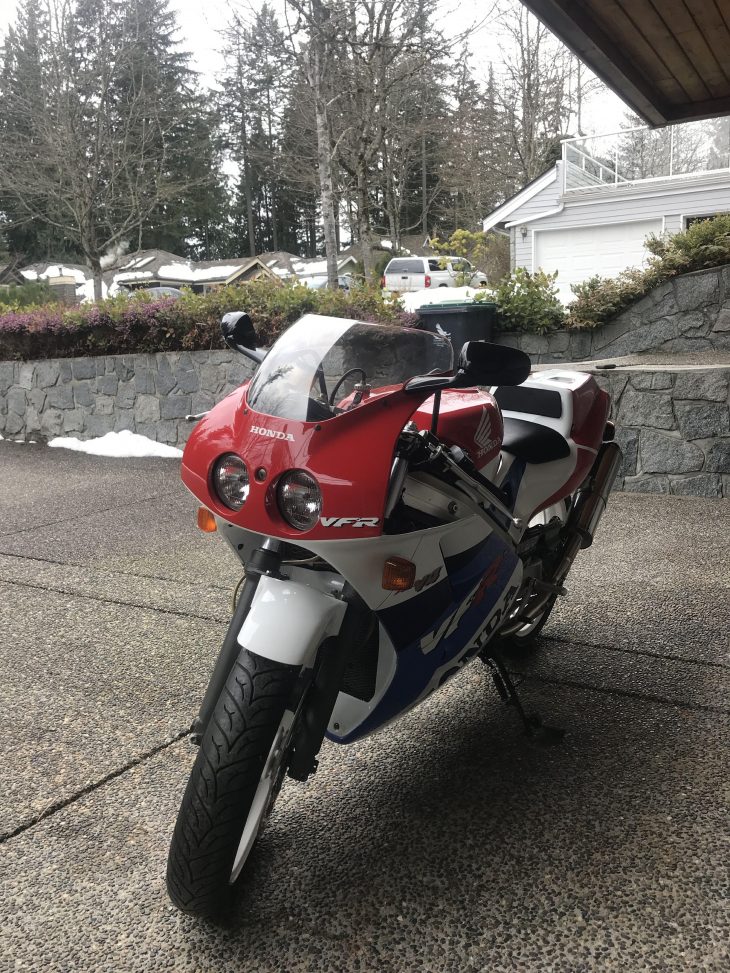 It's rare to find a sportbike that is both the smaller, less aggressive version of a more powerful bike, but can also stand on its own merits. In most cases, the smaller bike will get unfairly compared to its faster sibling, and always be seen as a compromise. With the 1990 Honda VFR400R, that was certainly not the case. Sure, its styling aped the legendary RC30 superbike, and it was never intended as an out and out racer the way the RC was, but the NC30 found an lovely niche as a fine-edged performance oriented mini rocket.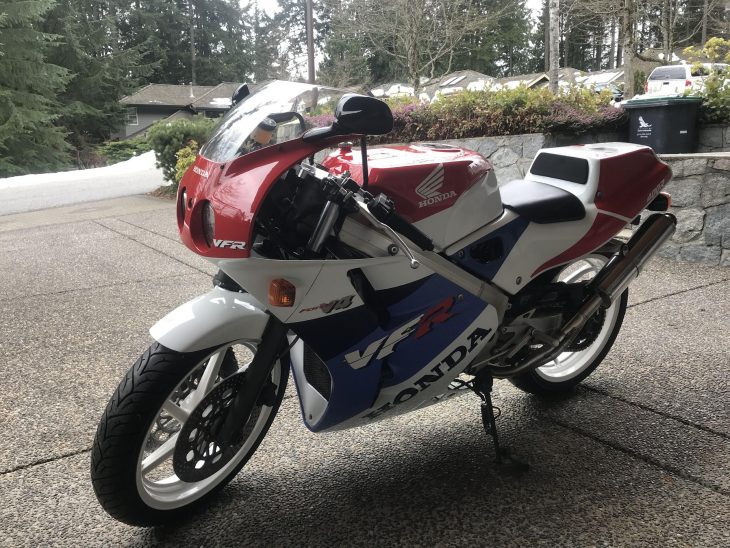 Where the bigger machine was prohibitively expensive for most people, and was easily capable of getting you into freedom-jeopardizing trouble, the NC was accessible, entertaining for multiple skill levels, and built to Honda's legendary standards of quality. There's a reason they're valuable today. Think of a 400 made today that you can see enthusiasts drooling over in 30 years. I'll wait.
This one resides in Vancouver, Canada, and wears Canadian collector plates. The photos here don't do its condition justice, and it's only covered 5,555 kilometers over its life. For those of us in the states, that is far fewer than 4,000 miles.
From the seller:
HONDA 1990 VFR 400 NC30, VERY RARE, MINT CONDITION WITH COLLECTOR PLATES!!!!

Summary
Often considered the baby brother to the RC30, the 400cc NC30 deservedly stands proud on its own right. The V-4 with ultra-precise gear driven cams delivers a powerful 60 horsepower soundtrack that is unique to this model – especially when the tach swings up toward the 14,500 RPM redline. This is partly thanks to the NC30s 360 degree crank, creating a "big bang" motor when compared to the NC21 or NC24 predecessors. With a race-bred twin spar aluminum frame, endurance-bred single sided swing arm, fourinto-one exhaust and adjustable suspension, the underpinnings of the VFR400R were anything but cheap. Drape the whole package in a glorious shape that is as iconic as any of the sport bikes we hold in high esteem (RC30, 851, 916, F4), throw in typical Honda build quality and reliability and you have the NC30 in a nutshell.

This particular bike was bought from the local Honda dealership (Vancouver Canada), it was one the bikes in his private collection. I bought this bike on an impulse and also as an investment plus I thought it would look really good (which it does) parked next to my 2009 VFR 800. This bike has to be seen in person to be truly appreciated as these pictures from a smartphone camera do not do justice. It currently has 5555 kms on it.

Price: $13,750 $12,750 US Dollars
Contact: Jeff – jeff@digitalsecurity.ca
These things have been a hot commodity for years now, but the market for grey-market Japanese collector bikes shows few signs of slowing down. These bikes will never sell for RC30 money, but their value will always punch above their horsepower class for the right collector.