Well H E L L! Take 2! It's back for more, screaming with a vengeance and with a $60,000.00 B.I.N. price tag this time around.
It appears to be in the same 27 year old and untouched condition just as it was back in December. The December auction ended early and the last bid recorded was $14,000. I doubt that's what it originally sold for, but you're free to let the imagination run on this one.
Ciao!
Doug
---
---
Well, H E L L! I had this one almost ready to go, then our server decided it was time for an update. That little delay caused me to delay posting it this morning only to return to finish the post and find out the auction was pulled. I think it's still worth a post so, here it is-
---
Well, well- what do we have here? Do you think Massimo would be proud to see this or shake his head in disgust? I'm going with the later because I know he painstakingly engineered the 916 to Carl Fogarty's standards and he rode and beat on his 916 like it owed him money. Okay, cool your batteries, we all know that Massimo didn't design it for Foggy- that was just some dumb stuff I made up. But, I know we all have some fond memories of Foggy on a 95′ 916. Right?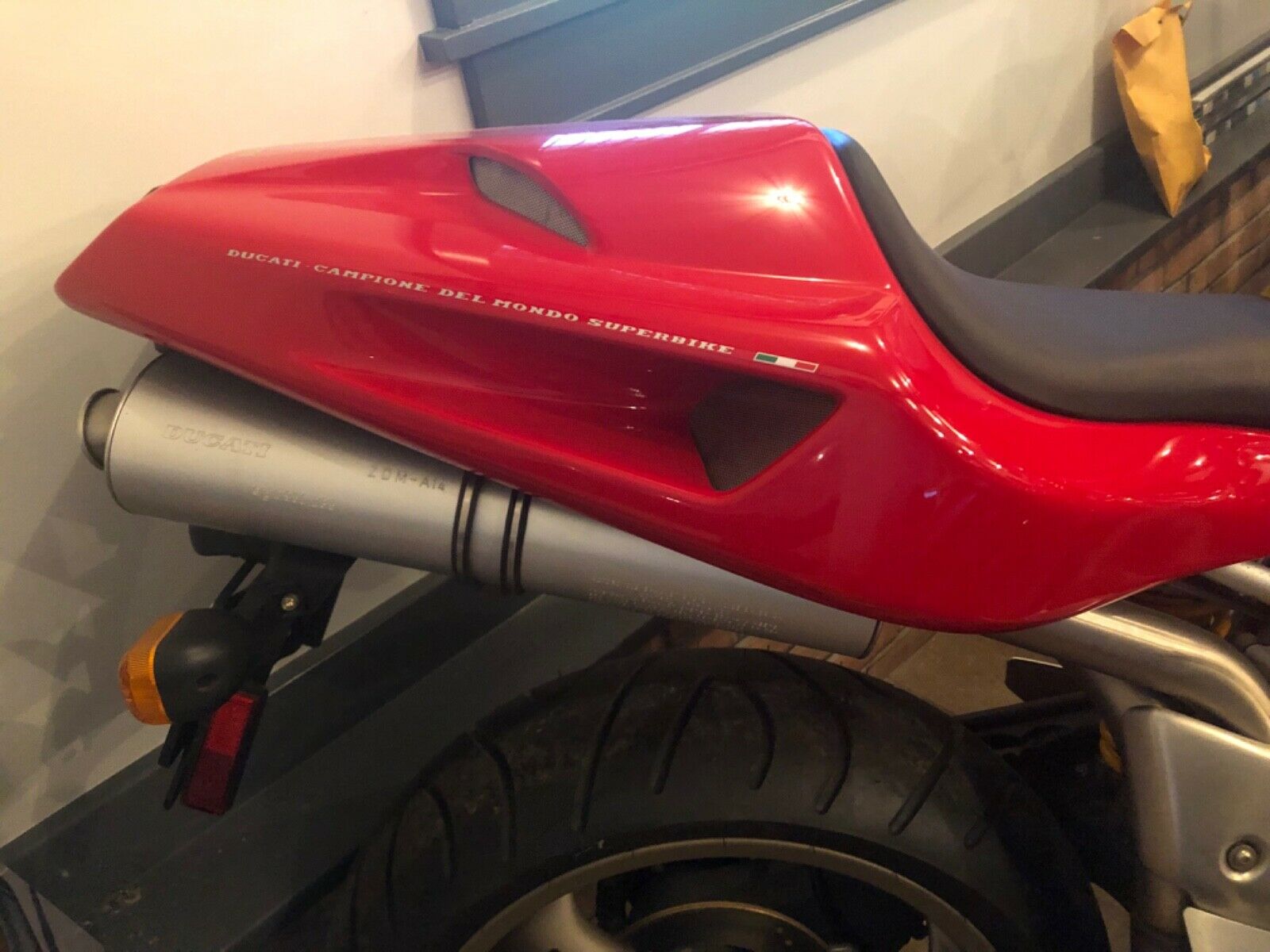 From the seller
Ducati 916 with 18 original miles, The exterior paint, plastics, seat, exhaust, plastics are perfect (headlights are foggy but clean up). This bike needs a few hours of detailing and possibly replacement of a few small parts to be museum quality. This bike was placed into storage in a barn that was not properly conditioned and humidity affected some of the metal parts. 4 of the dzuz fasteners towards the bottom of the fairings have oxidation, Some of the bolts on the front rotor and the rotor itself have oxidation. The metal fittings on the front brake line also display oxidation. There is a small bubble on the clutch cover where the paint is peeling and another bubble hidden behind the back shock area that is difficult to photo. There was a very, very small spot on one of the wheels that I cannot find again but I know it's there somewhere because I noticed when I bought the bike. All of the electronics, engine, transmission work properly and I have video of the bike running. This bike is part of my collection which I am starting to sell.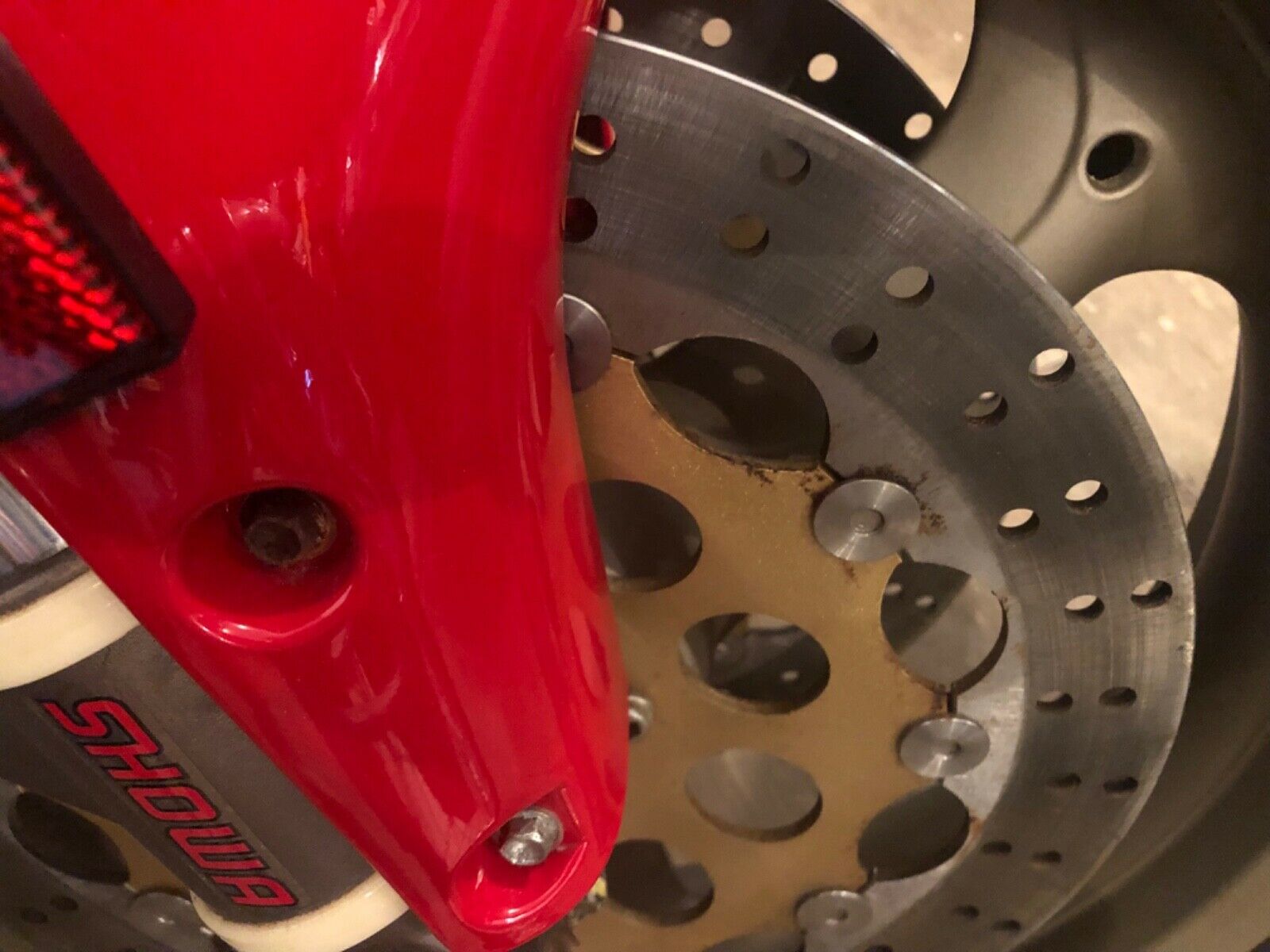 I think this image tells the story of this low mileage 918 916- It shows how it was improperly stored and it shows that it is a real deal 18 mile machine.
Like some, but not all RSBFS.com readers, I find low mileage machines, of any age, very intriguing. I think I find them intriguing because they make me wonder "why?". In this case, I ask "Why did someone mothball a second year base model 916?". The naysayers will scream "It's a base model and doesn't belong on your site!". My threshold is simple- Can I find another one? Therefore, I clap back with a resounding "NO!".
More from the seller
I hate buying and selling because the internet is full of idiots. I have tried to give the best possible description of the bike. Again, it is not perfect but with very minimal effort it will be.
Preach it Brother!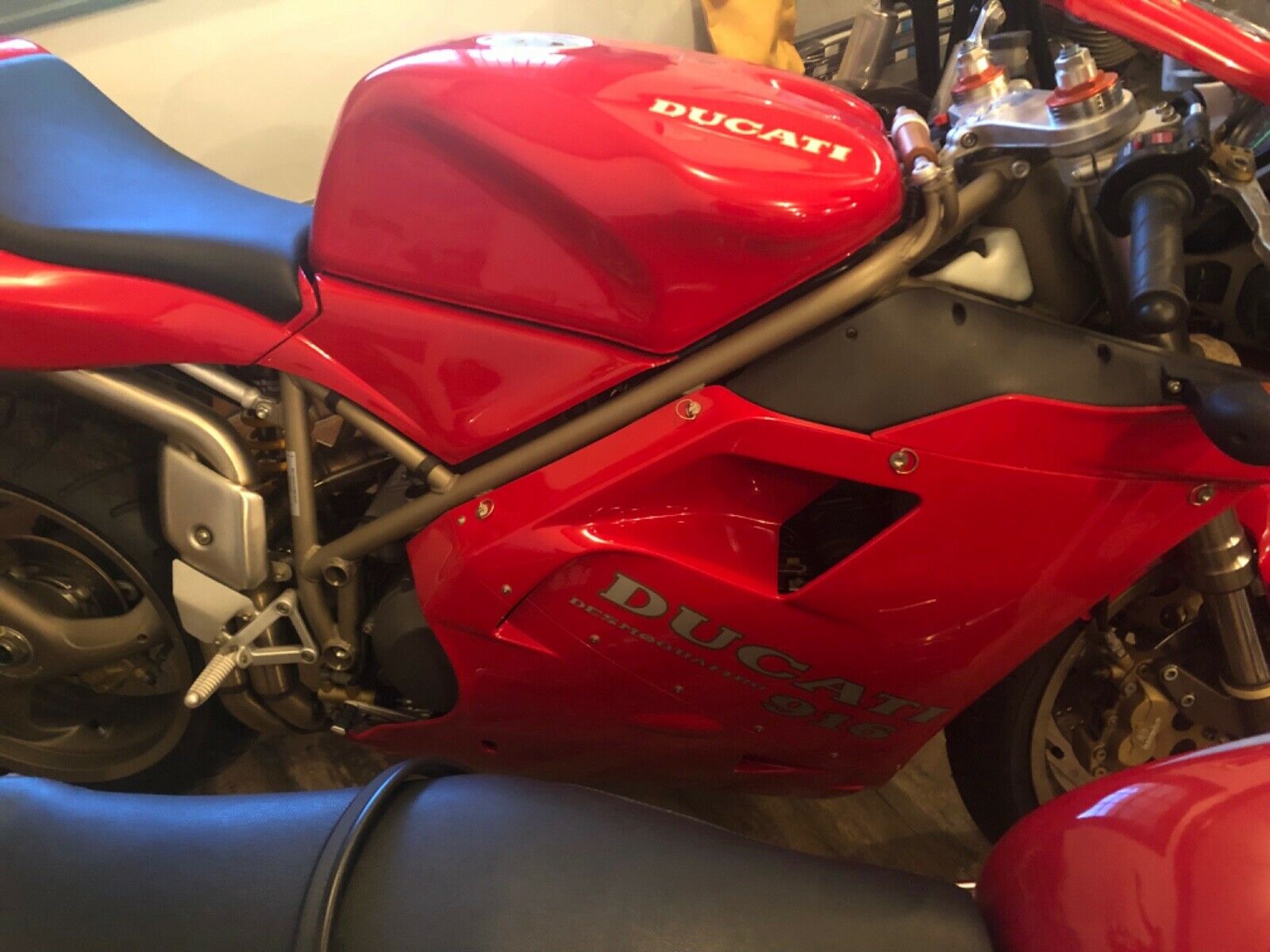 I intentionally sat on this one for a few days because I wanted to see how much action and price it would command. It currently sits at $14,000 with 8 bids placed and the reserve firmly in place.
What's it going to take?
I know it's a dead horse and I'm sure you folks are tired of reading it, but PICTURES! PICTURES! PICTURES! If the paint is perfect- show it! If the wheels are perfect- SHOW IT! I suspect this machine would attract a few more dollars with a proper detail and photos.
What do you all think? Let's discuss it.
Ciao!
Doug