Yes, another one..  it seems there are a lot of these for sale as of late.  Maybe the price of 2 stroke oil is on the rise and there is a unified mass sell off.  Whatever the case maybe, these are way cool and they are available for your viewing or purchasing pleasure.
1985 Yamaha RZ 500 on the Baltimore Craigslist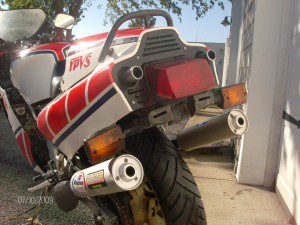 This one is all stock with the exception of the "go fast while sitting still" stickers.  The owner had the following to say about his prized bike.
I have had it for 15 years.  I bought it in Florida.  Bike has 21000 mile on it.  I would say the bike is a 7 from a scale of 1 to 10. All stock besides the new metzler tires.  Motor was rebuilt 8 years ago.  Bike runs and drives well.
This one is offered at $6,500, which is the cheapest we've ever posted on RSBFS according to my research.  You can verify for yourself here.   
Is it just me or are the front turn signals facing the wrong way on this bike???
dd