Nirvana – Utero
Pearl Jam – Vs.
Tool – Undertow
Snoop Dog – Doggystyle
Ice Cube – Lethal Injection
Bjork – Debut
Neon Graphics, Round Headlights and Cadillac Allante's . . . You know it's 1993 day on RSBFS Baby!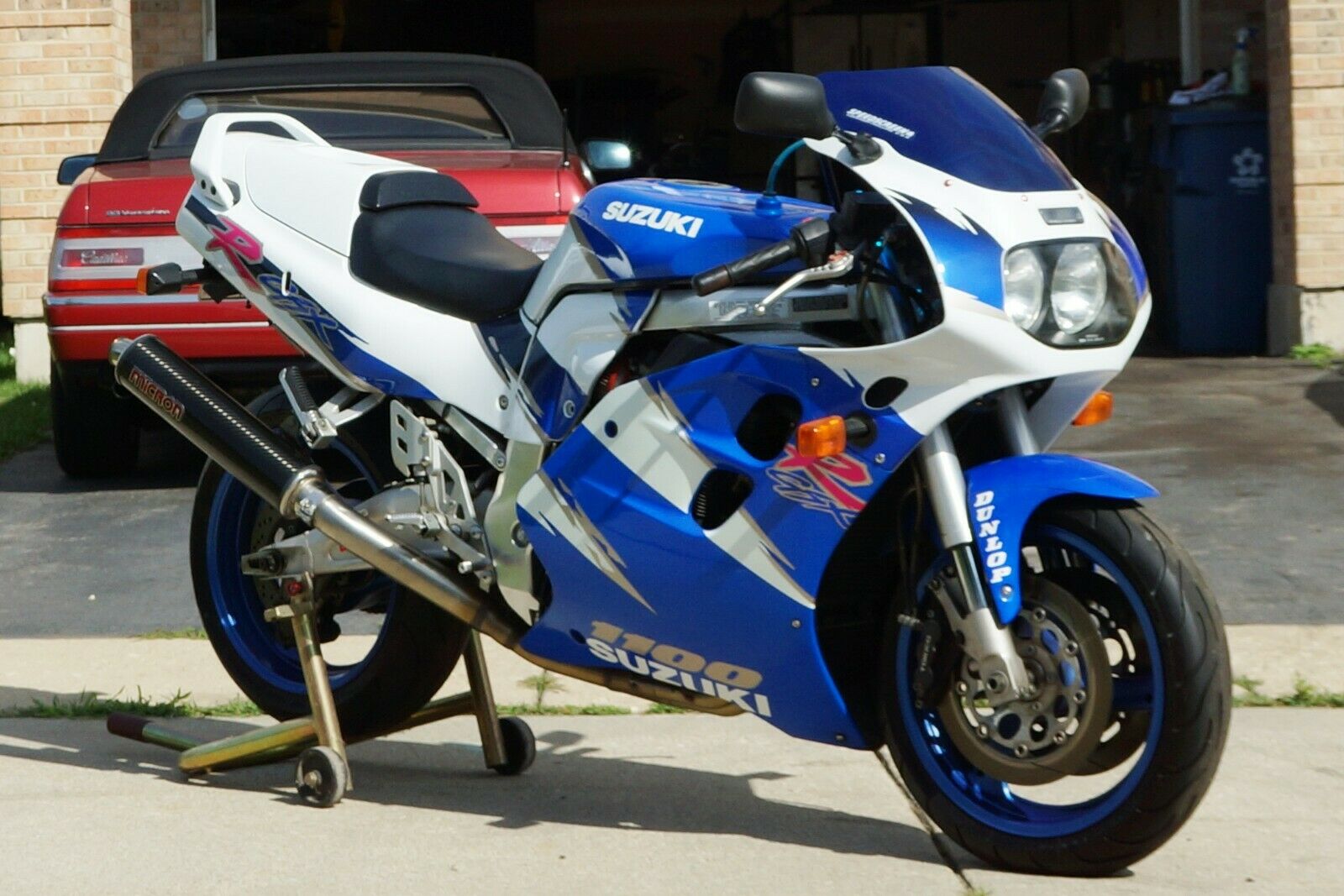 Let's all bow our heads in a moment of silence and pay homage to the greatest era of Sport Bike history.
Will someone please tell Inkrott to pipe down! This will only take a minute.
In 1993, Suzuki didn't seem to notice the liter bike storm that was brewing behind them and much like me, they were content with splashy graphics and posting up on Saturday nights at the local Chi Chi's in an attempt to look better than they actually were. Don't get me wrong- anything with 1100cc's and 150ish horsepower is a serious machine and shouldn't be taken lightly. However, at 509#'s dry and still sporting a 5 speed transmission this big guy wasn't on the cutting edge.
This example looks to be in great shape and very well kept. The seller states it's been garage kept it's entire life and I'd like to commend both owners for avoiding the dreaded "A ladder fell on it, my kids bike bumped it or it tipped over on my dog" 28 years of bumps and bruises. #Kudos
My only nit-picky item is the Micron exhaust isn't period correct, but I do like the looks of it along with the neon blue Speedscreen 🙂
Up For Sale is this 2 Owner, Very Clean 1993 Suzuki GSXR 1100 in GREAT Shape! The Mileage is at a Low 14228 miles. The Color is Factory Blue & White. The Transmission Shifts Exactly as it Should. The Wheels & Tires that are in GREAT Shape! The Michelin Pilot Power Tires have less than 200 Miles on them. The Only Modifications to the GSXR1100 are the Micron Full Exhaust, Stage 1 Jet Kit, Speedscreen Blue Windscreen and LED Headlights and Tail Lights. Other than that, the bike is Stock and has Never Been Down! It has also been Garage Kept it's Entire Life.

Also included will be both the Stock Passenger Seat, OEM Solo Seat Cowl(Very Rare), Factory Shop Manual, Cover and Both Original Key's.
Clean, well kept, new shoes and rash free- Let's ride!
Oh wait, my OCD needs to talk to you about the Dunlop sticker/Michelin Tires and Yoshimura exhaust sticker/Micron exahust thingy's . .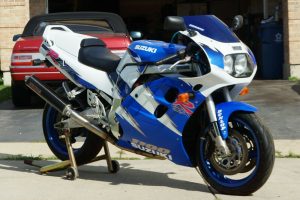 Check out this Big Bore on eBay here
Cheers!
dd
6 Responses.