Around the corner from the Ducati factory in Borgo Panigale, NCR founders Nepoti, Caracchi, and Rizzi began to modify and race Ducatis in 1967.  Their lightweight chassis and race team became a presence in endurance racing, winning the Isle of Man TT in 1978 with Mike Hailwood aboard.  Early in the trellis-frame's development, Pantah-based 600cc bikes were built to Tourist Trophy specifications ( by more than one tuner ), and this NCR 600 ready for the road may be more rare than a factory TT2.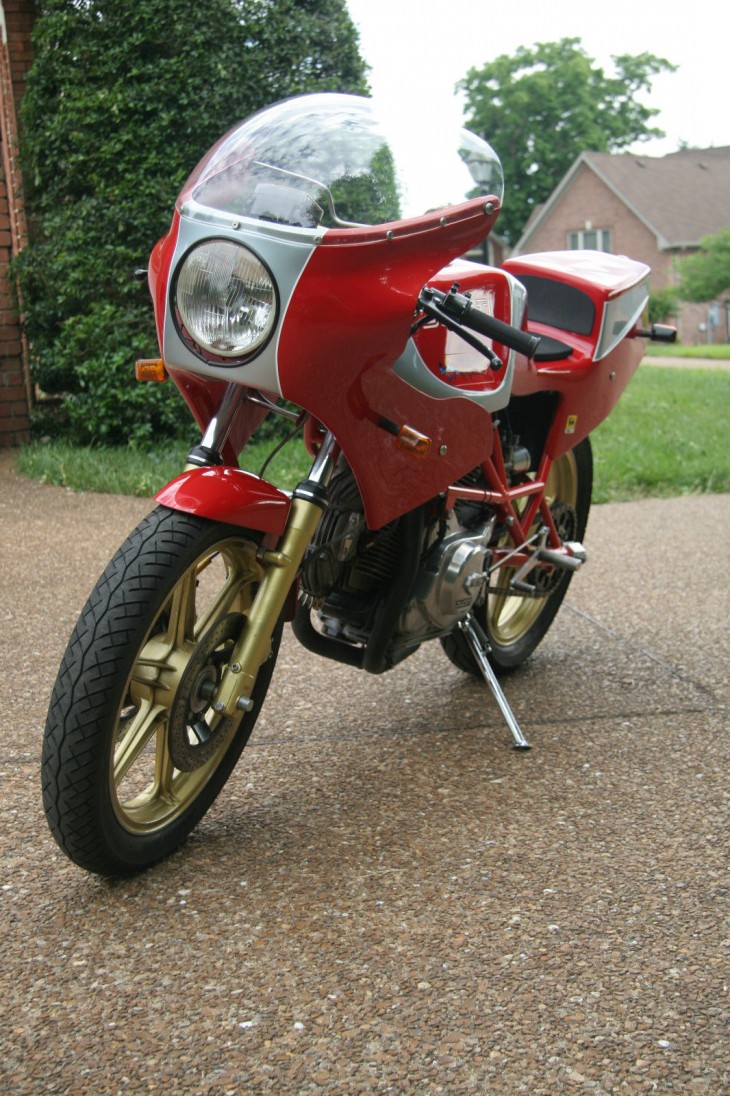 Most of the Ducati V-twin 600cc engines have 80mm bore and 58mm stroke, displacing 583cc, though there was an 81mm bore update, displacing 597cc and using 40mm rather than 36mm Dell-Orto carburetors.  In the neighborhood of 60 hp is available mostly north of 6000 rpm, with two-into one exhaust, dry clutch and 5-speed transmission.  Three 260mm Brembo disk brakes provide the stoppage, very light looking 18-inch wheels suspended by 35mm forks and monoshock rear.  At a weight which should be just over 300 lbs, handling this bike will be a joy.
Though one might want to fit air filters for the road, the discretely lighted 600 TT displayed appears ready for a ride.  The owner's comments mention a 2005 restoration, and the bike looks at least excellent, though there is no odometer, it's nearly 35 years old.  The alloy tank, half-fairing and monoposto seat fairing look unblemished, as does the frame.
Believed to be one of only two 600cc street bikes made by the legendary Ducati race team. The 600 TT is purely a NCR design, where the better known TT2 is more a Ducati product. Approximately seven NCR 600 TT race bikes and two street bikes were built. This bike was most likely built in Germany from a kit.

Unable to pass the ultra strict type certification the bike was placed into storage. It resurfaced in 2005 and was restored and rebuilt and serviced. Still unable to be used in Germany it was advertised for sale in 2012. I purchased it, and imported it into the United States. The bike has barely been used since being built.I have ridden it a few times, where it performed flawlessly.

It has a clean correct Tennessee title. The condition is excellent. The only non standard parts are the turn signals. The only fault is a small dent in the exhaust system.
Pedigree would seem critical for a bike with this kind of buy-it-now, and perhaps the previous owner, restorer, or NCR can provide a paper trail.  Unrecognizable on the road, a vintage Italian track day would be a good day out for this machine, hopefully it will not be relegated solely to display.
– donn
p.s. – After being purchased in 2001 by Poggipolini, an aerospace and motorsports titanium concern,  NCR continues to thrive hand-crafting exotic parts and Ducati-based bikes.