In the late 1990's Pierre Terblanche and Massimo Tamburini parted ways, the younger Terblanche following Ducati, and Tamburini staying with Cagiva.  The sea-change styling of Terblanche's 999 was too controversial to survive, though it did help win the Superbike World Championship in 2003, '04 and '06.  The 999S has upgraded suspension from an -R and a bit more oomph than a base model, and this 999S has a full carbon fairings, Ferracci exhaust, and very low miles.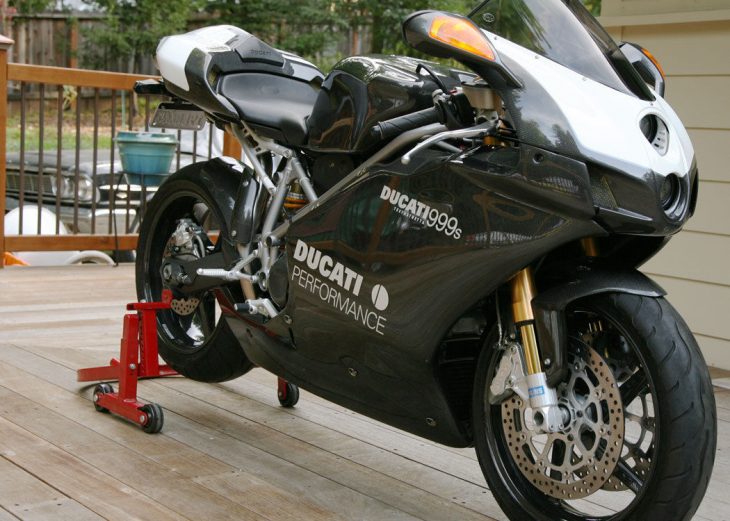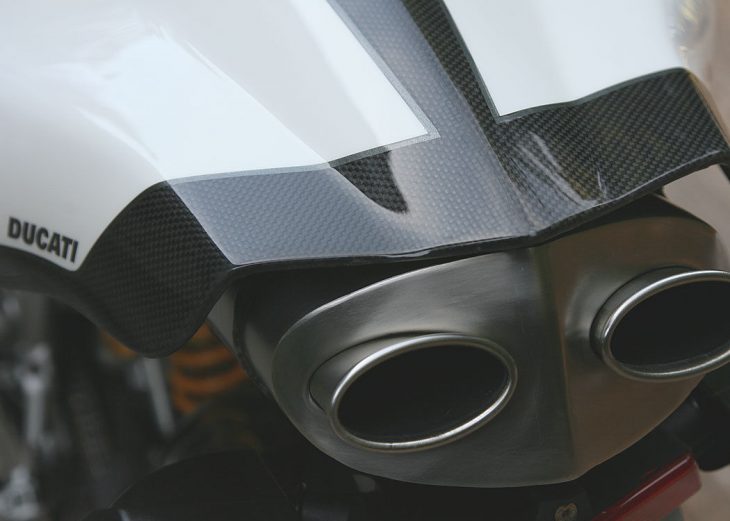 The second Ducati road machine to use the testastretta engine, the 999S boasted 136 hp and 78 ft.-lbs. torque.  Marelli fuel injection gave smooth power delivery, and premium Öhlins suspension allowed the 6-speed drivetrain and Brembo brakes to live in harmony.  The love-it-or-hate-it fairing protected the rider better at higher speeds, and the canister muffler has been superceded by a Fast by Ferracci exhuast which likely deleted the catalyst.
Offered by a California collector, this 999S has carbon bodywork, fuel tank, and BST wheels.  A singular statement in grey and white.  Registration is non-opped and miles are under 1,000.  The owner has this to say in the eBay auction:
Beautiful 2003 Ducati 999S with a Full Carbon Fiber Body, Tank, & Wheels.  Custom Stainless Exhaust done by FBF.  Its has an addictive sound, you can feel.  It is a rocket, lots of torque and revs to 10,500.  Original mileage is 990 (now).  Never wet.  Never ever down.  Kept in my house.  Rode 4-5 times.  ( Have others, Hypermotard, 900SS, old BMW R75/7, not so low mileage ).  Had service & belts done a few years back.  Will take to Ducati dealer for PPI/service if sold.  Clean California title in hand.  On PNO now.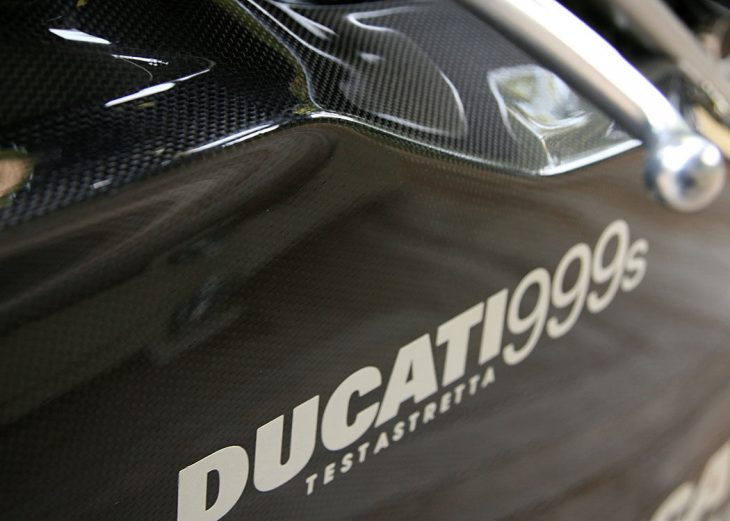 The 999S reviewed as a great rider, the fairing makes it feel like you're "in" and not "on", no chore to rack up the miles.  Weight is under control for a superbike and neutral handling makes the 999S less tiring to ride quickly.  Not sure if all that carbon is Ducati Performance, a rare special order if so.  If not, still a fabulous custom and in perfect shape, awaiting a spirited ride before loading up for the show...
-donn