Featured in the 2004 film i,ROBOT, the MV Agusta F4 SPR tumbles in an early action sequence and give its all to take out a few wayward automatons.  Unlikely more than a few moviegoers knew of MV Augusta's recent revival with Cagiva backing, still less knew what a bike Hollywood had just sacrificed for the film.  The Special Production Racing limited edition was a very special 750, lighter and more powerful than most larger displacement sportbikes.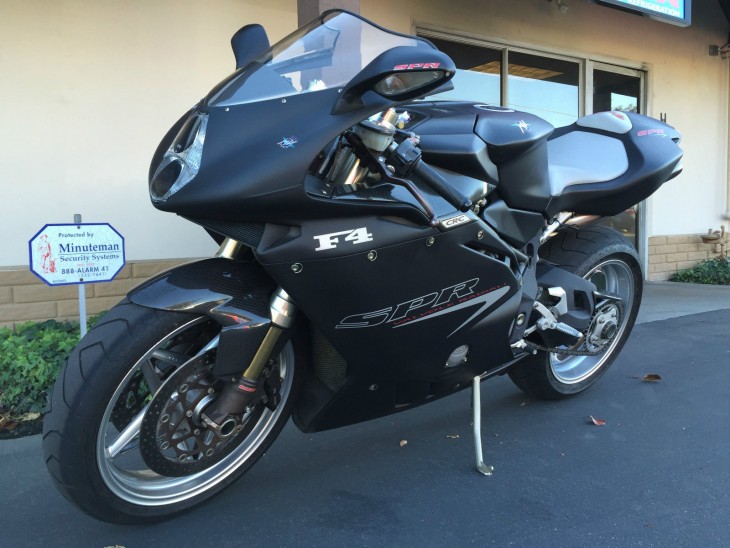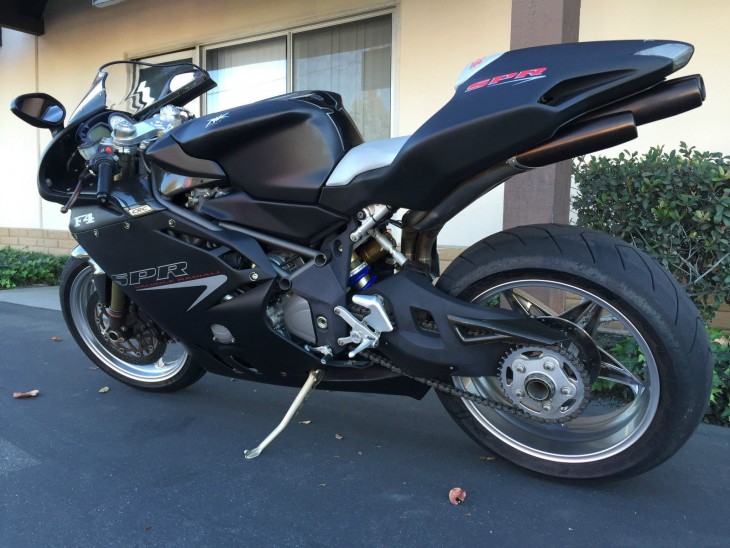 The F4 750 was the inaugural MV Agusta after Cagiva purchased the trademark, and outside help was enlisted to ensure success.  The 749cc transverse inline 4 was derived from the early 1990's Ferrari F1 engine, and the F4 continues to use the radial valve layout today, in the 1000cc engine.  Thanks to 12:1 compression and an updated cylinder head, power is spectacular for a middleweight – 146 hp at 13,000 rpm.  The grey steel trellis frame connects to massive 50mm upside-down front forks from Marzocchi, with nitride hardening.  Rear suspension is a single-sided swingarm sprung by a Sachs damper.  Bespoke Nissin brakes are 310mm in front with 6-piston calipers, and 210mm rear.   Exhaust is updated for the SPR, and the factory offered three optional rear sprockets to adjust gearing.  The satin black bodywork is set off by silver graphics, and carbon front fender, intake covers with CRC ( Castiglioni Research Center ) emblem, and swingarm guards.
A speed-oriented exotic requires exercise and maintenance, and this SPR has had both.  It looks pretty flawless with 6,800 miles.  Just a couple of clear lenses and an HID headlight have been added.  From the eBay auction:
I am the second owner and purchased this bike in the summer of 2005. The previous owner only put approximately 3000 miles on the odometer before selling it to me to purchase another toy. Since the bike has been in my care I have only put an additional 3700 miles on the odometer through occasional weekend rides. The bike has never been taken to the track or abused. I have always stored the bike with a dust cover inside my garage hooked up to a battery tender. The bike is currently housed at my office. The bike is completely stock except for the clear turn signal lenses and HID headlight. All the carbon fiber pieces are OEM. The bike starts every time and runs perfectly. All functions work on the bike as well.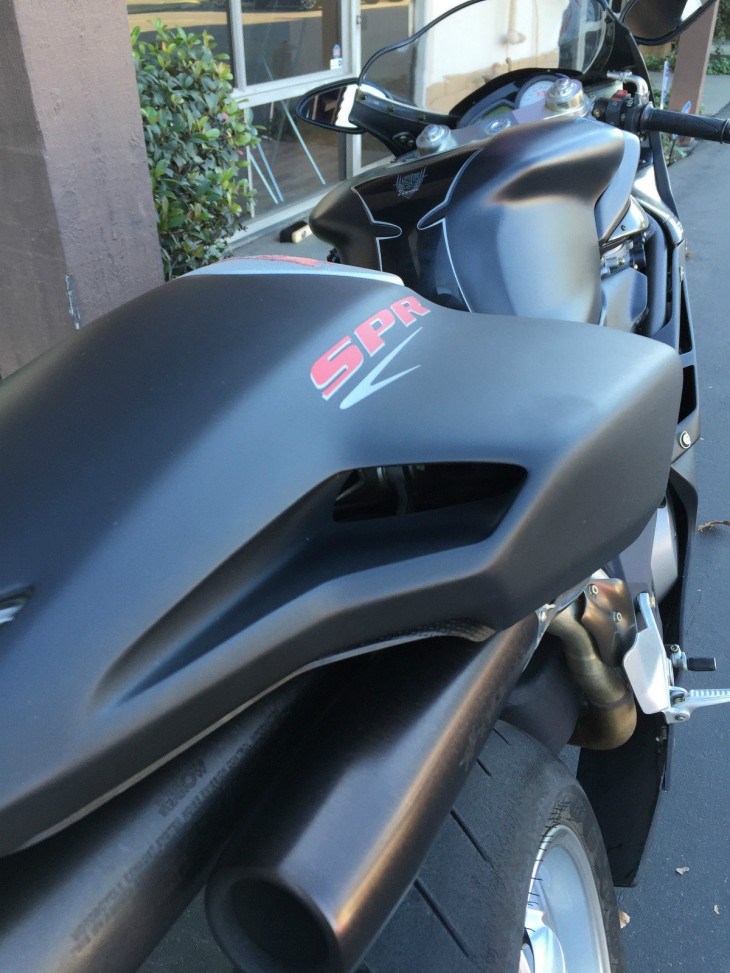 I recently performed the following maintenance items at approximately 6500 miles:
-Oil and filter change with AMSOIL synthetic
-Coolant flush
-Brake fluid flush (Front and Rear)
-New fuel filter
-New fuel pump
-New fuel hoses
-Professional Fuel Injector Cleaning by RC Engineering
-New NGK Platinum Spark Plugs
-I also performed a valve check on the bike at about 5000 miles and found all of them to be within factory tolerances with no adjustments needed.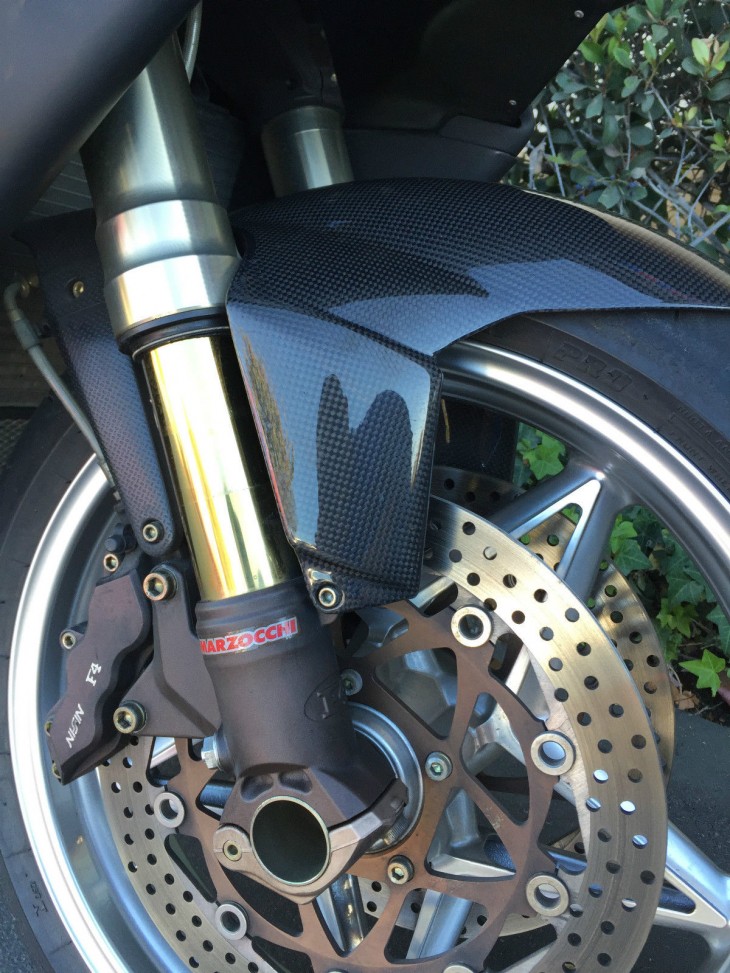 Reviewed as a chore in town and a dream on the open road, the SPR isn't super light at just over 400 lbs, but the power comes on strong around 7,000 rpm pulling strong right to the nearly 14,000 rpm redline.  A sweet handler with Ohlins adjustable steering damper, the F4 SPR can make quick work of straights and turns.  For this level of performance and in such fine shape, even the buy-it-now seems reasonable.  Shame if even one real F4 SPR was sacrificed making the movie…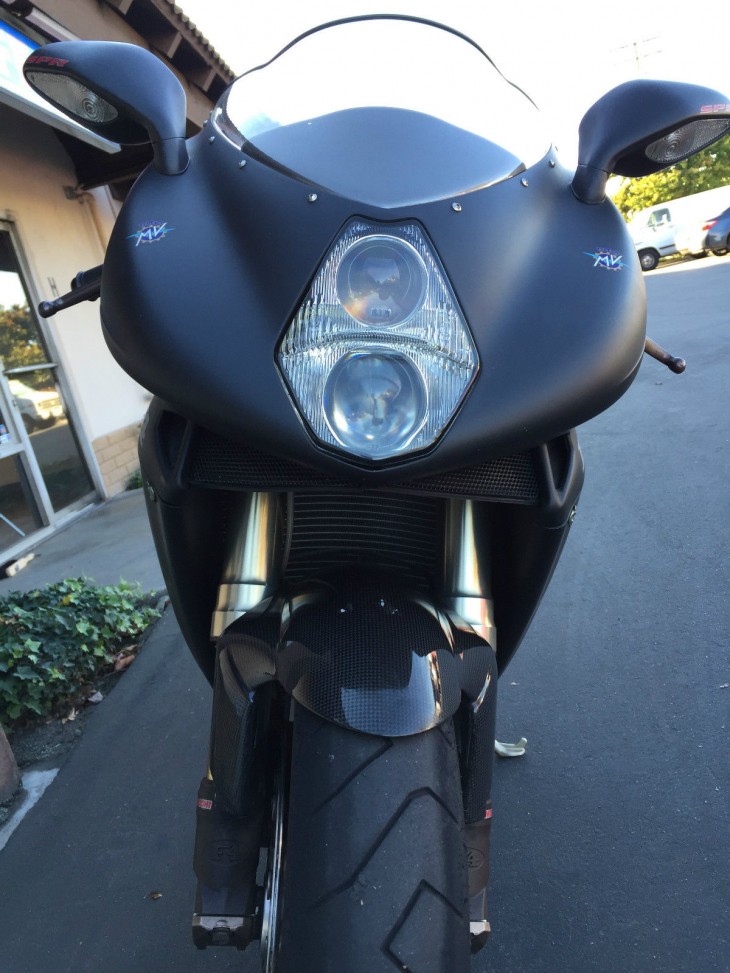 -donn