Hard to fault Suzuki ( and Honda ) for trying to follow Ducati's "win on Sunday, sell on Monday" strategy - with a big twin superbike which took advantage of WSBK rules and had torquey street performance.  The TL-1000R had some unusual innovations and great power and sound.  Though it didn't result in a long term model for Suzuki, the TL-R has the makings of a cult classic, and this is an excellent example with Yoshimura exhaust and Power Commander.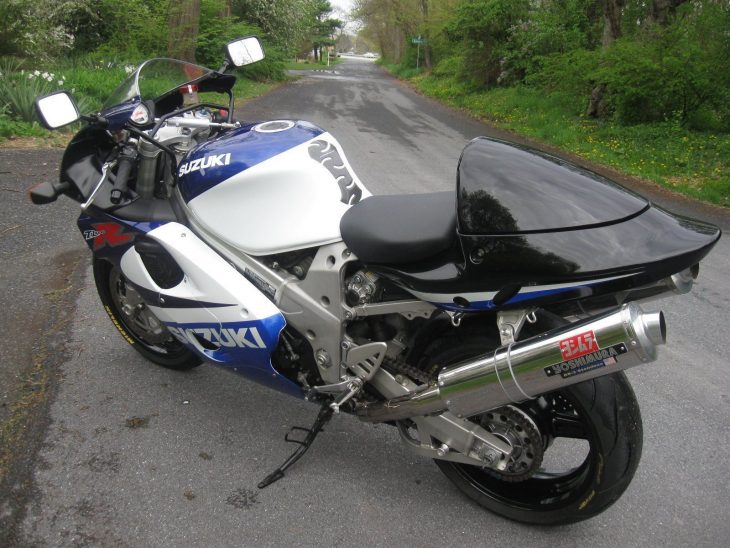 The L-twin in the TL-1000 has an engaging sound because of the hybrid chain/gear cam drive.  And the booming twin exhaust.  Internals slightly updated from its sister TL-1000S, the -R claims 135 hp.  Since the vertical cylinder took the spot usually used by a centerline monoshock, the beefy twin-beam chassis has a side-mounted spring and a rotary damper, a space saver but problematic once temperatures went up.  Brakes are superb 6-piston Tokico, and the fairing has fresh-air intakes and a Hayabusa-like pillion cover.
Having covered only 6,600 miles, this TL-1000R looks stock and unblemished in the factory's racing blue and white.  Seems quite original except for the polished exhaust system, the increased flow compensated by an fuel injection box from Dyna-Jet.  Not much on recent maintenance, and appears almost ready for new rubber.  From the eBay auction:
This bike is the nicest you will find out there.  Bike was babied, truly a garage gem, 6550 miles of pamperedness... never down, always cleaned and polished after every ride, well maintained.  Not a scratch on it!  All fairings are perfect, no scratches, no rust, no corrosion, no dents (not even a ding) or cracks of any kind, there is a small discoloration on the left midfairing on top, but it's barely noticeable...  Even the rims are perfect!  Aftermarket YOSH exhaust that sounds amazing....dynajet performance (130hp/78ftlbs TQ stock!)...  Bike runs and shifts smooth but make no mistake it's a beast...  There are NO more out there like this...  Comes with the back seat and stand as well...  I have the title in hand!!  Don't miss out, it just might be your day to take it home for an awesome deal.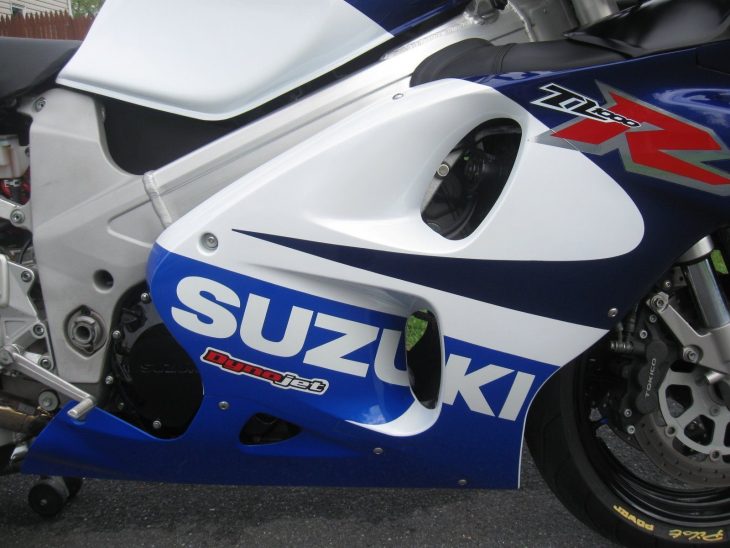 The TL-1000R gained a reputation for quirky handling, and acquired a steering damper in response.  Build quality was at a high level for Suzuki, and the TL-R is well appointed and finished.  Maybe because the Superbike wins didn't come, the bikes were slow sellers and the model wasn't re-newed for 2004.  Still, it's an interesting take on the big twin and though the owner has an optimistic ask, the condition and performance of this TL-1000R  just might result in offers...
-donn