On the upswing in the later 20th century, Erik Buell was a sharp engineer who developed a succession of street machines from his weakness for race bikes.  The RR1200 Battletwin was based on the classic Harley-Davidson twin, expanded to 1198cc, used Buell's own "isoplanar" engine mounts, and had a contemporary streamliner body.  This example has traveled the world but covered just 567 miles, and has been readied for its next assignment.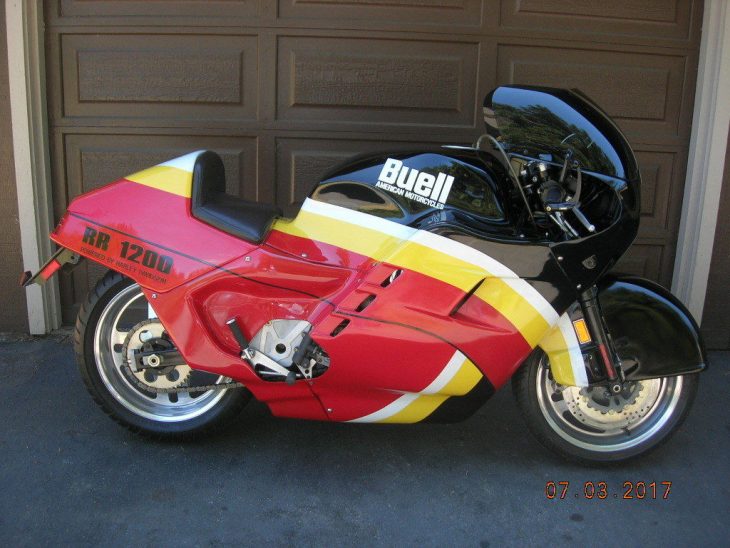 Buell actually began his racebike work with a two-stroke 750cc square four powerplant, but a short affair with H-D turned his career toward the 45-degree twin.  The pushrod-actuated two-valve per cylinder Evolution engine used on the RR1200 makes 68 hp at just 6,000 rpm, and 72 ft.-lbs. torque.  Lighter than the engine's usual carriage, the Battletwin's trellis frame and aerodynamic fairing keep the 4-speed usable.  Buell's own brake design and underslung monoshock are just a couple of the innovations on board.  The full soapbar takes a lot of flack but does protect the rider and slide through the air.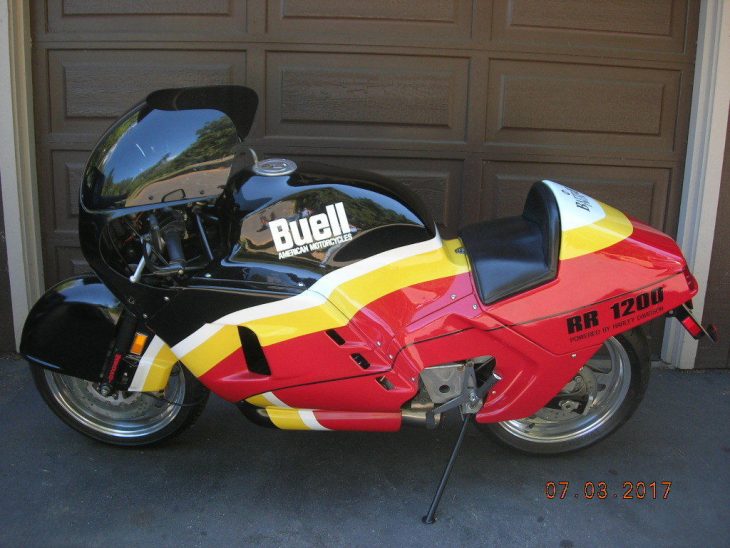 The RR1200 offered here comes from Oregon, by way of England and Australia, where it was on display.  U.K. plate still on the back, the sunset livery seems to be the most common among RR1200's, though there are only a hundred or so to compare.  Not seeing any mods, though the turns signals are set on, well, manual.  Seems more fatigued than expected for such low miles.  From the eBay auction:
THIS IS A ORIGINAL, UN-RESTORED BUELL 1200 (RR)!!! THE 1200(RR) WAS ERIC BUELL'S THIRD MODEL. IT FEATURES A TRELLIS FRAME AND EVOLUTION 1200 CC ENGINE. THIS BIKE WAS SOLD NEW BY WARR'S HARLEY- DAVIDSON IN LONDON, ENGLAND TO A PROMINENT MEMBER OF THE BUELL OWNERS GROUP. IT CONSEQUENTLY WAS BOUGHT BACK TO THE USA TO BE SOLD BY BONHAM'S, AT A AUCTION IN CALIFORNIA. IT THEN WENT TO AUSTRALIA WHERE IT RESIDED IN THE HARLEY-CITY COLLECTION!!! IT WAS FULLY RECOMMISSIONED 12 MONTHS AGO WITH ALL SYSTEMS FUNCTIONING AS YOU WOULD EXPECT FOR A BIKE WITH THIS MILEAGE!  THIS BIKE PROVIDE A GREAT CHANCE FOR A MUSEUM,COLLECTOR,CAFE RACER OR BUELL ENTHUSIAST TO PURCHASE A TRULY COLLECTIBLE MOTORCYCLE, AT A REASONABLE PRICE. THE BIKE WILL COME WITH A NEW BATTERY. THE BIKE IS OFFERED WITH A CLEAR TITLE!!!
In 2009 Harley reportedly paid almost as much to retire the Buell name as it did to take a majority stake just ten years before.  Though revived for a time, with innovative and successful machines, it doesn't appear as though a white knight is currently in the wings.  This only helps the rarity of this early Buell, which could be dolled up a little, or displayed as is.  Bidding is quite active and approaching $14,000 with just under 5 days to run.  Without exotic mechanicals or electronics, this RR1200 could be ridden without really affecting the value.  It would be among a rider's memorable experiences...
-donn