Since its formation in 1967, NCR motorcycles has been Ducati's de-facto competition arm, developing and producing race bikes based on Ducati themes.  For the 30th anniversary of Mike Hailwood's 1978 Isle of Man TT victory ( on an NCR-built Ducati 900SS ), the company produced a very short run of super light, no-holds-barred commemoratives, with titanium frame and 1120cc air-cooled desmo engine.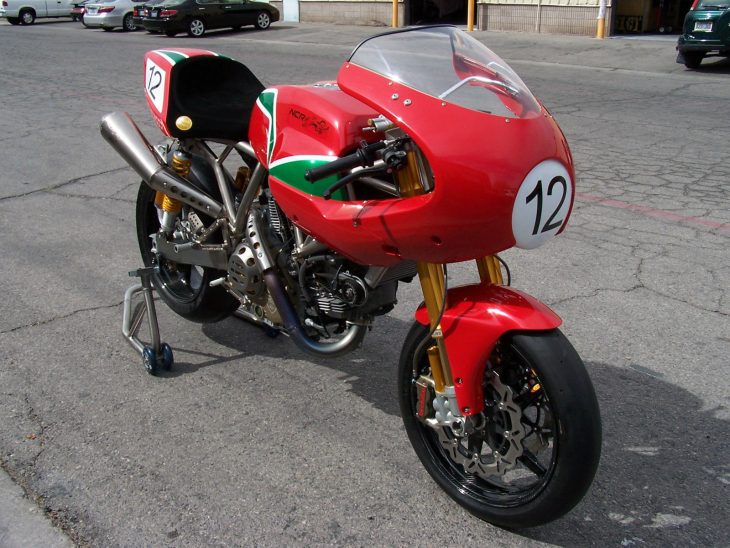 With the founders ready to retire in 2001, the owners of Poggipolini, a titanium manufacturing specialist, took an interest in NCR, and the Mike Hailwood TT became a showcase for advanced techniques, with a full titanium trellis and exhaust system.  Internal to the 130 hp V-twin is a billet crank, while the carbon fairings and wheels are easier to appreciate.  4-piston Brembo billet calipers and Öhlins MotoGP forks are leading edge, while the nostalgic twin rear Öhlins shocks at least leave room for the exhaust headers.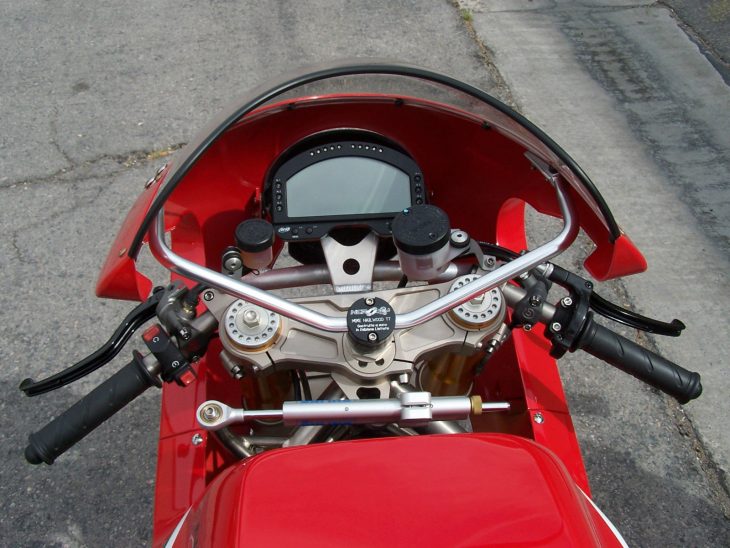 A number of the NCR Mike Hailwoods were delivered at the 2009 Isle of Man race, where the factory website says they were raced, though it may have been in an exposition part of the event.  The Vegas owner has added a couple of nice extras, and has this to say in the eBay auction:
THIS BIKE WAS $130,000.00 NEW EXCLUDING THE TI SWINGARM AND TI BIKE STAND.

AS YOU SEE IN THE PHOTOS ABOVE SWING ARM AND REAR STAND ARE STOCK DUCATI STEEL.

I HAD NCR MAKE ME A ONE OFF TITANIUM SWINGARM AND TITANIUM CUSTOM NCR STAND AT THE COST OF 7K PLUS. SWINGARM IS HALF THE WEIGHT OF THE STEEL ONE

PLEASE CONTACT ME THRU EBAY IF YOU NEED MORE INFO AND I WILL CALL YOU. THERE ARE LOTS MORE STORIES TO TELL

ULTRA LIGHT...... ULTRA FAST...... ONE OFF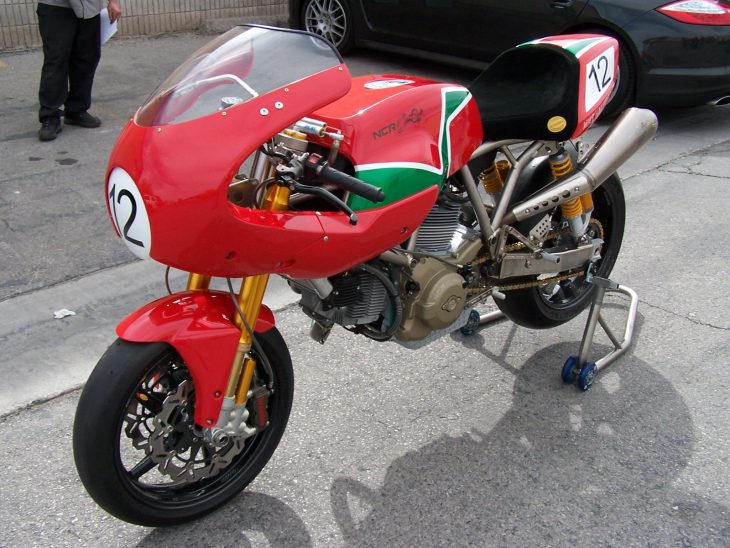 Though the next owner will be a rare collector, the auction has a dozen bids, with $50K not hitting the reserve.  NCR's ( and Poggipolini's ) credibility is above reproach, and the 300 lb. machine is one of just a dozen or so.  Though one could quibble that these machines are built to be ridden, this TT likely will never see that third mile...
-donn