Following the final Le Mans model in 1993, Moto Guzzi introduced a similarly-styled model with an 1100cc engine.  Guzzi had tested the waters for a 1000cc 4-valve overhead cam Daytona model in 1992-93 and decided there were still a couple of good years in a carburetted pushrod machine.  With a revised frame and rear suspension, it was a fine platform for the 90 hp engine.  Not seen every day in black, the glossy forks and swingarm are a great look.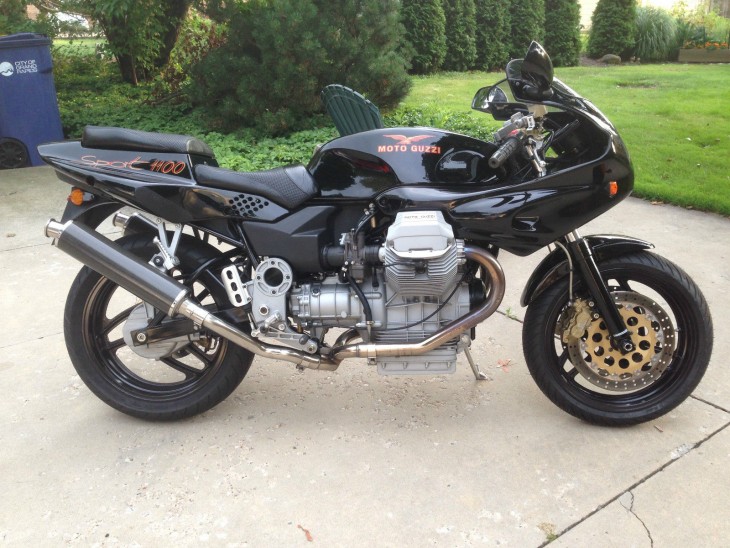 A couple of changes from other bikes in the Guzzi line-up from those years – absent is the linked brake system, possibly attempting to be more basic and sporty.  The 320mm  front and 283mm rear disk are up to the task of hauling down the 500 lb. machine.  Also the hip upside-down forks were traded for a more conventional 41mm fork tuned by White Power.  They also did the rear monoshock, which suspends the new Compact Reactive Drive Shaft ( CARC in Italian ), a parallelogram which helps isolate the force of the shaft drive from the suspension.  Though not super sporty, the hallmark shaft drive is maintenance-free.
The 1100 here shows well and the present owner knows the previous owner and the bike's history, always a good thing.  Mileage at 13,000 is mid-pack.  Generally stock, it does have a Corbin seat and aftermarket exhaust with carbon mufflers, and new tires.  From the eBay auction:
This is a fairly rare bike. Very original and in exceptional condition. There are minor cosmetic imperfections from normal use but the bike has obviously been well looked after for its entire life. I know the history of it going back many years having bought it from a good friend who owned it for a long time.  The bike is largely original with the exception of the Corbin seats and a single gel battery conversion.  It also presently has a Brembo Gold front brake master cylinder on it as the original (included) needs to be re-built. It has a nice full aftermarket exhaust with an extremely nice OEM exhaust included.
He goes on to say that the front brake light switch isn't working but expects to repair it, and that the rear main seal was suspected of fouling the clutch but is working fine after an adjustment.
The 1100 Sport tested well at the time, a stable platform with lots of torque, the 17-inch front wheel aiding turn-in.  The revised rear suspension reduced the tendency of the rear suspension to extend under power, but made the torque effect of the big twin more noticeable, an improvement to a knowing rider.  The sculpted fairing, tank, airbox, and seat fairing all work well together ( especially in black with the classic red and gold emblems ) creating a strong, handsome presence.  The Sport 1000 is great mix of classic Guzzi character and modern components…
-donn