Hard as they are to find, unmolested early sportbikes pop up occasionally.  This pre-Ninja 750 appeared on the New York Craigslist recently.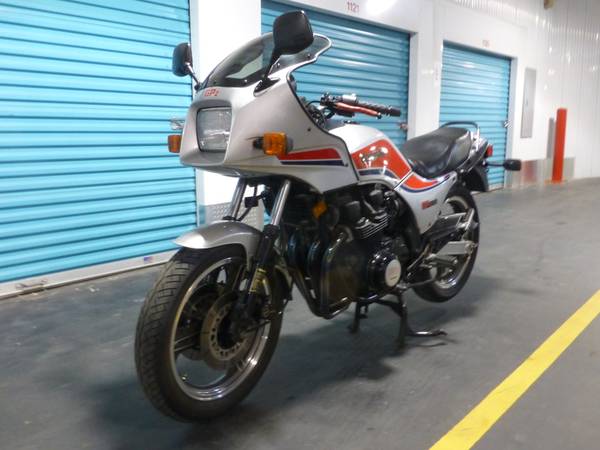 Developed from the KZ-750, the GPz-750 had 92 hp, new frame with Uni-Trak rear suspension, and generally more sport-oriented.  The sweet bikini fairing foreshadows the full fairing to come later.  For 1984, mostly color changes but slightly raising the clip-on handlebars made the bike friendlier.  Rubber front engine mounts helped, too.  The smallish 280mm brakes nonetheless performed well.  Overall a speedy, stable rider.
From the Craigslist ad:
This bike has been very well maintained it's entire life by a mature older gentleman who kept it in clean, dry, and temperate storage. Pictures do not do this bike justice. The paint is in absolutely stunning original condition. This bike has no mechanical or electrical issues at all and can be ridden anywhere. The carburetors have been jetted and air box has been replaced with air filter pods. Vance and Hines full exhaust looks and runs great with the properly tuned carbs. This bike's motor pulls strong and has no issues. Chain and sprockets were replaced with new ones last year. Tires are in great condition with no dry rot and lots of tread left. This bike has to be seen in person to truly appreciate how clean it is.
CL ads can be hyperbolic and poorly documented, but this common-sense ad has great pictures.  The GPz-750 was the fastest bike in its day and still has a lot to offer.  The silver paint and red/blue stripes look great, and the bike seems very clean overall.  Sensible asking price for such a pretty historic.  Certainly have to do your homework on a purchase like this but a GPz in such fine shape is worth a look.
-donn