Almost 20 years on since the introduction of the V7 and the big V-twin was still the basis for the Moto-Guzzi range.  Alejandro De Tomaso took a personal interest in the machine, displacement was increased from 850 to 1000cc, and the front wheel size reduced to 16 inches in the interest of quicker handling.  In various minor revisions and special editions, the Le Mans 1000 carried the marque until the early nineties when fuel injected models were ready.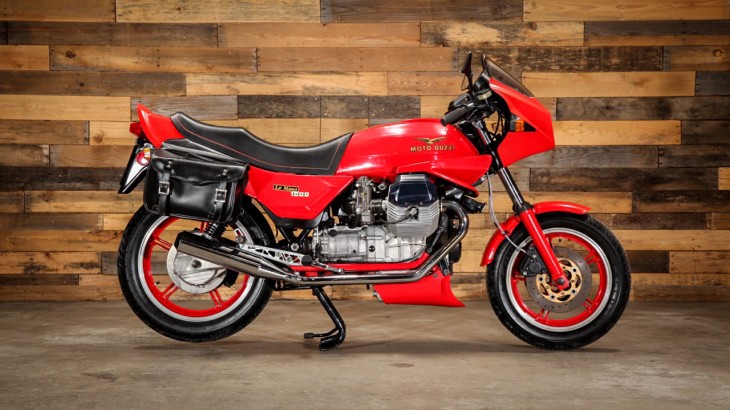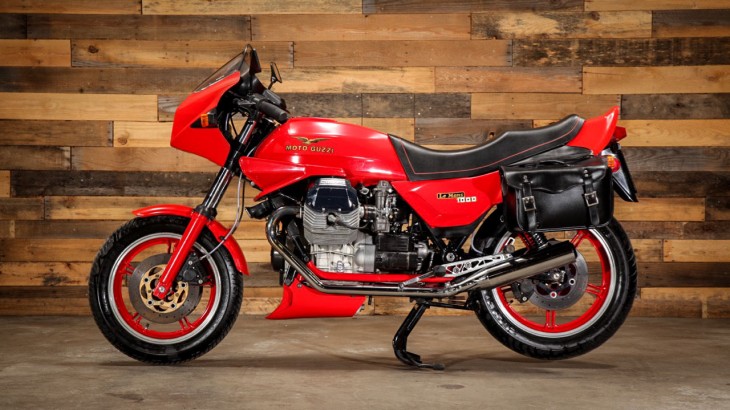 Sporting a more angular but bikini-style fairing, the Mk. IV Le Mans looks back at the sporty cafe racer it was when introduced in 1976.  The red-orange paint, now extended to the frame and forks, recalls earlier 850 models.  Small body fairing and chin scoop direct air over the cylinders.  Larger valves and 10:1 compression ratio gave a nice bump in power from the 850, needed as weight had creeped up to over 500 lbs.  With shaft drive and the fairly high-geared 5-speed transmission, if not super quick the 1000 was plenty fast with a top speed of almost 140 mph.  Steering was enhanced with the 16-inch front wheel, though not all riders considered it an improvement to the long heavyweight the bike had become.  Early linked brakes were a safety enhancement, handlebar lever operating the right front brake disk, and pedal gave you left front and rear brake together, each disk 270mm.
Sparklingly presented by a Nashville dealer, this Le Mans has only 5,100 original miles and appears unrestored.  The eBay auction lists a few updates and repairs:
This Le Mans is in fantastic original condition and was just picked up from the second owner. It is bone stock with the exception of the leather bags and upgraded exhaust (comes with original exhaust as well, in poor condition) The paint is all original and is very glossy with very few minute blemishes. The tires are new Metzlers, 500mi ago. The brakes lines were all replaced due to age (original included) and the rear master cylinder was also recently replaced. Comes with all it's original keys, 2 ignition, and two for the neck.
Though a mature design at the beginning of the sportbike "revolution", the Le Mans 1000 is still a looker, and can still perform.  The bombproof twin and shaft drive make it a cafe racer for the long term…
-donn