Update: Greg notes that this bike is sold! Congratulations to buyer and seller! -dc
Like real estate, they're just not making any more V-four 399cc sportbikes, and every one that appears has some kind of history – used or abused, neglected or cared for.  This Ohio-registered NC30 looks nicely preserved and has survived 25 years with only a couple of plastic cracks and scuffs.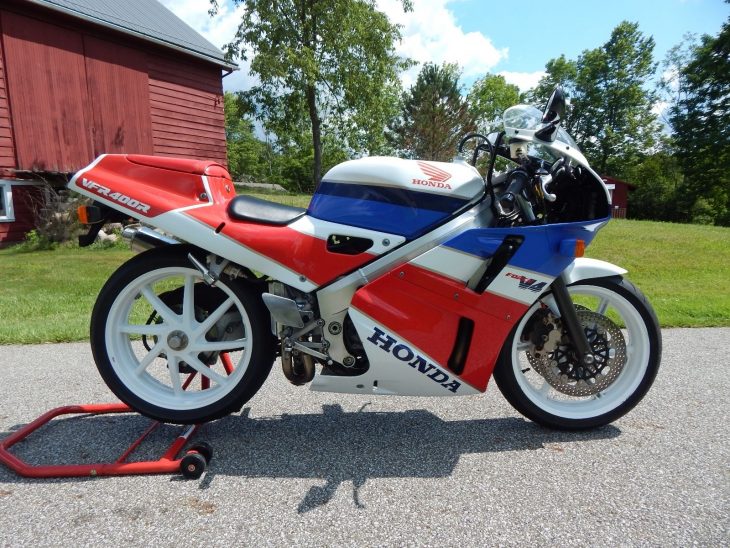 If you had your headphones in, you might mistake a passing VFR400R for its big brother 750.  The 9/10 scale fairings look every bit of the Honda flagship, but the smaller engine revs to 13,000 rpm, delivering 59 hp.  Upside-down forks were still for racier machines, so the VFR makes do with a conventional front end, with single-sided swingarm.  The dual front discs are 269mm in diameter, and period wheel sizes of 16″ front with 18″ rear put a nice edge on the handling.  The NC30 is toward the end of the VFR400R development, and has the best looking fairing of the line.
Offered by Ohio dealer and RSBFS sponsor Deftone Cycles, this NC30 has covered under 4,000 miles and has great factory graphics.  Clean and complete with a few rubs from its garage-mates, and the owner pictures the crack under the mirror mount.  Notes from the eBay auction:
3,979 Miles (6,405 Kilometers) What we have here is a Type 7 model with Type 1 Fairings. The fairings are factory Honda OEM. So you are getting the upgraded suspension that was offered on the type 7 with the look of the original type 1. Other than that it's completely original and unrestored. More of a rider than for a collection. Bike needs nothing.  All fluids are fresh.  Shifts and revs to redline perfectly.  Starts effortlessly every time. Some of the mounting tabs are broken on the lower fairings, nothing that is visible from the outside. The upper fairing by the mirror has some cracks, the mirror hides most of the defect. Windscreen is aftermarket MRA. Awesome windscreen. The white on the top of the fuel tank has been re-sprayed with the Honda wings being replaced. Not perfectly done but very presentable. If I was keeping the bike I would be very happy with the paint. Included close up pictures featuring defects. Bike has Vin Matching State of Ohio Title.  NC30-1100*** "Buyer is responsible for their own State Requirements."  Imported into the States through all legal channels. EPA and Declaration papers provided.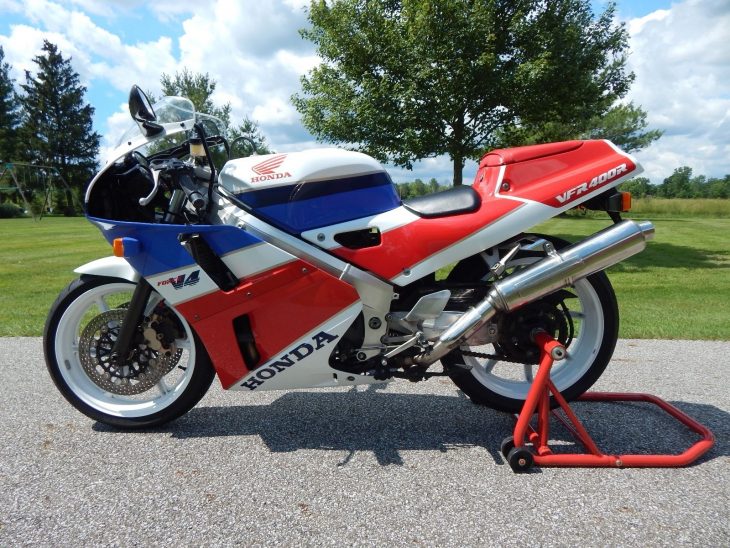 The owner's knowledge of the type variations outpaces my own, but the NC30 was offered for three years before being superseded by the Fireblade-styled RVF400R.  Competition in the home market and other progressive licensing countries was heated, and the NC30 reviewed as the best all around, with strong if not leading edge chassis, and standout Honda build quality.  The starting bid is set at $6,800, and you can ask questions of Greg through the eBay auction – here –…
-donn