The now-venerable 900 Ninja was Kawasaki's 1984 foray into the world of water-cooled four-valve performance.  The works team went right out and won their class in the Isle of Man TT, and the bikes did well in the showroom.  With low miles for its age, this GPZ900R has great survivor looks and some interesting updates.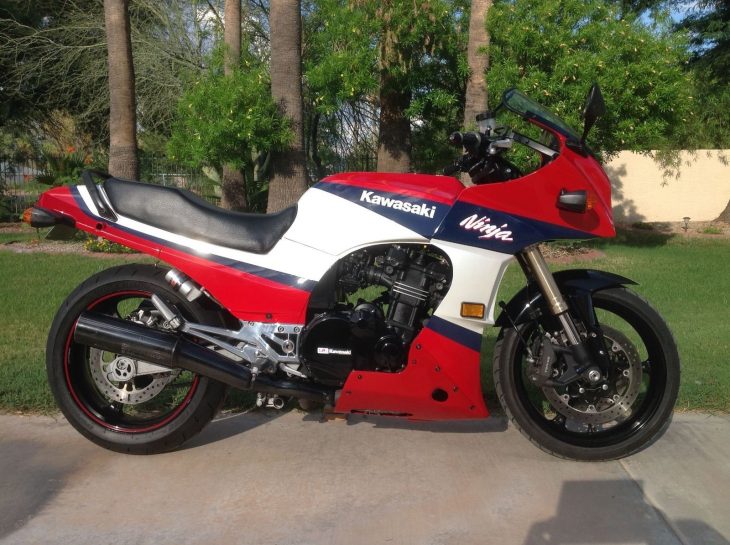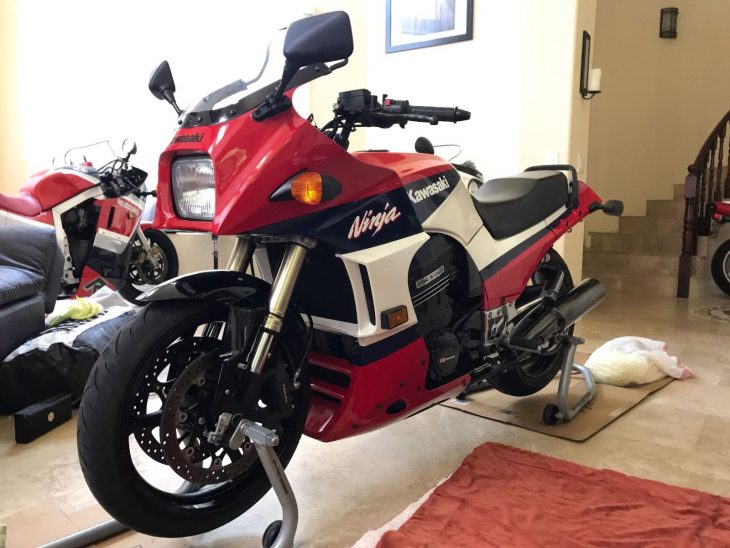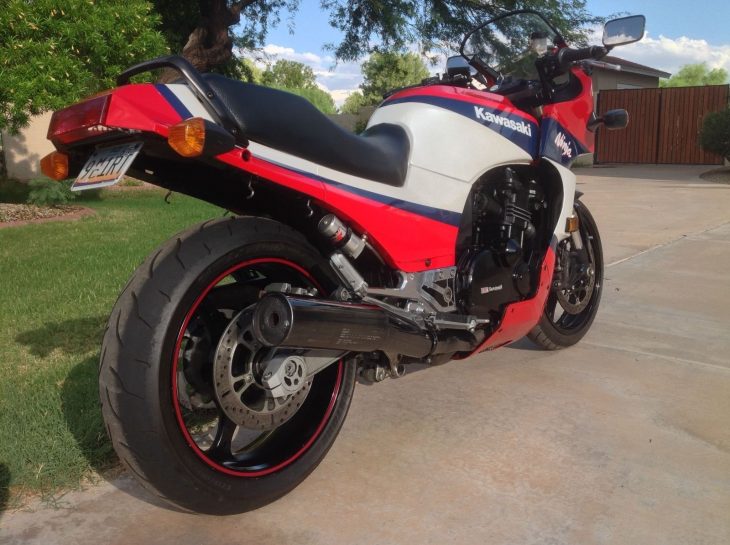 The 908cc engine harkens back to the Z-1 glory and delivers 115 hp at 9,500 rpm.  Water cooling irons out engine temperature spikes and reduces noise.  The engine is a stressed member of the steel chassis, and for the day, the GPZ900R had great handling and braking.  Just over 500 lbs. dry, it's of course more GT than SBK.  The fairing has minor updates from the movie star bike, and changes in paint colors, but it still looks great  to riders of a certain age.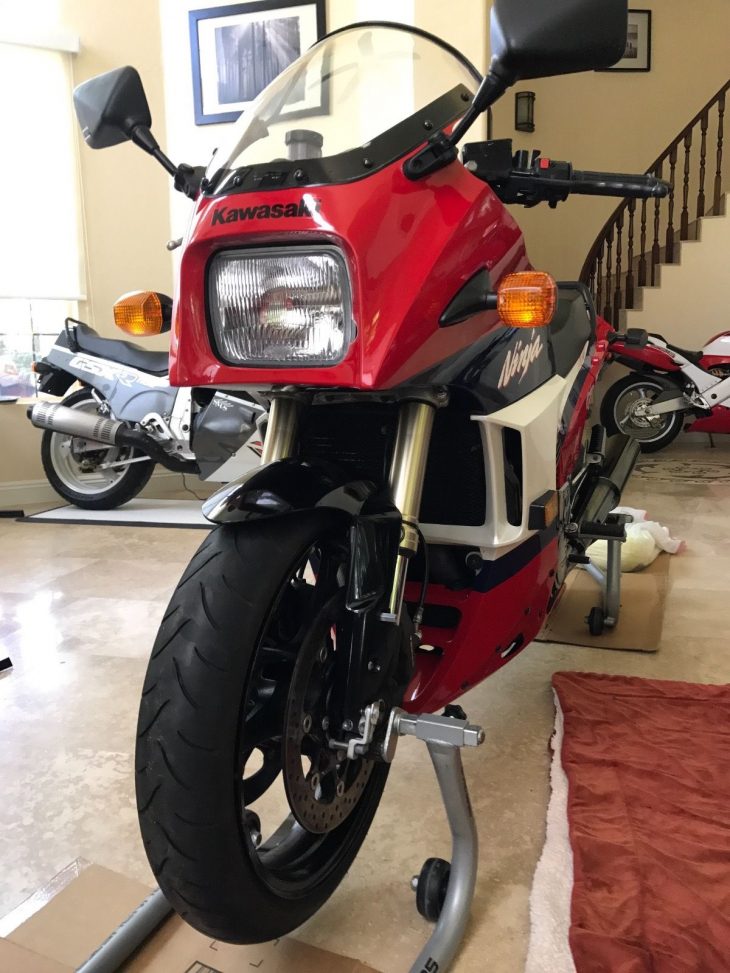 The photo backgrounds teasing us with the rest of his collection, the Arizona owner must have expert knowledge or serious help with the enhancements to this Ninja, as well as a late model GSXR-750 on hand.  Presumably spring rates were changed for the heavier GPZ, or perhaps just handled with preload.  Can't go wrong with adjustable handlebars.  He says this about the work in the eBay auction:
The modifications to the bike are as follows – 2006 Suzuki GSXR 750 front forks ( Kayaba 43 mm (1.7 in) Inverted telescopic forks with DLC coating, spring preload, rebound and compression adjustment ), brakes ( dual 300 mm (12 in) semi-floating stainless discs and Tokico 4 piston radial mounted calipers ), Suzuki steering damper and wheel, 2006 Suzuki GSXR 750 rear wheel, YSS MX506-325HRCL-08-X remote-reserve rear mono-shock, KOSO RX-2 GP Style digital dash display and multi-way adjustable handlebars for better riding comfort.  The engine has the upgraded cam chain tensioner and cam chain rear guide, lower temperature thermostat (97 degree), 1.1 bar radiator cap, performance aluminum radiator fan, these engine mods have been done in line with the recommendation of GPZzone.co.uk, a well known source of technical information and parts for the GPZ 900R.  The original seat upholstery is in beautiful condition with no rips, tears, or cracks.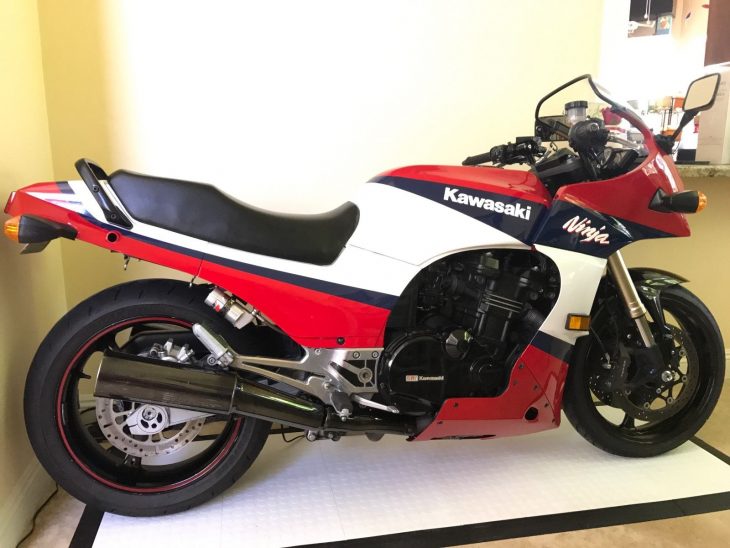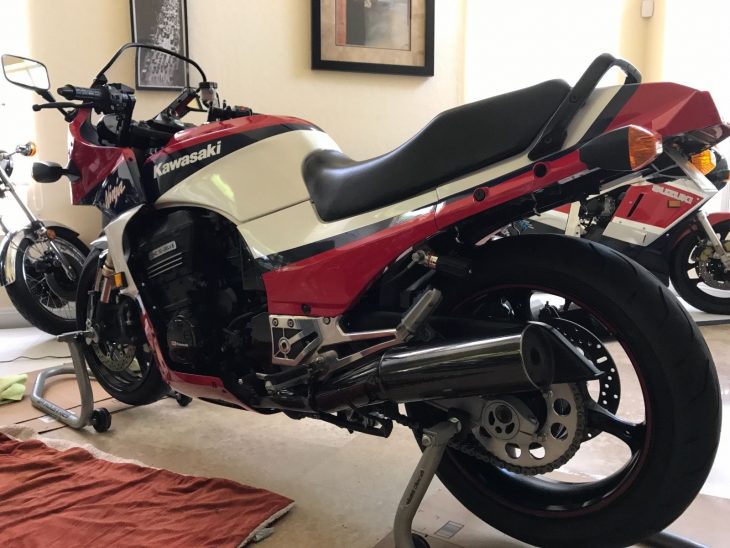 With great power, the suspension and brake improvements can only help the Ninja.  Standardizing wheel sizes will slow turn-in a bit, but makes things easier at tire time.  Might be worth a side trip for a test ride if possible.  This owner picked a sharp candidate for the transplant, just needs the belly pans freshened up and a new red stripe for the front wheel.  Often it's said that if the bikes of the past could only stop and turn like newer machines, they'd be around forever.  This updated GPZ900R might be a step in that direction…
-donn