A little more oomph enticed the owners of this 2000 Ducati 748S to bore the cylinders out to 94mm and upgrade camshafts.  Along with some more usual mods, the result is a nicely spec'ed 853 cc machine.
Built from 1994-2002, the 748 was the 916's kid brother, and reviewed as somewhat friendlier for street riding.  The 748's shorter stroke resulted in ( and required ) a slightly higher rev limit, but the chassis and overall build were very superbike.  With the grey trellis frame peeking out from red  bodywork, a quick look at the 748 passes for a 916.  Showa dampers front and rear, and forks have gold-colored nitride coating.  Dual underseat exhaust and excellent Brembo brakes courtesy of the bigger bike.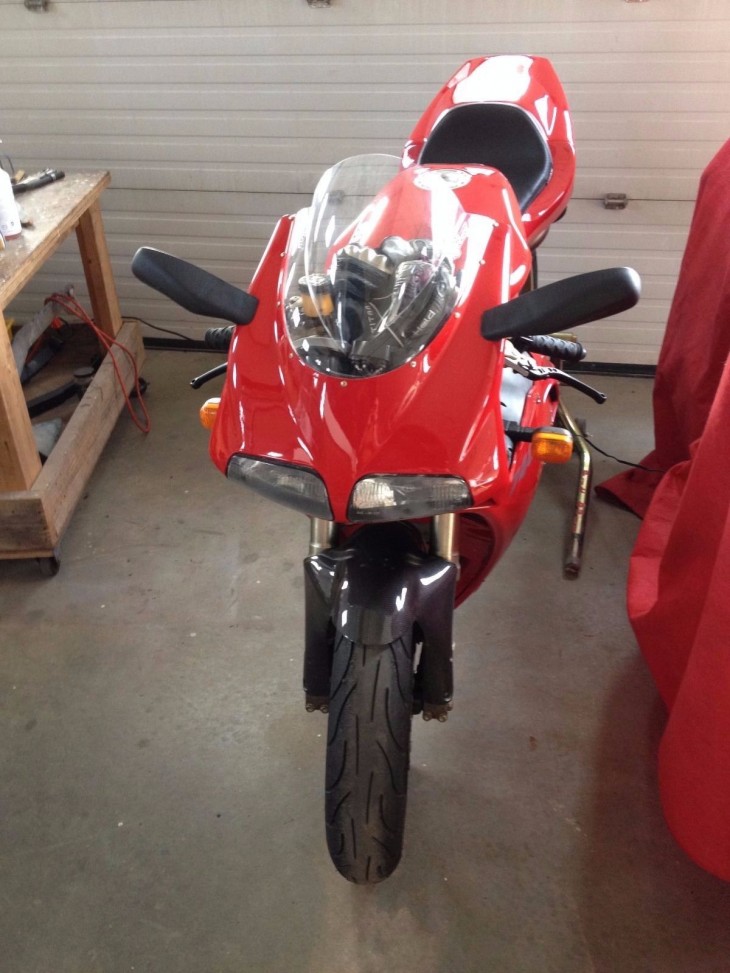 The 748 offered here has been treated to some very special engine mods, as well as the more usual ( but pretty nice ) rims, levers, double-bubble windscreen, and mufflers.  Adding 6 mm to the cylinder bores results in an 853 cc engine, and intake and exhaust cams were traded for parts from up-rated Ducatis.  No power output is claimed, though tuning must've included some dyno time, it should be in the 105 hp area.  Other driveline parts have been upgraded with lightweight flywheel, slipper clutch and Supersprox listed.  Titanium mufflers from Leo Vinci and Marvic magnesium wheels were also added.  From the eBay auction:
This is an opportunity to own a unique Ducati 748S/853. It started it's life as a 2000 748S. In 2010 with 9,792 miles on the odometer it was built out to an 853cc. The following modifications were completed in this build. 

748R inlet camshafts, pair

996 sps exhaust camshafts pair (last set in the US)

Full Big Bore kit

Aluminum flywheel

Pistal pistons 94mm 748-853 HC pair (the manufacturer of pistons for Ducati race bikes)

Bored and replated cyls

Supersprox sprocket and chain (lifetime guarantee)

Ducati front and rear Penta 2 magnesium wheels, gold.

CRG folding clutch and break levers

Ohlins adjustable rear shock

Ducati slipper clutch w/ceramic coated pressure plate 12t

Leo Vinci titanium mufflers 

All the work was performed by a Ducati factory authorized and trained mechanic, (former head mechanic at BCM Motorsports when Bruce Myers was the owner.) All service work since the Big Bore build has been performed by Clubhouse Motorsports, NH. This bike is a dream to ride and is competitive with 996's.
With the engine done by a motorsports shop and other nice updates, this should be a special 748S.  Would've liked more and better pictures, but this bike as modified deserves more attention just as it is…
-donn