After the controversial 999, the 1098 of 2007-09 was an un-redesign, instantly recognizable as a Ducati, designed by Giandrea Fabbro, now a senior designer at the company.  Additionally, the Testastretta engine received some significant upgrades after a petition to FIM for an additional 100cc for Superbike World Championship twins.  The result was a quintessential Ducati which just happened to have the most favorable power-to-weight ratio of any v-twin ever, at least for a while.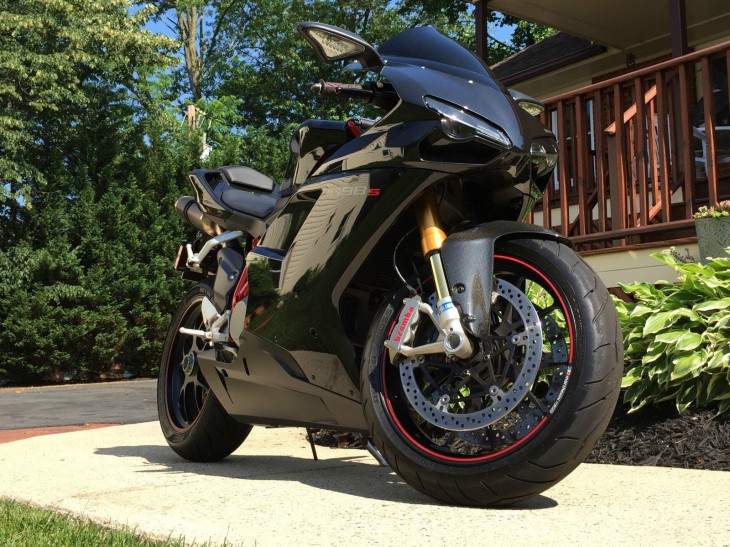 Returning to a look more like the 916, the 1098 was available in red, black, and yellow, this one is the attractive black over the red trellis frame.  Brutally powerful with 160 hp and 90 ft-lbs. torque, many owners mounted a throttle tamer to make the response more progressive.  Though other models in the line for that year have a wet clutch, the 1098 keeps the all business dry clutch.  Putting many sportscars to shame, the 1098 has 330mm front disks with radial mounted calipers and 245mm rear.  In another tip of the hat to the 916, the 1098 has a 2-1-2 exhaust, with twin mufflers under the seat.
The -S has a few high-euro upgrades from the base model, wheels, suspension, exhaust, and dashboard.  Forged Marchesini wheels save almost 4 lbs, reducing critical unsprung weight.  Three-way adjustable Ohlins dampers are on both ends of the bike, and carbon Termignoni silencers replace the aluminum canisters.  The all-LCD rider display includes a data-logging function for track days.
Changes to the 1098 engine involved adjusting the valve angles, smoothing flows and improving economy.  These updates also reduced stress on the valvetrain, extending the valve adjustment interval.
With a healthy 8,000 miles, the 1098S offered here appears very good at least.  The owner has made a few nice upgrades like a Puig double-bubble windshield, hideaway rear turn signals, and includes a Pitbull stand and adult-sized Alpinestars suit.  From the eBay auction:
The body is in excellent condition and the engine is as strong as the day it was purchased. New Tires, Bought new from Duc Pond Motorsports all service records are up to date and done professionally by Duc Pond themselves. It currently has 8K miles and a few after market parts including a single side stand, Corsa Diablo tires, set Ohlin's suspension, a Puig double bubble window and hidden taillights in the upper louvers of the tail section. I also have a pit bull stand to go with the bike and an XL full Alpine Star leather, worn twice.
With current maintenance and great condition, this 1098S is more desirable than non-S and much less common than the 848 – worth a second look !
-donn