Trying to stamp out bugs such as Honda and Yamaha in the mid-eighties, Kawasaki resorted to enlarging the bore and stroke of the popular GPZ900R, and built a bike that set new straight-line speed records but could be a challenge to control.
Evolved from the 900 cc model, the GPZ1000RX displaced 997 cc's and laid down 125 hp.  Cycle World tested it as the fastest bike they had ever pointed their radar gun at, going by at 159 mph.  The strength of the engine was matched by the new perimeter frame and seriously built steering head holding 40mm forks and swingarm supported by Kawasaki's Uni-Track monoshock.  Brakes were dual 280mm front discs and 260mm rear.  Weighing in the light-heavyweight area of a little over 500 lbs., handling is helped by 16-inch wheels.
Listed by a motorbike museum and repair shop, this is a nice stock Ninja with recent maintenance.  Fairings appear complete and undamaged.  From the eBay auction:
This model has 125 horsepower and is one hell of a ride.
This bike in particular is a great example of a well preserved Ninja 1000R.
She runs great and everything works as it should!
We took this bike in to our shop and completely went through it:
Compression checks Perfect: 175 psi on all four cylinders
Complete carburetor cleaning, adjustment, and synchronization
Fuel lines replaced
Brand new Yuasa Battery installed
Throttle cable lubed and adjusted
100 Point Inspection and test ride.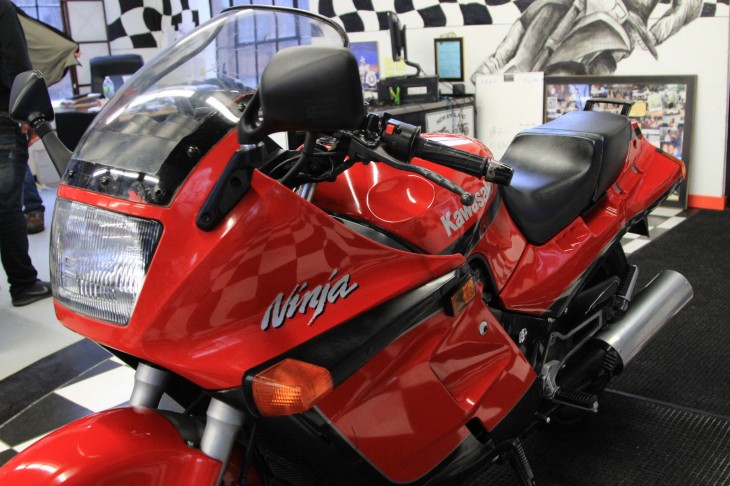 A couple of not unexpected details like a fork seal leak and run-down original (!) rear brake pads will require attention, but at least the owner is upfront with them.
Hard to say where this auction will end, the 1000R reviewed as too much in most regards, but the handling acquitted the big red machine and allowed a 1/4 mile in under 11 seconds.  A quick trip down memory lane for the new owner…
-donn