With a pair of 250cc engines driving a common output shaft providing two power strokes on every revolution, Yamaha's RZ500 pushed nearly 200 hp per liter, even in street trim.  This sharp Michigan example has been in storage but was recently freshened up for riding season.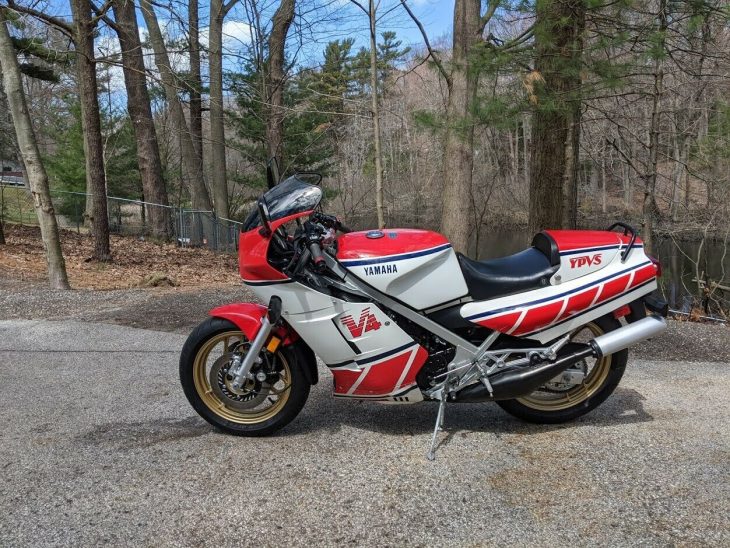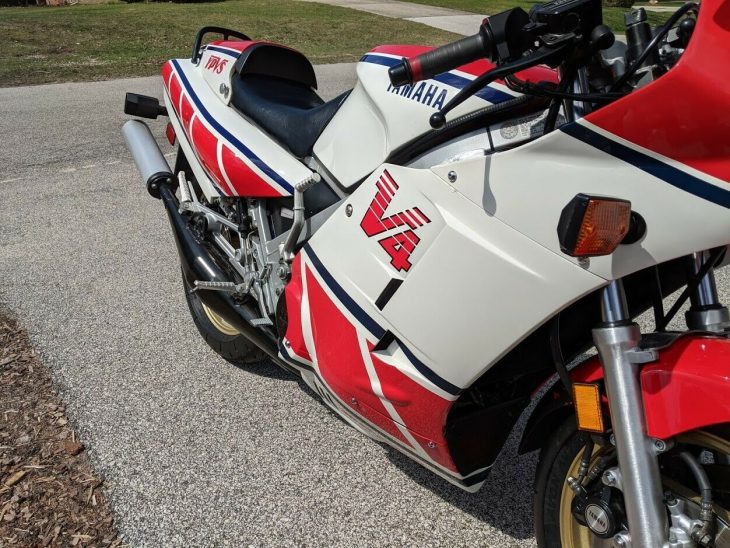 The RZ's engine is almost a cube, with four 26mm Mikuni carburetors looking out to the side-mounted airboxes from the valley of the 50-degree V.  Individual expansion chambers wend their way back, with the upper cylinders' pipes tucked into the seat fairing.  88 hp was available at a wailing 9,500 rpm, with the torque band was stretched by the YPVS power valve system.  The chassis was steel tubing and the forks were right-side-up, though the monoshock was underneath the engine to make room for the exhausts.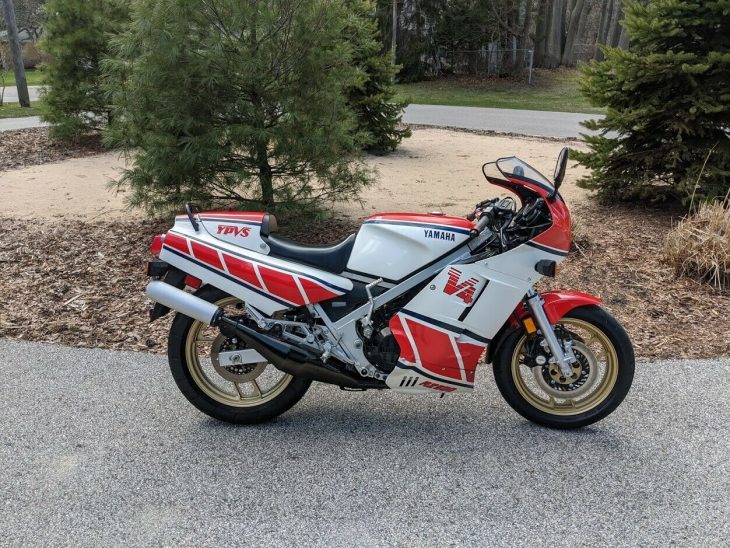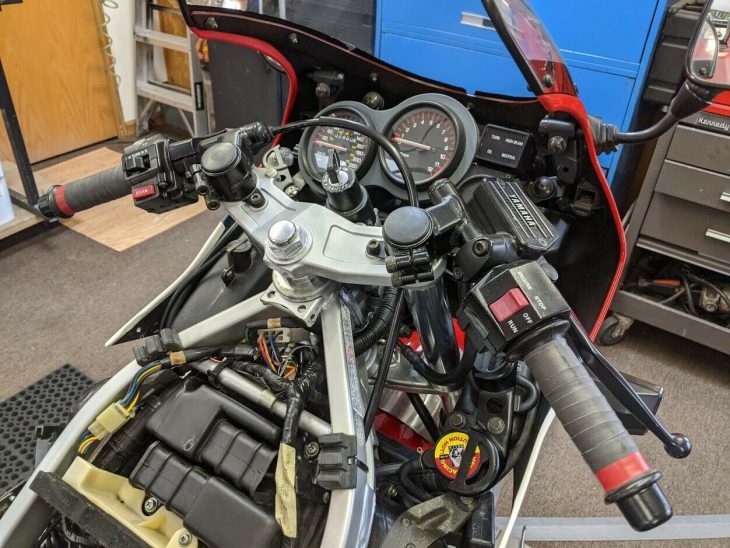 With just over 4,600 miles, this RZ had to be in storage before the present owner.  Just some stress cracking on the chin scoop is apparent, with none of the usual garage rash and corrosion.  The seller waited seven years to re-commission it for the road, and has the following comments in the eBay auction:
New Battery

New Tires

New Chain

New Wheel Bearings

New Tapered steering head bearings

Changed transmission Oil

Cleaned float bowls on carbs

New Shut off valve for fuel

New front Brake Pads

Amsoil Dominator Synthetic injector oil

New fork seals, Race tech Springs, Gold valves, Modified damper rods (per Race Tech) 20 wt oil

With modifying damper rods the Anti Dive units are inactive (left them for stock appearance)

 

This is a very nice mostly all Original RZ, Starts first kick most every time hot or cold, shifts and clutches fine, pulls all the way to redline.

 

All lights work, horn, blinkers, brake light, gauge lights
The RZ500 waited more than 10 years to hit the streets after the YZR500 race machine's 1973 introduction, but by then the U.S. and a good part of Europe had declared two-strokes unwelcome.  So every RZ500 seen will be a gray market import with limited history, and a KMH speedo with MPH sub-titles.  This one's about as nice as they come without claims of a collection or museum, and the auction's at $11K with five days to run.  With recent sales in the low $20's, a lot of us will just be watching, at least to see where the reserve is set.
-donn