Update – Sold to a reader a few hours after posting on RSBFS, but still fun to look at…
Never going to be the only bike in the garage, but the YSR50 might just win the smiles-per-cc sweepstakes.  Today's has somehow maintained all its DOT required equipment over the years, which seems to have protected the scale fairings like a force field.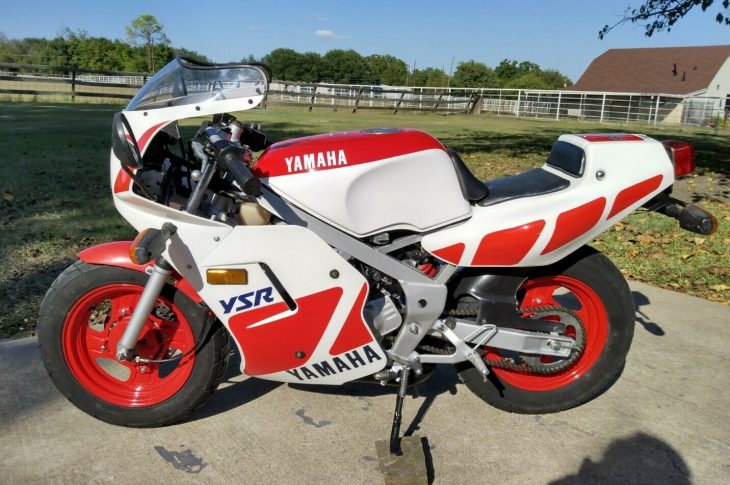 Overdone in a tongue-in-cheek way, the YSR50 had a disk brake up front and five-speed trans to go with its regulated 49 cc's and 7 hp.  With its perimeter frame, full fairing and faux underseat exhaust ports, it's as close to a YZR500 as some of us might ever get.
This YSR is a little bit of perfection, with not even the usual roll-around scuffs.  Seeming oversized turn signals and mirrors have warded off evil spirits, and a nice repaint doesn't hurt either.  Not sure about the seller's title reasoning, but at this age and engine size a bill of sale would likely suffice.  Comments from the eBay auction:
 

The YSR50 has been displayed in my collection for the last 12 years. I have decided to sell it. 
Bike is sold with a signed title but NOT IN MY NAME. Title is still in original owners name and I wanted it to stay that way. ONE OWNER. 33 Years
The reason the bike has ONLY 708 miles I believe is because the crank seal was bad on the stator side.

 

I brought to to my shop and took the entire bike back apart for cleaning. 

 

The top end looked great (Standard Bore). I resealed it back up with a new top end gasket set. I removed both side covers and put new crank seals and clutch plates in.

 

While apart I replaced the reeds, carb kit, fork seals and gaskets

 

Still has the hard to find original – Nut Pad and Tool Kit (looks new)
Starts with a couple kicks.  Handle bars are straight 

 

Seat , back and nut pad looks great

 

Rims / Tires look very good but are old with cracks. Could be originals

 

Plastics look great except one spot the size of a quarter where the upper fairing meets the lower fairing. where one of the screws hold it together(hard to see because large white washer covers it up)

 

Exhaust looks great 

 

Brakes rear work great – front is full of fluid but can't get it to bleed

 

Tank is bright and shiny inside.
 

New air filter.  New Battery

 

New Windscreen from New Zealand – have old one but has a small crack

 

Calamari Rear fender.  Forks are perfect

 

Warning labels look good.  Decals look great
No leaks  – Gas tank and carb is empty and cleaned.

 

Have bike currently in my office and don't want fumes.

 

All silver, and white parts repainted and clear coated.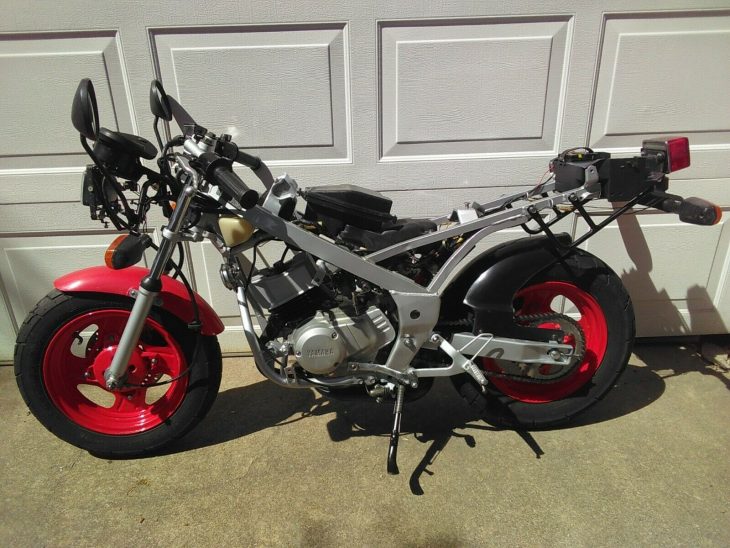 A little late to get it under the tree unless you're down near Dallas, but this looks to be a super example at just* a supersport  buy-in.  And judging from the group picture, might be the sharpest two-stroke in the collection.
-donn