Locate in West Los Angeles, California is an untitled 1995 Honda NSR250.  MC28's are very cool, with their single sided swing arm; however, they are also have less horsepower and more weight that their earlier counterparts and use the ignition card system.  This example only claims to have 8,000km (4,970mi), but alas, the owner doesn't have a title–and I assume therefore it isn't registered either.  The owner is asking $10,000. I'm not sure if it's the California market or simply being unrealistic, but that seems quite high for an unregistered/untitled NSR250.  If the bike were registered and titled in California it probably wouldn't be too far from $10k.  If you feel that is a good price, however, see the Craigslist ad here.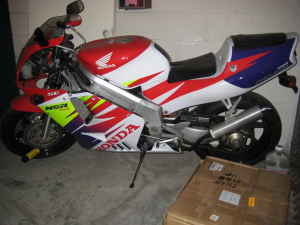 If you are in the market for a NSR250 and located in the Midwest or willing to ship, I would certainly follow up on an ad posted on the Madison, Wisconsin Craigslist.  The seller claims that they have a titled and registered 1988 NSR250 MC18 located in Portage, Wisconsin.  The ad states:
Real nice, clean 1988 NSR MC18 with current plate and title in my name. Runs and looks excellent. Too many extras to list! Must see! Dyno tuned and shows 61hp. Super fun, super quick and handles like nothing else. I'm selling because I have neck problems and can't ride sport bikes comfortably any longer. Pretty firm on price but might consider trading up or down for a newer dual sport or super moto.
Email for photos and I'll send them out tuesday. But call if serious. Please don't call if you don't know what a NSR250 is or if you don't have the money. 6086175090.
At $4,000; this would be worth looking into.  See the Craigslist ad here.
AG